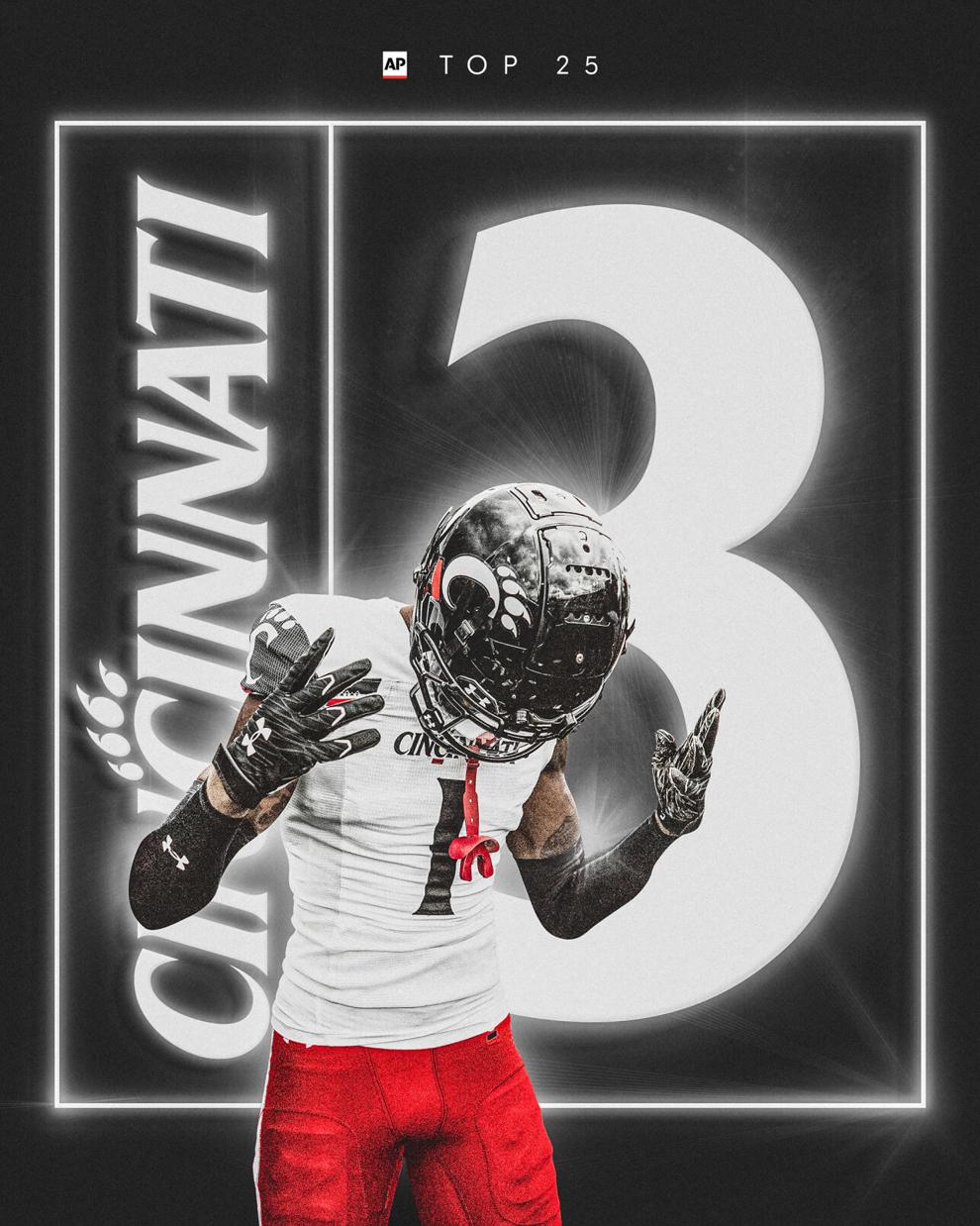 After a week that saw the University of Cincinnati (UC) Bearcats finish their season undefeated and former No. 2 Ohio State lose, the UC football team moves one spot up to No. 3 in the week 14 Associated Press (AP) Top 25 poll. Ohio State drops out of the top five to seven as Michigan, who beat the Buckeyes, leapfrogs Cincinnati to No. 2. 
A notable result that put the Bearcats at No. 3 is the Alabama-Auburn game that went to four overtimes before the Crimson Tide could come out on top. Auburn is unranked and sitting at a .500 record, which was enough to convince the AP voters that 'Bama should drop from No. 3 to No. 4. The AP top four shuffles to an order of Georgia, Michigan, Cincinnati, then Alabama. 
On the outside looking into the top four are Oklahoma State and Notre Dame, who sit at No. 5 and No. 6. Oklahoma State is up two spots from week 13 after a big rivalry win over the Sooners of Oklahoma. The Cowboys take on Baylor next weekend in the Big 12 championship, a game that many Bearcat fans hope to play in once the move to the Power-5 conference is complete in 2023. 
This game will prove to be crucial to the rankings, too, as an Oklahoma State win will give the committees of the College Football Playoff (CFP) and AP a controversial debate. The winner of the Big 12 has played in four of the seven Playoffs since its inaugural tournament in 2014-15. 
Cincinnati inferiors Notre Dame have been slowly climbing their way up the rankings all year, finding No. 6 as their resting place after routing Stanford 45-14. The Fighting Irish's only blimp on the season is still the early loss to the Bearcats, one of the better blimps in all of college football this season. They are the only team in the top six with a loss to a fellow top six program. 
For Cincinnati, this doesn't mean as much as its fans may hope. It proves that Cincinnati has respect, but the CFP Committee rather than the AP voters ultimately decides the fate of UC as it aims for a spot in their final four to compete for a National Championship. The final regular season CFP rankings will be released on Tuesday.
Conference Championship week is up next for Cincinnati, who takes on Houston at Nippert Stadium to decide the winner of the American Athletic Conference. If UC emerges victorious over the visiting Cougars, both AP and the CFP Committee will have a hard time keeping the Black and Red out of the top four.