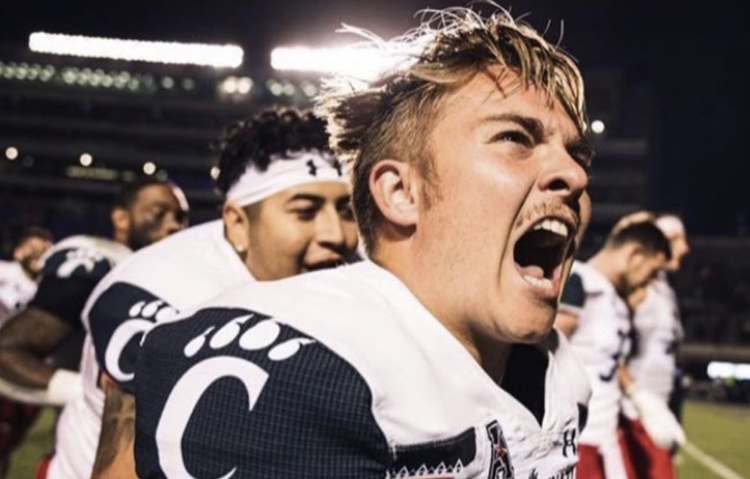 If anyone has been an unsung hero for this year's University of Cincinnati football team, it's Sam Crosa.
For the second time in three weeks, the graduate transfer kicker saved the Bearcats with a game-winning field goal as time expired Saturday to beat the University of South Florida, 20-17.
Crosa was mobbed by his teammates before being lifted onto the shoulders of offensive lineman Cody Lamb and safety Darrick Forrest.
"After a big kick like that you kind of just black out for a little bit," Crosa said Tuesday. "Once you come to and realize you hit the kick and you're with your boys who you've been grinding with all season long, it's a really good feeling."
For his efforts, Crosa was named the American Athletic Conference's Special Teams Player of the Week Monday.
Kickers aren't known to display a flamboyant attitude toward the game, but Crosa smashes that stereotype. He's a 5-foot-7 ball of energy that isn't afraid to celebrate the big moments.
"I've been told I have a little bit of a clown-town personality," Crosa said. "It's just who I am."
Crosa was unknown to Bearcat fans heading into this season, as he transferred from Western Illinois University during the summer months. He began his college career as a walk-on at Bowling Green State University in 2015.
Preseason camp was a vital time for Crosa, as he won a three-way battle for the starting kicker role, beating out Ryan Jones and Cole Smith.
You could argue Crosa has been an underdog since his high school days. As a senior at Dublin Scioto High School in 2015, he was rated a two-star recruit by 247Sports.com and considered the 135th best player in the state of Ohio.
Crosa recalls noticing Luke Fickell at one of his Dublin Scioto practices when Fickell was the co-defensive coordinator at Ohio State. However, Fickell was there to recruit one of Crosa's teammates instead of him.
"I wish I knew [Crosa] a little more," Fickell said Saturday. "He's only been here for about four months. In those four months, he's proven a lot to a lot of guys. From coming in as a walk-on and saying 'Hey I'm in here looking for an opportunity. Just give me an opportunity to prove myself.' He's done nothing but prove himself."
Crosa admits that he was star-struck when first encountering Fickell on his visit to UC's campus.
"I've always been a fan of Coach [Fickell] even before I came to Cincinnati," Crosa said. "At first I was shocked that I got to meet him. Our relationship has gotten better and better every day. He trusts me to do my job."
Crosa and the rest of the senior class will be greeted by Fickell as they run onto the field at Nippert Stadium one last time Saturday against Temple University.