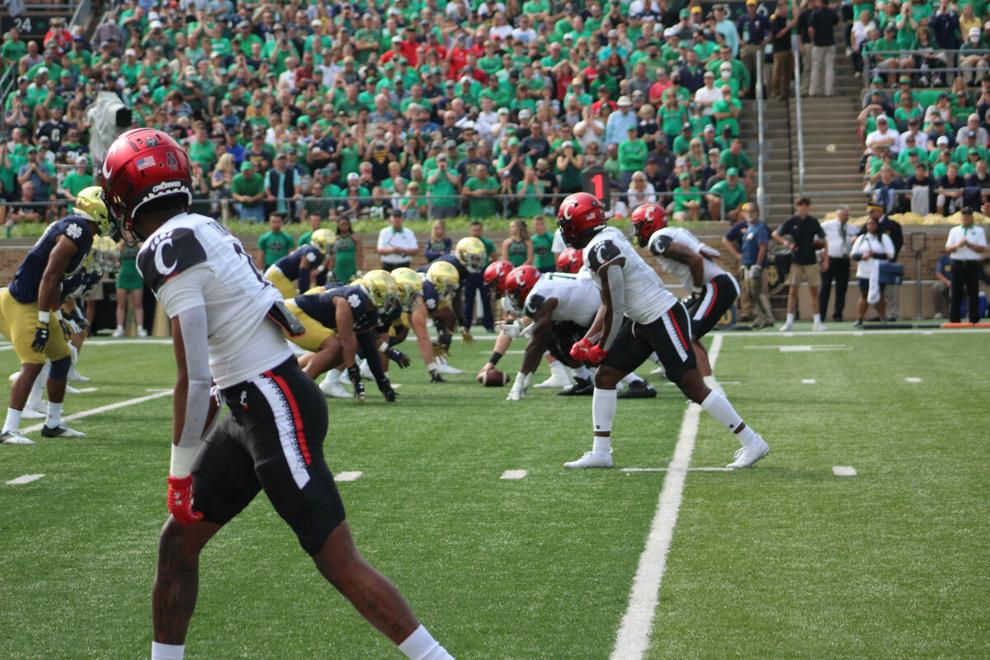 The University of Cincinnati football team is coming off a historic win against Notre Dame and continue a home win streak into conference play on Friday. Before then, let's look at where players' heads lie after the historic win that broke the Irish's home win streak. 
Malik Vann – Defensive Line
"This is definitely the biggest win," Vann said when asked if the victory over Notre Dame was the biggest in UC history. 
Vann, a senior from the Cincinnati area, contributed a sack of the opposing quarterback and a solo tackle. Along with many other players on the Bearcat defense, Vann played under former defensive coordinator Marcus Freeman, now Notre Dame's defensive coordinator.
"We just wanted to come out here and show, on a national scale, that our defense can play with anybody and our team can play with anybody in the country, and that's what we did," Vann said.
Vann couldn't go without mentioning the traveling Bearcat fans, who showed up at Notre Dame Stadium as if it were their own. 
"When the crowd started saying 'Go Bearcats' in the second [quarter], it dwarfed any Notre Dame noise that was coming out," Vann said. "It was the craziest thing I've ever seen."
Alec Pierce – Wide Receiver
"I wasn't too worried about how we were going to handle [the atmosphere]," Pierce said. "This week in practice, we felt a lot more comfortable, we practiced with crowd noise and stuff like that, and it showed coming out here today."
Pierce leads the Bearcats in receiving yards this season with 294, including 144 at Notre Dame. Despite only having one touchdown on the season, Pierce has proved himself to be crucial in getting the ball downfield and has been solidified as someone to guard with caution every time he lines up on the field.
"He's incredibly special," Pierce said of quarterback Desmond Ridder. "He's a great leader. He's the leader of our program, he sets the tone every day."
Ridder and Pierce have created quite the duo this season, putting both of their names on the national radar. As the team keeps winning, the more their names and the team will be discussed in rankings and who's better than who's.
"We don't pay too much mind to it," Pierce said of the national media attention and rankings. 
Leonard Taylor – Tight End
"I felt all the momentum change," Taylor said of his big catch against the Irish. "I feel like the momentum came back to our side. We got that score, got that stop, and all we had to do was finish it off from there."
Taylor, another program veteran, found himself in the endzone for a touchdown at Notre Dame Stadium and knew the crowd was behind the team more than ever.
"It was electric," Taylor said of momentum shifts throughout the game. "It was a way to prove ourselves that 'we can be better than you' in the fourth quarter, which is something that coach [Luke Fickell] preaches all the time."
"This crowd was great," Taylor said. "I had to make sure that I kept my cool and kept my nerves, so I didn't go out there playing too crazy."
Setting a personal season-high in receiving yards and scoring a touchdown wasn't the only contribution Taylor gave to the Bearcats, as he regularly steps on the field for the defense as well.
In common with many of the other Bearcats in the program, Taylor recognizes Ridder's leadership and capabilities on and off the field. Ridder shows his prowess on the field by throwing for nearly 300 yards in one of the loudest atmospheres in the NCAA. Off the field, Ridder shows his prowess by leading halftime speeches and motivating all the players around him.
"We follow him," Taylor said of Ridder's leadership. "We run behind him, we got his back whenever. So, we're going to keep it pushing, as long as he's pushing."
These leaders and their nationally ranked counterparts will kick off conference play in Nippert Stadium at 7 p.m. Oct. 8 when the University of Temple visits with hopes of an upset.