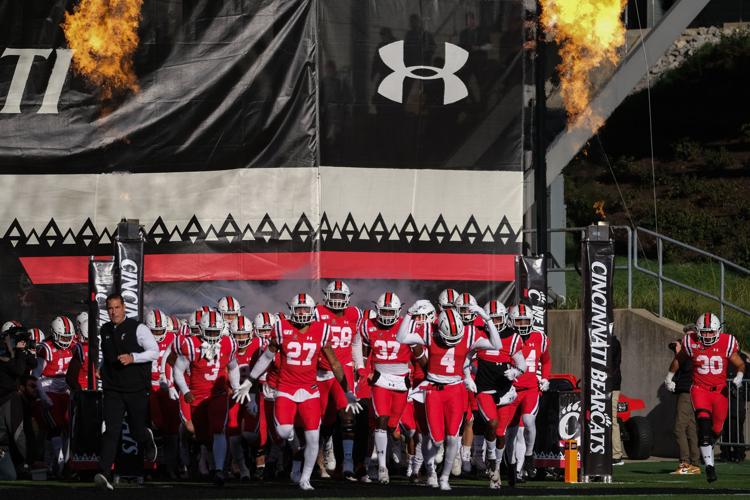 It will be an eventful Saturday at Nippert Stadium, as the No. 19 University of Cincinnati football team plays its final home game of the regular-season.
UC enters its matchup against Temple University off a game-winning field goal from senior kicker Sam Crosa last Saturday against University of South Florida.
The Bearcats will honor 16 seniors on the field prior to Saturday's game.
Below are five notable seniors whose on-field performances have stood out while here at UC:
Josiah Deguara, tight end:
Deguara has built on his breakout junior season when he earned second-team All-American Athletic Conference honors, when he posted the best numbers by a UC tight end (38 receptions, 468 yards and 5 touchdowns) since current NFL star Travis Kelce in 2012.
The Folson, California native has been an imperative piece of the Bearcats' offense this season, leading the team with 30 receptions and seven receiving touchdowns, including a 73-yard reception and late touchdown in the fourth quarter against East Carolina University Nov. 29.
Morgan James, offensive lineman:
Deguara often lines up alongside James, and interestingly enough, James didn't play a down of football prior to coming to UC. The 29-year-old senior redshirted in 2015 after forgoing hockey and pursuing a football career.
Initially one of UC's linemen on special teams, James has since worked his way up to be a mainstay in the Bearcats offensive line. He started all 13 games last year and helped set the school-record for rushing yards in a season. UC accumulated 3,430 yards, breaking the previous record of 3,113.
Rashad Medaris, wide receiver:
Medaris is one of four receivers in school history to have at least one 100-plus yard receiving game in back-to-back seasons since 2013. His speed has made him one of the best deep threats for the Bearcats over his four-year career.
In 2018, Medaris had the longest reception of the Bearcats season (77 yards), and so far this season he has the longest reception once again — a 75-yard touchdown against Houston Oct. 12.
Bryan Wright and Perry Young, linebackers:
Wright and Young have been leaders on defense this season, as they are two of three players with at least 50 total tackles so far this season.
Young finished second on the team in tackles as a sophomore with 101 and is one of three players to eclipse the 100+ tackles in the past five seasons (former Bearcats Eric Wilson and Jaylyin Minor are the other two).
A torn ACL sidelined Young for the final four games last season, but he's come back strong in 2019 with his first career touchdown against the Cougars. He also has two interceptions.
Wright has been just as reliable as Young with two double-digit tackle games so far this season, including 12 against Tulsa Oct. 19.
The Bearcats will celebrate the senior class six minutes before kickoff Saturday against Temple. UC is riding an eight game win streak, and the Owls handed the Bearcats their first loss last season.