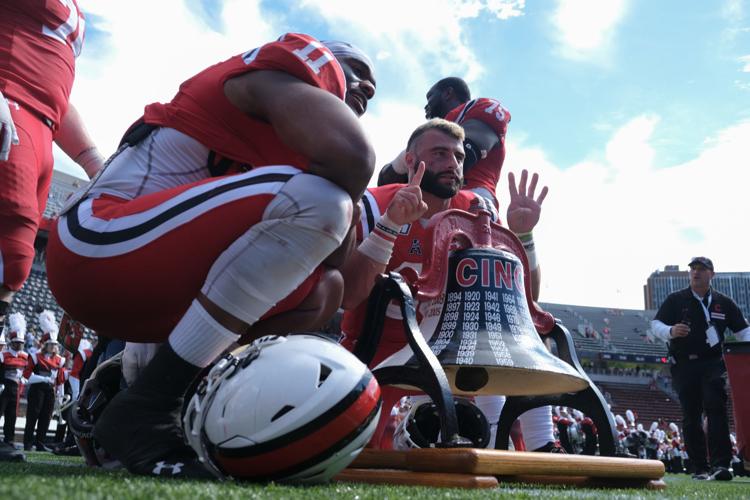 The University of Cincinnati football team heads into its first bye week of the season this weekend with wins against UCLA and Miami (Ohio) University and a blow-out loss at then-No. 5 Ohio State University.
It's been an up and down affair thus far filled with offensive line changes, injuries and missed opportunities. The Aug. 29 win against the Bruins in front of more than 38,000 at Nippert Stadium and a 73-yard touchdown by running back Michael Warren II Saturday against the RedHawks are the main highlights.
Below is a rundown of how the Bearcats stand heading into the break:
As a team:
Despite losing multiple players to injury, UC has fared well — averaging 370 yards of offense and surrendering 311 yards on defense per game.
Redshirt sophomore quarterback Desmond Ridder and Warren have combined for 898 of UC's 1,110 total yards on offense (80.9%) and been a part of all eight touchdowns.
UC has given up 69 total points in three games and cost themselves multiple touchdowns from penalties — something they've struggled with so far.
"I think we're still trying to find the best combination [on the offensive line]," Fickell said during a teleconference Monday. "…We have to do a good job evaluating ourselves and putting our guys in situations that they can be more successful. We have to play a little different at that spot that's so critical for us."
The Bearcats have committed 31 penalties for 256 yards thus far, an average of 10.3 penalties for 85.3 yards per game.
Within the American Athletic Conference:
UC has scored 59 points through three games — second worst in the AAC to the University of Connecticut (47).
Six AAC schools have faced an Associated Press (AP) Top 25 school this season, with the University of Temple being the only team to win — defeating No. 21 University of Maryland.
The Bearcats suffered losses in 2018 to Temple and the University of Central Florida (UCF). The two schools remain arguably the toughest opponents, and the Bearcats play both schools at home later this season. UCF was projected to win the conference, while UC was second.
All of college football:
The Bearcats received 16 votes (No. 34) in the preseason AP Top 25. After the win over the Bruins, UC jumped to No. 29 with 48 votes, but fell completely out of the picture following the 42-point loss to the Buckeyes. UC remains in striking distance of being ranked, as No. 15 UCF comes to Nippert Stadium Oct. 4.
The Bearcats next travel to Huntington, West Virginia, for a matchup with Marshall University (2-1) Sept. 28. Kickoff is 5 p.m.