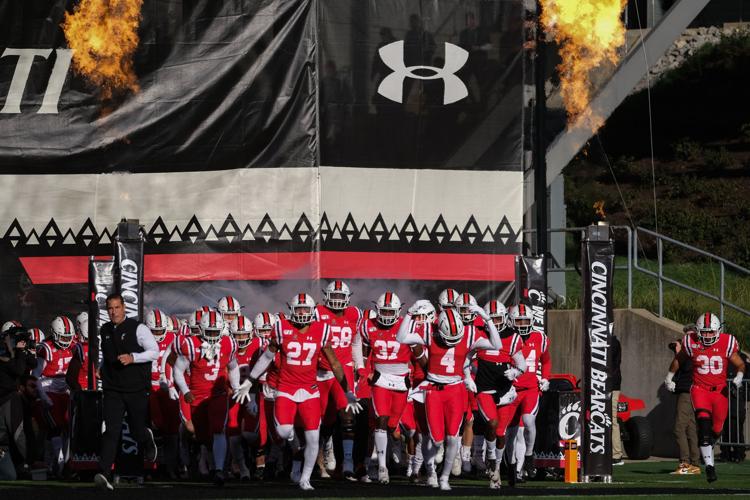 The University of Cincinnati football team has been bowl eligible since Oct. 19, winning seven straight games.
The Bearcats (8-1) rose three spots to No. 17 in the College Football Playoff rankings released Tuesday evening, and they are the high-ranked team in the Group of Five (American Athletic Conference, Conference-USA, Mountain West, Mid-American Conference and Sun Belt).
The next highest Group of Five team is the University of Memphis at No. 18. The highest ranking Group of Five team can earn a New Year's Six Bowl bid (Cotton Bowl in Arlington, Texas Dec. 28).
The Bearcats travel to the University of South Florida this weekend before returning home to face Temple University on senior day. UC will finish the regular-season at Memphis (8-1) Nov. 29, and the game could clinch home-field advantage for the AAC Championship Game.
Below are current bowl game projections that include the Bearcats:
ESPN's Kyle Bonagura: Liberty Bowl versus Texas
A potential game against the Longhorns could mean a higher scoring affair, as each team averages over 32 points per game. It would come down to whose defense can hold up the longest, and UC has a heavy advantage. The Bearcats have more interceptions, tackles for a loss and surrender 60 less passing yards than Texas per game. The Longhorns (6-3, 4-2 Big 12) have close losses to Louisiana State University and the University of Oklahoma. Both teams have defeated a ranked team, as Texas defeated then-No. 16 Kansas State and UC beat then-No. 18 University of Central Florida.
CBS Sports: Gasparilla Bowl versus Louisiana Tech
A game that would be the complete opposite on paper would be the Gasparilla Bowl against the Bulldogs. Both schools currently have top-40 defenses in the country. Louisiana Tech (8-1, 5-0 C-USA) lost to then-No.10 Texas, 45-14, but have held opponents to under 31 points in each game since.
The Bulldogs have won five bowl games in the past five seasons.
USA TODAY Sports: Birmingham Bowl versus Ball State
The most popular bowl game prediction for UC is the Birmingham Bowl against a number of teams, including Ball State University. The Cardinals present a rushing attack of 185.7 yards per game and quarterback Drew Plitt averages 236.1 passing yards per game. Ball State hasn't appeared in a bowl game since the 2013 season and have lost all seven appearances in school history dating back to 1989.