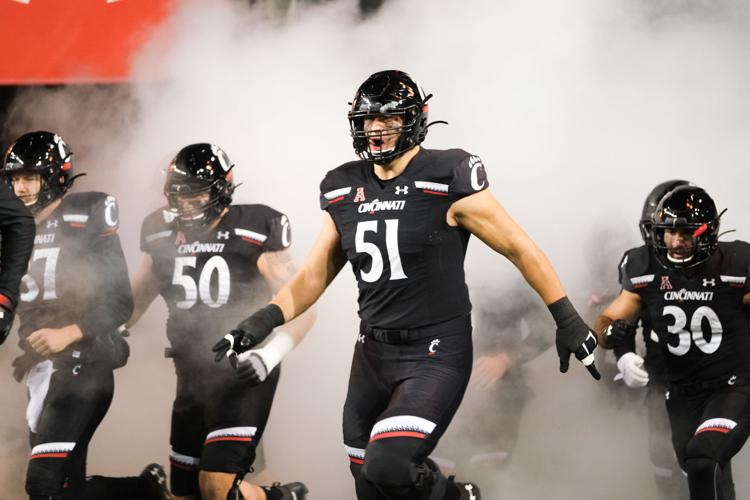 It'll be a rematch of the regular-season finale in the American Athletic Conference Championship game Saturday afternoon, as the No. 20 University of Cincinnati football team faces No. 17 University of Memphis, who defeated UC, 34-24, last Friday. Cincinnati is still hoping for a shot at a New Year's Six bowl game (Cotton Bowl). The Bearcats will need to win and get help, as No. 19 Boise State plays Hawaii in the Mountain West Championship Saturday evening.
Below are three observations for round two of Cincinnati versus Memphis:
---
Ridder is still the guy
UC redshirt freshman quarterback Ben Bryant started last week, as Desmond Ridder was sidelined due to a shoulder injury suffered against the University of South Florida (USF) Nov. 16. Bryant showed promise in his first career start, completing 20-of-32 passes for 229 yards. Bryant had three second-half turnovers (two interceptions and a fumble). UC head coach Luke Fickell turned to Bryant after Ridder threw for 140 total yards against USF and Temple. Fickell said last week he thought it was going to be Bryant's time against the Owls, but Ridder progressed throughout the week. Ridder hasn't thrown for over 200 yards in a game since Oct. 12 against Houston. Fickell confirmed Tuesday Ridder will start Saturday.
---
Stopping the run game
UC's defense held Memphis freshman running back Kenneth Gainwell in check in the loss, as he rushed for 87 yards on 15 carries. The Doak Walker Award semi-finalist rushed for over 1,300 yards and 12 touchdowns leading up to the game. It was senior wide receiver Antonio Gibson who gashed the Bearcats for 75 yards on six carries, including a 29-yard touchdown with 3:16 left in the fourth quarter to put the game out of reach. "It's not just speed, it's also physicality," Fickell said in a Tuesday news conference. "I'm not saying we didn't expect it, but they were much more physical on the defensive line and offensive line than you could assume just watching the film."
---
Limit explosive plays
Memphis has churned out explosive plays all year, averaging 6.8 yards per play, which ranks sixth in all of college football. They are 11th in total offense (475 yards of offense per game) and finished with 432 last week. UC allowed five plays of over 20 yards with wide receiver Damonte Coxie having six receptions for 145 yards, including a 54-yard touchdown. Bearcats freshman cornerback Ahmad Gardner said preparation will play a key role in fixing the prior mistakes. "We had to change the game plan up a little bit," Gardner said. "They won, so I don't think they'll prepare as hard we are preparing this week. We want to win a championship real bad… We play through the seniors and will go as far as they take us."
Kickoff is 3:30 p.m. E.T. on ABC.