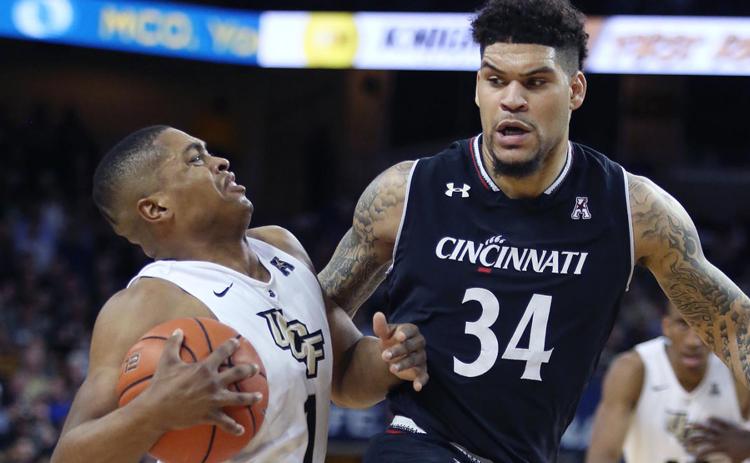 Get some extra sleep. Drink some coffee for dinner. Friday night will be a long one.
First the University of Cincinnati football team will host the No. 18 University of Central Florida Knights at Nippert Stadium on ESPN. Then they'll open Fifth Third Arena to host Midnight Madness to jump start the men's and women's basketball seasons.
After a 15-year hiatus, "Bearcats Madness" as it's now branded, will make a return. The event was announced during the football game against UCLA Aug. 29.
Not only will it be the first glimpse of first-year men's basketball coach John Brannen, but also a chance to check out Michelle Clark-Heard's women's squad that made a run in the WNIT last season.
Former men's head coach Bob Huggins (1989-2005) built the event to national prominence in the 1990s and 2000s. In 1994, it attracted ESPN's Dick Vitale and Robin Roberts, and a UC student drained a half-court shot for tuition money. A packed Fifth Third Arena went wild.
The presence of a fun preseason event to create anticipation for the start of the season was nonexistent during Mick Cronin's tenure.
Brannen's initiative to bring back Bearcats Madness in his first year shows his desire to increase fan engagement around his team.
Although the basketball portion of Friday night won't be televised anywhere, keeping fans and alumni committed provides insight into what's new around campus.
Head football coach Luke Fickell and Brannen are clearly on the same page when it comes to captivating as many people as possible.
"It was an opportunity to show what kind of energy we really have on campus," Fickell said of the environment during the UCLA football game, which boasted the seventh largest crowd in Nippert Stadium's history. "I know it's a sporting event and you can see it, but you can learn so much about what's going on around campus by these events. This was an opportunity for us to show the country not just our football team, but our university and the energy that is behind us."
Notable UC men's basketball alums expected to attend Bearcats Madness includes Terry Nelson (1991-93), Steve Logan (1998-02), DerMarr Johnson (1999-00), James White (2003-06) and Kevin Johnson (2013-17). Skyline Chili returns as the title sponsor after promoting the event previously.
Worth noting is the lack of a slam-dunk contest on the schedule, which was a fan favorite in the late 90s and early 00s.
Admission is free, and the full schedule of events is listed below:
10 p.m. – Fifth Third Arena doors open
10:30 p.m. – Formica autograph session begins on west concourse
11:30 p.m. – Event begins with introduction of men's and women's coaches, staff and student athletes
Midnight – Fifth Third Bank $100K Half-Court Shot
12:05 a.m. – Men's and women's basketball three-point shooting contest
12:20 a.m. – Women's basketball scrimmage (20 minutes)
12:41 a.m. – Skyline Chili Gift Card Parachute Drop
12:45 a.m. – Men's basketball scrimmage (20 minutes)
Upcoming exhibition games at Fifth Third Arena:
Women's basketball vs. University of Charleston (Oct. 29, 7 p.m.)
Men's basketball vs. Thomas More (Oct. 31, 7 p.m.)