The University of Cincinnati baseball team fell short in its season-opening three-game series at Florida Atlantic University (FAU) last weekend in Boca Raton, Florida.
The first game of the series did not start in the Bearcats' favor, as the team fell 9-0. FAU blew the game open, scoring eight runs in the bottom of the third inning.
The rest of the game was lackluster, as UC didn't score and FAU had one run in the eighth inning. The only action from UC's offense came from senior A.J. Bumpass, redshirt junior Jeremy Johnson, junior Joey Bellini and senior Mason Deanna, who each had one hit.
In the second game of the series Saturday, the Bearcats struck first with two runs by sophomore Joey Wiemer and junior Eric Santiago in the third.
In the fifth, junior Jace Mercer scored on a fly by senior Cole Murphy. FAU responded with two runs, bringing the score to 3-2.
The sixth brought heavy scoring. UC scored when Santiago singled to left field, pushing Bellini to third and bringing Johnson home. Bumpass flied out to right field to advanced junior Mitch Holding to third base, and Bellini home to score.
The final run of the inning for UC came from Holding after an FAU error. The Bearcats scored again in the eighth when Wiemer singled, bringing Mercer in to score.
The game went to extra innings, with FAU scoring a run in the bottom of the 11th inning for an 8-7 win.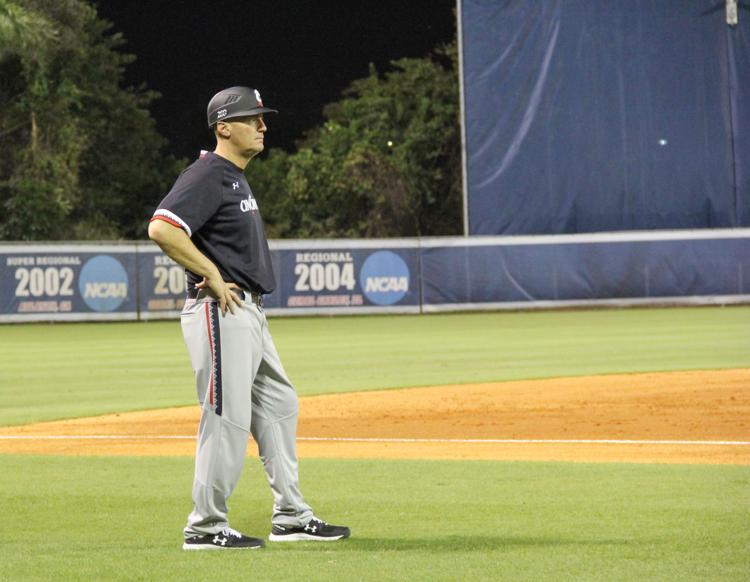 "If you look at this weekend, there's three innings each game — one big inning, and that killed us," said UC head coach Scott Googins. "[FAU] is the 30th ranked team in the nation, and we were able to hang with them. So, I feel pretty good about where we're going."
Sunday's series finale started slowly until the Bearcats scored in the fourth inning. Johnson put the Bearcats on the board first with a solo home run to left field.
The action picked up halfway through the game, as Santiago singled, then Mercer homered to right field, bringing the score to 3-0. FAU answered back with four runs in the fifth, bringing the score to 4-3.
The Bearcats offense ran out of juice and FAU scored another run in the sixth inning. Neither team scored in the final three innings, and FAU won 5-3.
"It was a disappointing weekend for us, but we got to keep our heads up," Googins said after Sunday's loss. "There's a lot of positives that we saw this weekend. We played some good baseball at times. There's things we need to clean up, but it's just one weekend."
UC returns to action Feb. 22-24 in Houston against the Houston Baptist University Huskies. Friday's first pitch is scheduled for 3 p.m. ET.