Sometimes, you have to create your own madness.
Joel Steimle, a first-year computer science student at the University of Cincinnati, has launched JPI Rankings, a power index that ranks every NCAA Division I basketball team.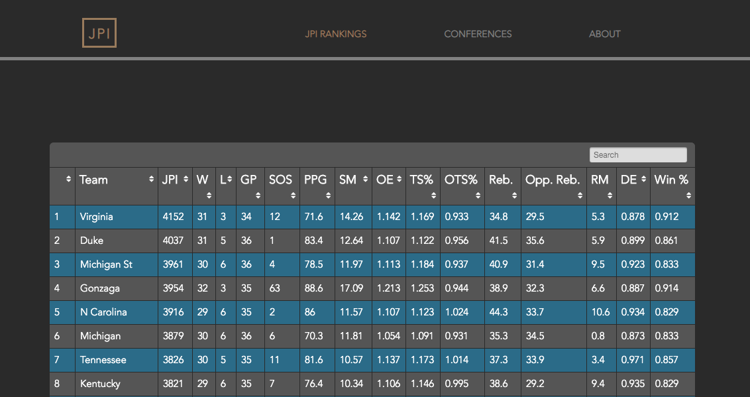 The rankings take into account both results-based statistics (winning percentage, average scoring margin, etc.) and in-game statistics (true shooting percentage, defensive efficiency, etc.), Steimle said. He adjusts each statistic based on the strength of each team's schedule.
"The fun part about it is going through and looking at what games are coming up and look at where the two teams are currently ranked and try to predict an outcome," Steimle said.
During college basketball season (November through April), the statistics are updated daily. Using a Google spreadsheet before posting the rankings on his website, Steimle has each statistical category programmed to update automatically.
"I developed it and put a ton of hours into it last summer," Steimle said. "I originally made the rankings for an AP computer science class during my senior year of high school last year, and part of the test was project based. I used the rankings as part of the project."
Rankings of the NCAA Tournament Final Four teams, according to JPI Rankings:
No. 1 Virginia
No. 3 Michigan State
No. 9 Texas Tech
No. 15 Auburn
Steimle said the website doesn't use results from games played between Division I and non-Division I teams. It also doesn't incorporate preseason rankings into its formula, nor does it take into account the scoring margin of a game up to 25 points, as victories that large are not an accurate reflection of a team's overall performance.
To view the full JPI Rankings index, click or tap here.