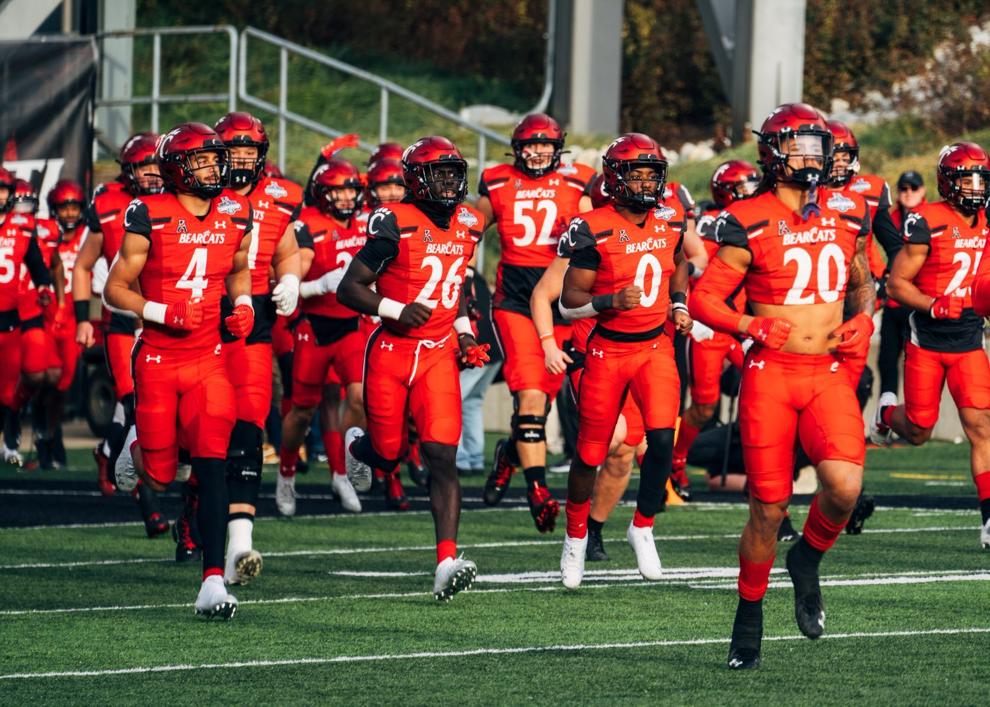 With back-to-back American Athletic Conference (AAC) Championship titles belonging to the University of Cincinnati Bearcats (13-0), the future is now for the country's No. 4 team. 
"We weren't going to be denied," Cincinnati head coach Luke Fickell said following his conference championship victory. 
While enduring an ongoing season that marks the most successful in school history, Cincinnati's underclassman and returning squad have experienced a season of leadership that is unprecedented. 
With 33 seniors departing Cincinnati following their post-season run that likely includes a semi-final game amongst the top-four, Cincinnati's returning cast showed up big in the seniors' last outing at Nippert Stadium. 
Eleven of Cincinnati's 22 starters against Houston are set to graduate from the Bearcat's team following this season, leaving a chance for the program's future to step up to the plate. 
Although Cincinnati's convincing 35-20 AAC Championship win over Houston is highlighted by the big plays and post-game celebration, a closer look at the film will note a big portion of the team's future lighting up the field. 
Among them, Jerome Ford, Cincinnati's junior running back, had gashing touchdown runs of 79 and 42 yards. Ford went on to rush for 187 yards, securing himself the title game's Most Outstanding Player of the game award. 
Ford, who has become notorious this season for being humbly quiet about his success was a man of few words when presented the award, simply saying, "It was great." 
Ford has been able to amass 17 rushing touchdowns on the season large in part due to the push from his offensive line, who is centered by Jake Renfro, a sophomore. 
Although Renfro will be snapping the ball to a different quarterback in 2022, he has established himself as a dominant presence on Cincinnati's offensive line, one in which Ford must be looking forward to following in games to come. 
Aside from Renfro, this five-man front is made up entirely of juniors, posing a scary combination with Ford's legs for opposing defenses down the road.  
Before Ford stole the game's spotlight, it was Cincinnati's sophomore receiver, Tyler Scott who put the first points on the board for the Bearcats, just over five minutes into the game. Scott's touchdown was the answer Cincinnati needed, after Houston came out of the gate seemingly wanting the game more, leading them to find the scoreboard first. 
Defensively, Cincinnati has two of their most productive tacklers at the linebacker position returning for another season in junior Ty Van Fossen and sophomore Deshawn Pace. Both Van Fossen and Pace significantly contributed to holding Houston's offense to their lowest-scoring game of the season. 
Pace, a Cincinnati native who has four interceptions on the year, was the glue holding Cincinnati's struggling first-quarter defense together, leading Cincinnati after 15 minutes of play with five tackles and three solo. Pace's one tackle for a loss came in addition to his seven total tackles and three for a loss. 
Van Fossen was the title game's all-time leading tackler with nine total and five for a loss, tying Cincinnati's departing leader, Darrian Beavers. 
Also leading the Bearcat's linebacker corps has been graduate senior Joel Deblanko, who found himself his first career interception in his last game inside Nippert Stadium. 
"I was like 'crap I have the football right now," Deblanko said on how he felt when the ball wound up in his hands. 
While the Bearcats have been in the consistent spotlight for their seniors' accolades and contention for the College Football Playoffs, this group of returners have been quietly grinding a historic season in the shadows of their celebrated leaders. 
However, all 33 of Cincinnati's seniors who are succeeding in the current spotlight, were once learning the ways in the shadows of those before them, meaning Cincinnati's crew who is up next are to be reckoned with. 
Regardless of where Cincinnati's post-season takes them, the future of the Bearcat's program will remember the confetti that fell upon them while "We Are the Champions" rang throughout Nippert Stadium and the feeling of achieving their one true season goal of conference champions 
Dec. 6 at noon on ESPN, the world will see just how much the 13-member CFP committee respects the Bearcats after their trophy hoisting game.