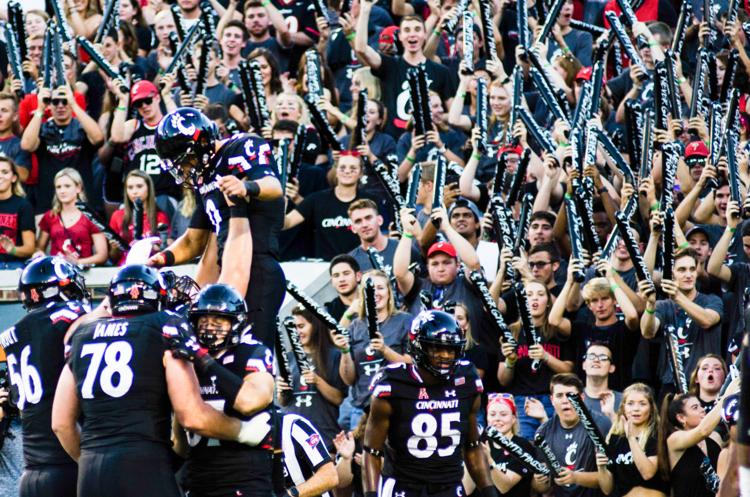 Since 2015, the University of Cincinnati Athletic Department has offered an initiative called "Experience UC" that gives students and fans an opportunity to attend women's basketball, lacrosse, volleyball, women's tennis, men's/women's soccer, men's/women's golf, swimming and diving and track and field events for free. 
"Experience UC is a user-friendly community outreach effort we have been developing over the last year," UC Director of Athletics Mike Bohn said on gobearcats.com. "This is an opportunity for many more to witness the seismic changes which are transpiring on our incredible campus…The Bearcats are competing to be the class of the league and we invite people to be a part of an unprecedented time in Clifton."
For football, current UC students can purchase season tickets for $70 before the season.  Not only does this include tickets to all home games but select food concession options on game days and a complimentary UC Under Armour T-shirt.
The 2019 football schedule includes home games against UCLA, Miami (Ohio), UCF, Tulsa, Connecticut and Temple.  
Bearcats vs. Miami - Sept. 8, 2018
However, students also have the option to claim a free ticket by visiting the UC Athletics ticket office windows during the week leading up to the game. The ticket office is located on the outside wall of the Richard E. Lindner Athletics Center facing Nippert Stadium.
Men's basketball is the only other sport that currently requires student tickets. Season ticket prices for the student sections typically run around $150. But like football, students can visit the ticket office to claim a free ticket leading up to the game.
Although the official schedule with locations has not yet been released, UC's non-conference schedule for the upcoming season will include matchups with University of Tennessee and University of Nevada. Regional non-conference road games will feature Xavier University, Northern Kentucky University and Ohio State University as well.
In 2016, the UC Athletics department added a student rewards ticket program called Ruckus Rewards.
Students can download the app through the Apple Store and "check in" when attending athletic events to gain points. Earning a certain amount of points will give priority for merchandise and tickets to more prominent athletic events, such as the Crosstown Shootout rivalry game against Xavier.
Aside from receiving priority for big rivalry games, students can also use the app to obtain tickets for football or basketball games.
Students are also able to claim prizes such as Under Armour gear, locker room access, courtside seats and the opportunity to travel to road games for the two sports.
For more ticket information, students can visit the Bearcats Ticket Office located at 2751 O'Varsity Way Suite 480 or call 1-877-CATS-TIX. More information is available on gobearcats.com.