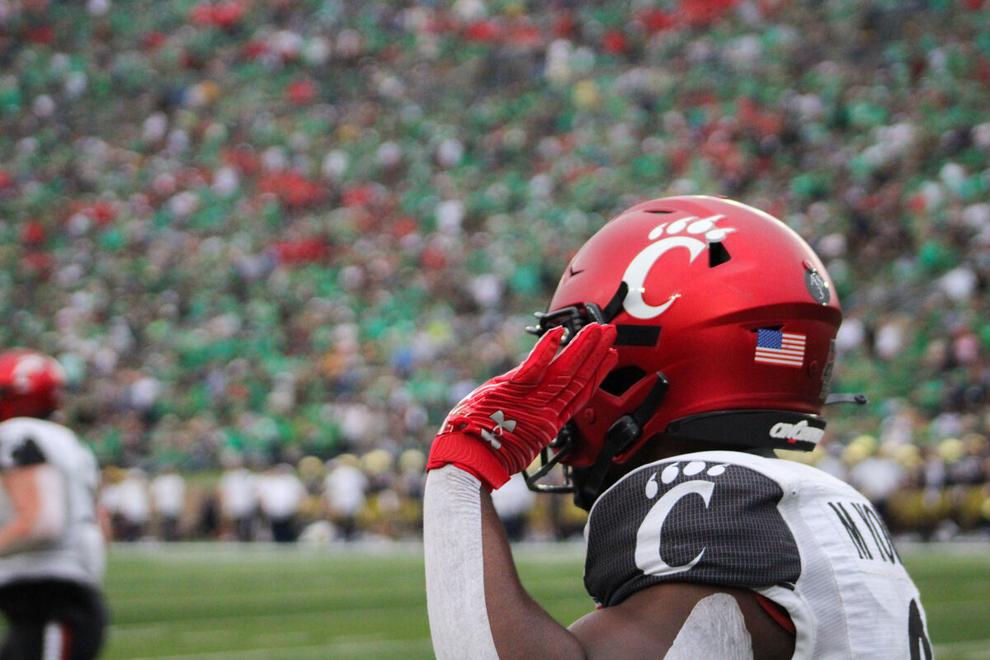 Following a historic win for the University of Cincinnati (UC) Bearcats, the Temple University Owls are looking to try their luck, upsetting the No. 5  Bearcats Friday Night. The Bearcat's American Athletic Conference (AAC) opener will take place at 7 p.m. in the historic Nippert Stadium for a fan favorite blackout-themed Nippert at Night affair. 
The Bearcats are coming off a 24-13 victory against the No. 9 University of Notre Dame Fighting Irish. Temple also celebrated a homecoming win last week, defeating the Memphis Tigers 34-31. Temple was down 0-17 in the second quarter before tying it up before halftime. 
The five matchups between these two teams in Nippert have all been primetime events, with this game being no exception. The Bearcats have 22 straight wins at Nippert Stadium, securing them with the second-longest current home winning streak, behind the University of Clemson Tigers with 31. 
The last defeat the Bearcats had in Nippert was in Nov. 2017 to Temple with a score of 35-24. The last matchup occurred two years later in Nov. 2019, with the No. 19 Bearcats winning 15-13. The 2020 matchup was canceled due to COVID. The series between two programs stands currently at eight wins for the Bearcats, 11 for the Owls, and one tie. 
The Bearcats have been ranked in the AP Top 10 since Oct. 11, 2020, so a win Friday would mean remaining in the Top 10 for 365 days. Last week's victory in South Bend, Ind. brought many team and player accomplishments for the Bearcats. Senior quarterback Desmond Ridder won the honor of National Quarterback of the week through the Davey O'Brien Award, along with this sixth career AAC Offensive Player of the Week honor. 
The Lott Trophy Player of the Week, which celebrates college football's defensive best in character and performance, was awarded to senior cornerback Coby Bryant. The Football Writers Association of America named the Bearcats the Cheez-It Bowl National Team of the Week. 
"We haven't changed the way we're attacking this week – we haven't changed any week. As far as how we attack this thing emotionally and physically and with our focus", said Temple Head Coach Rod Carey when asked how he will approach this week's game during a press conference on Oct. 4. 
"Obviously a great weekend, but we got to find a way now to continue to move forward. We're heading into league play now, AAC play, and we've had one objective since we've come in. Whether it was year one or year five, and it is to play for championships and the only way you can do that is to win your league", said UC Head Coach Luke Fickell. 
"Here we are in kind of the middle part [of the season] to start the league, and we really got to lock ourselves in and focus on what it is that we're doing because we've got to continue to get better, we know the bullseye will continue to grow. Temple has really been a thorn in our side since we've been here", said Fickell. 
Despite being 3-2 on the season, Temple is on a two-game win streak and is vengeful to do what Cincinnati did to Notre Dame; break a historic home win streak. 
Tune in to the 7 p.m. kickoff on ESPN Oct. 8, to watch Temple's attempt to upset No. 5 Cincinnati.