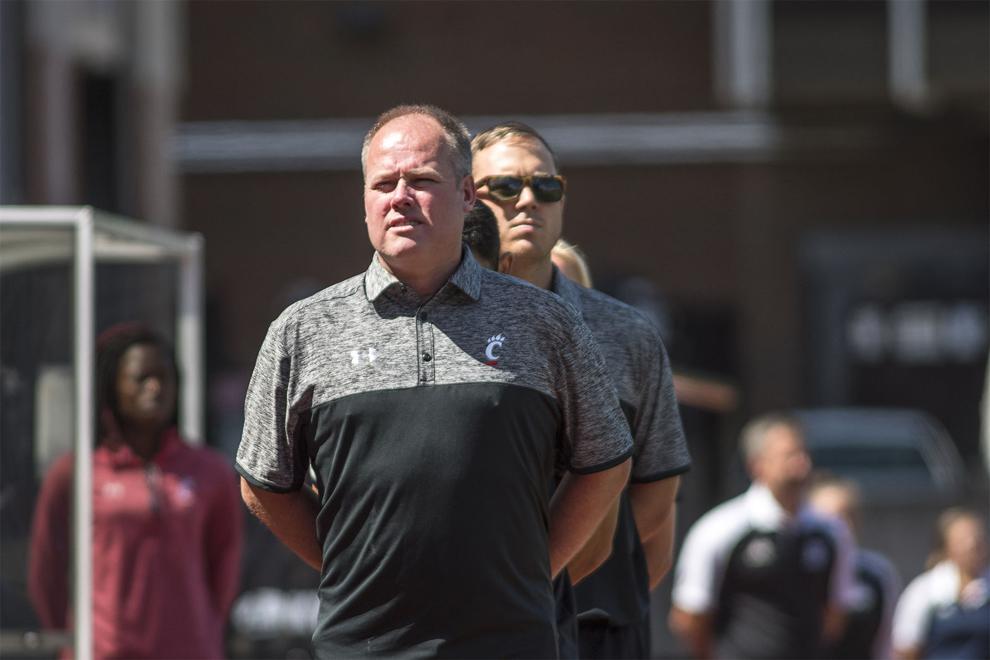 Everyone in the country has been affected by COVID-19 this year, but athletic departments and sports programs across the country have been among the most harmed by it.
From socially distant practices to a postponed season, the University of Cincinnati women's soccer head coach, Neil Stafford, and his team have been put through the wringer. However, Stafford has managed to make the best of it, in his personal life and with his team.
The News Record interviewed Stafford recently to get his thoughts on the athletic department's staff cuts and his team's postponed season. 
---
The News Record: How have you and your family been doing during the pandemic?
Neil Stafford: Our family's been great. My wife is by far the strongest person in the household. Her attitude is so positive, she leads our family. When you throw in homeschool, and two kids who are barely ten months apart, one and two years old, it can be chaotic.
What my wife does a remarkable job of is that she just keeps things in perspective. She's really grounded all of us. She's also involved with our program as our volunteer director of [operations], she enjoys connecting with the players, we really have moments of picking each other up.
COVID is horrible, it's resulted in some terrible situations for people. But the silver linings with COVID has been the ability to really connect with my family. Teaching my kid how to ride a bike and tie his shoelaces has been priceless. I could have missed that stuff if we were in our regular schedule.
TNR: What are your thoughts on the recent cuts made by the athletic department?
Stafford: It's all about the times we're in, this COVID stuff is just wreaking havoc. Unfortunately, it's sticking people with really difficult circumstances and decisions. I don't envy the task of leadership right now, it's tough.
Some of people were connected to the woman's soccer program. Your heart breaks for them and their families. It's such a tough situation we're all in right now, you have people that touched several sports, and that's what makes it more painful is the relationships you have with these people.
It's impacting people in different ways. You're talking about people's livelihoods and careers. The decisions they're making are really tough. You know it's having an effect on them also. Very difficult times. That's a far cry from what we see from different aspects of life right now. It seems like everybody's hoping someone else will make a decision whether it's COVID or whether it's politics or what have you. So, I give credit to our leaders within the school who are making decisions.
TNR: Earlier this year, the men's soccer program was discontinued due to the budgetary restraints of COVID-19. Given the climate we're in, do you have any similar fears for the women's soccer program?
Stafford: You've got to be realistic with the times we're in, that things can change, it's easy to feel vulnerable. But I feel very good about what we do as a program. I don't have any control over those decisions, that's way above my pay grade. All I focus on is doing my job and providing the best experience that we can to our student-athletes.
I've always felt from the administration that women's soccer is viewed in a very positive light. I've always felt valued by the different athletic directors we've had in my time or our sport oversight Keri Thoman.
TNR: How have your players, especially your seniors, been handling this up and down offseason?
Stafford: Our seniors [are] incredibly mature. They have great perspective on the times. They're fluid in regard to how they maneuver. I'm really, really proud of the leadership that our seniors are giving knowing full-well this is their last potential go-around.
The good news is right now no senior would be using a year of eligibility. I'm hoping that if the seniors think it's a fit to come back then maybe we can look at that. If the timing is right between the incoming freshman and the seniors, hopefully we're able to work it out. [But] I'm really proud of the leadership the seniors are giving because it's selfless and it's never been about them even though it's their senior year.
TNR: Come spring of 2021, it will have been a full year since the women's soccer program last took the field in an official collegiate match. How does that affect you and the team?
Stafford: We had a shortened spring. We were able to get one game in. That hit us hard, certainly not as hard as the winter and spring sports who had their championship seasons taken away, but it hit us hard because over the last two seasons we've been incredibly young.
In 2018, we started 6-8 freshmen. In 2019, we started 6-8 sophomores and freshmen. You look at that spring as an opportunity really keep that trajectory going with the development of the team. Here we are now with a fantastic freshmen class and two classes that have really matured over the past two seasons. So, for us, this couldn't have been worse timing, but so is life.
TNR: In August alone, the American Athletic Conference announced its approval for the women's soccer and then proceeded to reverse their decision weeks later. What kind of impact did this indecisiveness from the conference have on the team?
Stafford: I think it's an incredible opportunity for us to focus on what we do. We look at this now as an opportunity to do something that no other woman's soccer program has never done before and that's to use the fall to get ready for a competitive spring.
[It's] something that we want to embrace. Nobody in the history of UC women's soccer has ever been through this. It's a great challenge, but it allows us to focus on our principles & philosophies. Whether it be our tactical work, our own self-development, mental [work] or emotional [work]. It's a ton of opportunity.
No matter what decision has been made, whichever way the decisions [have taken] us, our kids have controlled the narrative, instead of allowing the narrative to dictate their emotions. 
No official schedule for women's soccer has been made for spring play following the announcing of its postponement.