Redsfest is every Cincinnati Reds fan's idea of heaven. Held last weekend at the Duke Energy Convention Center, the event featured activities including autograph signings, an interactive pitching speed station and batting practice on a makeshift wiffle ball field.
For passionate fans, there was an endless supply of Reds memorabilia. Game-used helmets, bats, bases and old stadium seats from Great American Ball Park were on display. A few lucky attendees had the opportunity to purchase a bag with a mystery player's game-worn jersey.
If you felt like relaxing, there were recliners and flat screen televisions to take a break. The most sought-after items were player autographs. Every hour, a new group of players (past or present) were made available for meet-and-greets.
As soon as the announcements were made, a free-for-all started with a stampede of people running every direction to secure a spot close to the front of the autograph line. If it was announced that a popular player was scheduled to sign autographs, the line was bound to be longer. Once attendees secured a spot in line, the waiting game began.
Seasoned veterans of Redsfest came prepared, bringing portable chairs, books and ear buds to relax while waiting in line. Like the autograph phenomenon, attendees also waited in line to take photos with players. The event presented an opportunity for fans of all ages to meet their favorite players and build long-lasting memories.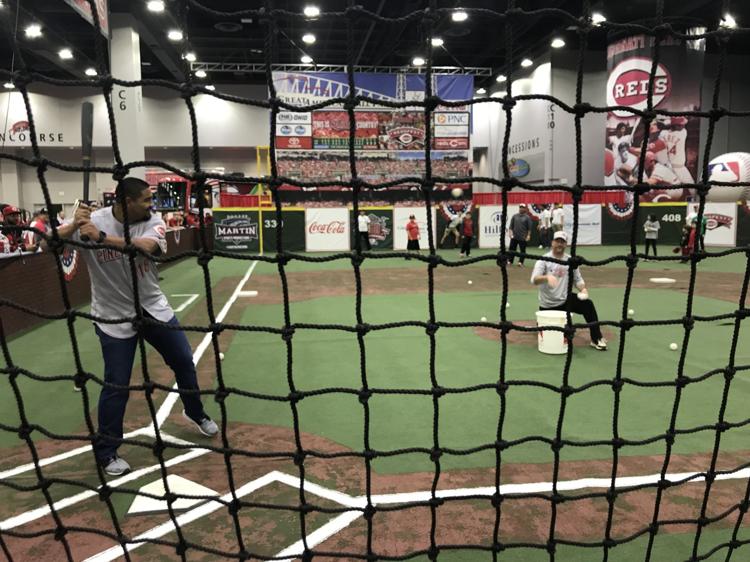 The treasure of Redsfest is being able to see what the players are like off the field. At times, we view athletes as robots and lose track of the fact that they're real people with real personalities. Redsfest gives fans a chance to see how genuine these players really are.
Top prospect Hunter Greene gave pitching tips to young children, many of whom tested their pitching strength at the pitch speed station. Other top prospects, including Taylor Trammell and TJ Friedl, cheered on children who competed in the Redsfest Home Run Derby. Pitcher Amir Garrett walked through the crowd, tapping people on the shoulder and then running the other way. Another pitcher, Cody Reed, stuck around after one of his interviews to sign autographs for a dozen people.
The event succeeded in bringing players and fans closer together. It gave everyday fans an opportunity to talk to players and ask them questions directly — something that usually can't be done at a game or news conference. Every year, Redsfest provides a shared outlet for fans and players to celebrate the team and the reminisce about its past.