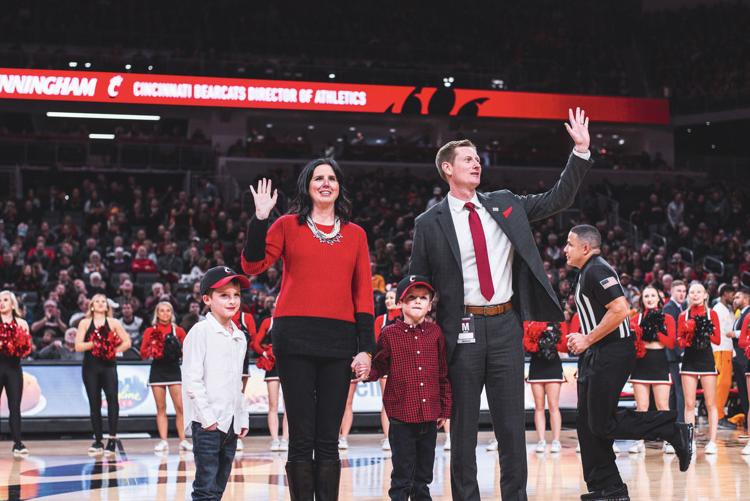 John Cunningham, UC's new director of athletics, was hired Dec. 18, 2019 and began his tenure at the beginning of the spring semester.
The News Record interviewed Cunningham this week to get to know the former Deputy Athletics Director at the University of Minnesota.
The News Record: What attracted you most about coming to Cincinnati from Minnesota?
John Cunningham: The success of the athletic department is what initially attracted me. You look at over the last 20 years what this athletic department has been able to accomplish. Typically, the two sports you see most clearly from afar are football and men's basketball. We've made 15 bowl games and 14 men's basketball NCAA tournaments [in the past 20 years]. That tremendous amount of success in those two high profile sports is what initially attracted me here. The university itself and where it's going, President [Neville] Pinto's vision is something I immediately bought into and really appreciated him telling me. I really love the physical layout of the school and its feel.
TNR: When you graduated with a law degree from the University of Nebraska in 2005, did you ever envision this line of work being the path you would end of taking?
JC: No, not at all. I started wanting to be a lawyer, but once I got about halfway through, I knew I didn't really want to practice law day in and day out. So, I looked for something else to take that law degree and apply it to. I kind of found my way into collegiate athletics through a couple of unpaid internships at the University of Maryland, living on my buddy's couch. Once I found my way into their athletic department, it kind of took off from there.
TNR: What about yourself do you feel makes you prepared for this new position?
JC: I've had the chance to be at six different schools and programs and when you're at different institutions at different levels and different budgets, you get to see a lot of different things. So I do think that's part of what's good for me — all of the different experiences I've had at different institutions. I always want to make sure my decisions are strategic, so I make sure to take my time and think through things as well.
TNR: When approaching a new contract for head football coach Luke Fickell, do you have a "game plan?"
JC: My game plan is that we're going to do our very best for a coach that we know is a tremendous coach and someone who has done so much for this program already, but is also just such a great fit for this program. We'll be putting our very best foot forward. We obviously want him to be here, and we'll support him in every way we can with the resources we have.
TNR: So far, what have been the biggest challenges facing you as athletic director?
JC: Really just understanding what my staff needs internally to be efficient and effective has been taking some time to dig into and feel out. Some mini history lessons across the way to piece everything together. When you're dealing with these many sports and moving parts, that can definitely present a challenge. Obviously, when another school comes knocking about your football coach, that's going to be a challenge as well.
TNR: Do you have any set initiatives for any specific programs or the Cincinnati community?
JC: As I said in my press conference, I really want to reach out to local youth. That's going to be close to my heart in terms of what I'm trying to do here. I think that's part of how you build long-term fans — by getting to them when they're younger. We sent a group out to meet with the schools here just the other day and gave out some t-shirts we purchased through Under Armour. We also want to make sure campus is accessible for these young people in the community. This is their home just as much as it is ours.
TNR: Are there any upcoming plans that the UC community should know about?
JC: We've been pretty public about our plans to redo our football locker rooms and some other internal spaces that I'm not quite ready to announce. We're also getting ready to hire an external person to come in and oversee our external units. That person is going to really be focused on the environment within our stadiums and arenas, unique ticket sales ideas, bringing the community to games and being a part of everything we do. They need to be very strategically thinking and obviously we need to find the right individual to come in and do that.
TNR: What kind of vision do you have for the athletics department going forward?
JC: My vision is that we continue to get better. We had a vision statement that we've been working on and just recently announced, "Next Level Success." As you look at that, it's a vision about continuing to grow.
TNR: How have you and your family settled into a new life in Cincinnati?
JC: Unfortunately, I'm living without my family right now. They've visited twice now, though, which they've had a blast getting to see the city a little bit these last couple of weeks. They're still back [in Minnesota] and I'm living in an apartment here close to campus, so I'm getting a real sense of the Clifton area. The Kroger, the office and my apartment is kind of my own little world right now. Every chance I get I take my car and check out a couple neighborhoods and get a feel for what it's all about and picking the right area and schools for my kids since we know this is where we want to raise them.