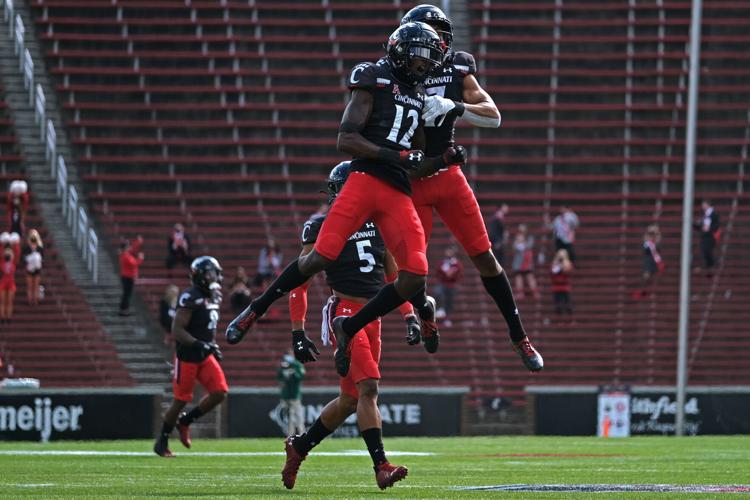 The University of Cincinnati defense has gotten off to a heated start in the 2020 season, allowing only 37 points and forcing seven turnovers over three games. One of the standouts up to this point has been sophomore cornerback Ahmad Gardner.
Gardner had a breakout freshman season in 2019. He evolved into a starter over the year, with his most memorable moment being a pick-six in the third quarter of a 27-24 upset win over then-ranked #18 University of Central Florida.
Before starting this season, Gardner was named on the short-list for a potential Jim Thorpe Award candidate, given to the nation's top defensive back every year. After playing in all 14 games last year, Sauce has already nearly matched or halved some of his stats from 2019.
TNR talked with the Detroit native after practice to hear some of his thoughts on the season.
The News Record: What is the story behind your nickname, "Sauce."
Ahmad Gardner: I got that name when I was younger, in little league. I was about six years old, it really came from my athletic ability on the field, that's how that name came up. My coach gave me the name. There wasn't really no meaning, I was an elusive running back, I could juke. It's stuck with me all the way up to here.
TNR: You already got two interceptions this season, how have those motivated you going further into the season?
Gardner: I'm feeling good about those. I actually set a goal, I told myself I was going to get more interceptions than I did last year (3). You know, I'm starting at the beginning of this year and everything [and] I have two already, so it looks like I'm going to beat it, you feel me?
TNR: You were put on the watch-list for the Jim Thorpe Award this season after breaking out last year. Has the award been on your mind?
Gardner: I told myself that I was going to win it when I got into college. It's my sophomore year and some sophomores have that "sophomore slump" and everything like that. I've just made sure that I finish where I started last year and only elevate from there. It's a blessing, that's for sure.
TNR: The defense has been a major part of the team's success so far this year, what do you think have been the key factors in that?
Gardner: We a brotherhood, we stick together, play together and everything in between. We're doing everything we said we were going to do as a defense. Worked very hard in the summer, the spring and everything and it's all paying off.
TNR: UC football is ranked in the top-ten for the first time in a little over a decade, what does that mean to you?
Gardner: We're feeling pretty blessed about that, you know, but we can't get caught up in the ra-ra and everything. You can't get big-headed or anything like that because everybody that plays us it's going to be like their championship game. Everybody's gunning for us, we just got to be ready for it.
TNR: Looking ahead to your next game against Tulsa, who beat UCF their last time out, did the bye-week help in your preparation?
Gardner: The bye-week just gave us time work and help our bodies and everything. Other than that, we're just going to continue doing what we been doing. We're not going to change anything for no team. We trust each other, and we know we're going to go out there and ball.
UC takes on the University of Tulsa this weekend on Oct. 17 at noon and will be aired on ESPN2.