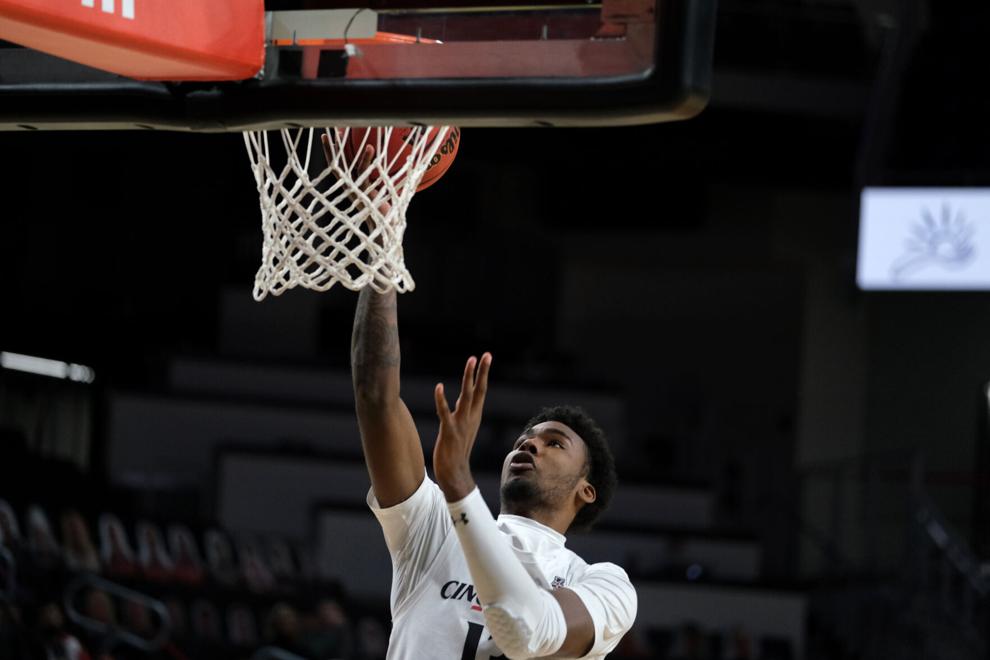 University of Cincinnati (UC) men's basketball freshman, Tari Eason, has undergone an inaugural season that not many can relate to. Despite a 25-day hiatus of games, Eason and the Bearcats currently hold a four-game win streak and look to extend it Feb. 21 at Houston.
Eason discussed his freshman year with The News Record, how the team has dealt with the COVID-19 pandemic and some of his favorite memories so far as a Bearcat. 
The News Record: How has your freshman season been?
Tari Eason: It's been good, been coming along. It's a little different from what I expected because of COVID and stuff like that, but nonetheless it's been a good year.
TNR: How do you think COVID-19 has impacted you and your development?
Eason: It brings some positives and negatives. Positives, I guess you could say, is that there's nothing else to do but play basketball. But at the same time, there's different guidelines like when to get in the gym, when to do this and that. There's positives and negatives to everything, so I'm just trying to take the good with the bad to try and get better every day.
TNR: During the 25 day stretch of no games for the team, what was the team's mindset?
Eason: Stay ready and stay locked in. At any moment the season can start up. Seeing what past teams have gone through – where they had a break and they hadn't done so well when they came off it – so our big thing was to make sure that we stayed ready so that when we were back, we hit the ground running.
TNR: How has Coach Brannen approached the season with COVID-19 and dealt with keeping the team locked in?
Eason: He's been saying to stay flexible. It's one of those things where it's bigger than all of us, so he tells us to be prepared because at any moment things can change. To make sure we're ready so that when we do get in those situations where something sudden might happen, we'll be okay.
TNR: The team has won four straight games heading into Houston this Sunday, could you tell me a little about the hot streak the team is on right now?
Eason: Certain teams click at different times, and right now we're just clicking. Better late than never, of course.
TNR: What are some goals the team has for the remainder of the season?
Eason: The tournament is obviously still a goal of ours. We're just trying to be the best team we can be. I think we're taking it one day at a time, because it's COVID, you obviously can't look too far ahead. But we want to do what we can do to get better every day.
TNR: How has veteran leadership helped you transition into college, while also dealing with COVID? How do you think you guys have been dealing with it together?
Eason: It's something that's new for all of us. It's different for the freshman because it's our first time in college but it's also different for the older guys because they've been in college and now everything's being handled differently. We're all in a kind of adjustment/learning period while the pandemic continues. We're going through it together, and it's guys like Dave [Dejulius] that try to keep us connected through this.
TNR: Getting off the topic of COVID-19, what drew you to want to pick UC?
Eason: The sense of family and the sense of pride that this city and organization has brought upon this city. There's a culture that's already in place with the fans so I thought, why not pick a place like UC? Although they're national attention has kind of been not as big as it once was, I felt like it is a historic program where I could try to help put us back on the right track and put us in positions where we used to be, historically.
TNR: Do you have any favorite memories you've been able to make so far?
Eason: Just spending time with the guys. I think with COVID I think it is kind of bringing us players together because we're all going to do similar things. Sharing this experience like not being able to go out is kind of like becoming brothers. That's been a really big thing for me so far, the relationships that I've built so far already I know we're going to want to carry out through the rest of our lives hopefully. I feel like I've really made some brothers here.