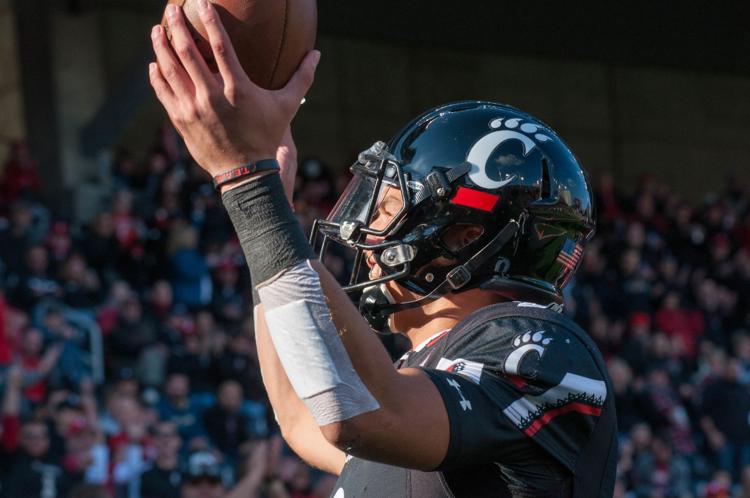 University of Cincinnati (UC) quarterback Desmond Ridder has a lot to prove after his two-week preparation for his next opposer, the University of Tulsa Golden Hurricanes.  
Despite being No. 1 in the AAC at 3-0, Ridder is carried by his defense, who has only given up a combined 37 points through three games.  
After Ridder's three interceptions against the University of South Florida (USF), it is a shocker that the Bearcats were promoted to the No. 11 seed in the latest AP Top-25 Poll.  
UC's defense is leading the AAC with eight turnovers because of senior linebacker Jarell White, who continues to give Ridder's offense the ball with his 16 solo tackles on the season thus far. While Ridder was being bailed out on offense by the relentless Gerrid Doaks against USF, White led the defense with 11 tackles, six of which were solo.  
UC and USF's combined four turnovers in under four minutes highlight exactly how below expectations Ridder is playing and how incredible Cincinnati's defense is playing.  
Ridder is averaging 199 passing yards a game, although not shameful, he should be averaging a lot more considering the talent he is surrounded by and the competition he has faced.  
Despite only putting up seven points, USF recorded 65 more passing yards than the more talented Cincinnati receiving corps.  
If Ridder wants to maintain his starting position into what hopes to be a playoff run, he better prove himself in the practices leading up to Tulsa; if not, he has very eager backups waiting to prove themselves in 2020.  
Backup quarterback Ben Bryant has typically only seen the field when Ridder sustains an injury, which has been the case for the previous two seasons. Despite struggling with turnovers last year, Bryant has proven worthy when given the shot this year. 
Bryant averaged 7.6 yards per passing attempt when taking over for the injured Ridder in 2019. While throwing for only one touchdown and a completion percentage of 56.9%, he threw 388 yards and two interceptions last year.  
If Ridder isn't worried about Bryant taking his position, he should be about the eager and young Evan Prater. Prater is the leader of the outstanding recruiting class of 2020 that received enormous expectations going into the season.  
After coming off a bye-week, Cincinnati fans are hoping Ridder will be ready to complement his defense and run game, which put on a clinic in their previous 28-7 win over USF.  
While Doaks & company contributed 189 yards on the ground against USF, the defense recorded six tackles for a loss, three sacks, 41 solo tackles and allowed only 291 total yards of USF offense.  
With his senior season still to follow, Ridder has seven games left in the regular season of his junior year to complement his college resume before he decides to declare or opt-out of the NFL draft.  
Regardless of Ridder's future, Cincinnati deserves more out of their starting quarterback. If Ridder doesn't step up to the plate soon, fans should be seeing either a strong-armed backup or a hungry young gun take over.   
Cincinnati plays on the road next at Tulsa on Oct. 17 at noon.