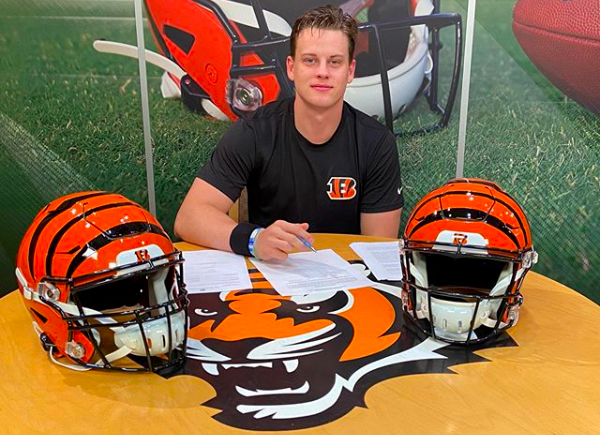 Joe Burrow of the Cincinnati Bengals is a top-five NFL quarterback . If he hasn't proven so through three weeks, then he certainly will after he navigates the rough terrain of a 16-game season in the Queen City.  
Burrow has thrown only one interception, which came in his NFL debut against the Chargers. Receiving pressure on 38% of dropbacks while still being able to have the most completions (91) as a rookie QB has earned Joe an 89.0 passer rating, according to ESPN.  
Coming off the tie with the Philadelphia Eagles, where Joe suffered 18 hits and eight sacks, he will be leading a vengeful offense in week four against the Jacksonville Jaguars. 
The offense of the Bengals should finally execute long explosive plays against Jacksonville, exceeding their three-point favorite over the Jaguars defense who has allowed opposing QBs a league-high 118.6 passer rating.  
Cincinnati's running back Joe Mixon is averaging .67 yards before contact per attempt through three games, the second-lowest among any RB in the NFL. It is utterly impossible to have a winning season with this poor of a run game.  
Mixon and Burrow are receiving virtually no help from their offensive line. Continuous rotations of unsuccessful lineman led the group to a 51.4% pass block win rate against the Eagles, 23rd out of 30 teams in Sunday's games.  
Yes, Joe's 14 sacks through three games are the most in the NFL. However, some of those can be blamed on his eagerness to extend plays. 
"All of the options are on the table. We got to find ways to get the best guys on the field, especially who is here," said Bengals offensive coordinator Brian Callahan on the Locked in on Bengals Podcast, referring to the inexcusable o-line play.
If Callahan's OL doesn't change their hideous ways for the remainder of the season, the Bengals are on track to allow 283 pressures, the team-high of 2019 was 236. 
On that note, Bengals fans better hope the reason their offensive line coach Jim Turner is in the box for game days and not on the field is that he's scouting offensive line free agents. 
Turner's offensive line has allowed Burrow only 2.42 seconds on average to deliver a pass, which ranks well in the bottom half of the NFL. Despite receiving minimal time to pass and a rapidly concaving pocket, Burrow has received exceptionally deserved ratings from PFF Bengals: 86.5 overall grade, 84.4 passing grade, and 87.5 grade when under pressure.  
Despite A.J. Green's seven pro-bowl appearances and John Ross's lightning speed, Burrow proved to be able to pass without them successfully. 
Rookie receiver Tee Higgins racked in two touchdowns against the Eagles while Tyler Boyd received 125 yards on ten receptions. Burrow's stunning accuracy highlighted these two receiver's performances over the returning Green and disappointing Ross.  
Burrow is the first rookie QB since 1950 to throw over 60 pass attempts in a game with zero interceptions. On top of that, Burrow has totaled 61.2 fantasy football points. Comparatively, fantasy workaholics savior QB, Lamar Jackson of the Baltimore Ravens, has totaled 59.2.  
On Sunday, Taylor was heard yelling at him to get rid of the ball on a scramble, which Burrow counteracted with a spin-move that ultimately turned into a 20+ yard gain and first down. 
His humbling yet confident way of carrying himself both pre- and postgame is something football fans often don't see, refusing to place public blame on his sub-par offensive line.  
Burrow compliments his well-deserved accuracy but then puts the blame of all the sacks on himself, saying, "Just get the ball out of my hands" and "Make plays with my feet" postgame after tying the Eagles 23-23 last Sunday.
According to ESPN, Burrow's biggest weakness is his downfield passing. This is not his fault. He hasn't been given the time to throw the ball beyond 20 yards.  
When throwing within 11-20 yards, Burrow has an 80.09 completion percentage. According to PFF, when Burrow was at LSU, he received a 99.3 out of 100, a deep passing grade.  
Sunday's upcoming win against the Jaguars will mark a turning point for the Bengals. The Bengals offensive line will see a change of course for the better, proving why Jacksonville's defense has only three sacks on the season.
Burrow has only begun his NFL resume for Offensive Rookie of the Year, which he came into last weekend with the highest odds of winning at +175.  
Burrow's impressive start to the season will only be excelled with stats as the Bengals begin to record wins. Ultimately, Burrow has the ability lead the Bengals to a .500 season, possibly securing the Offensive Rookie of the Year along the way.