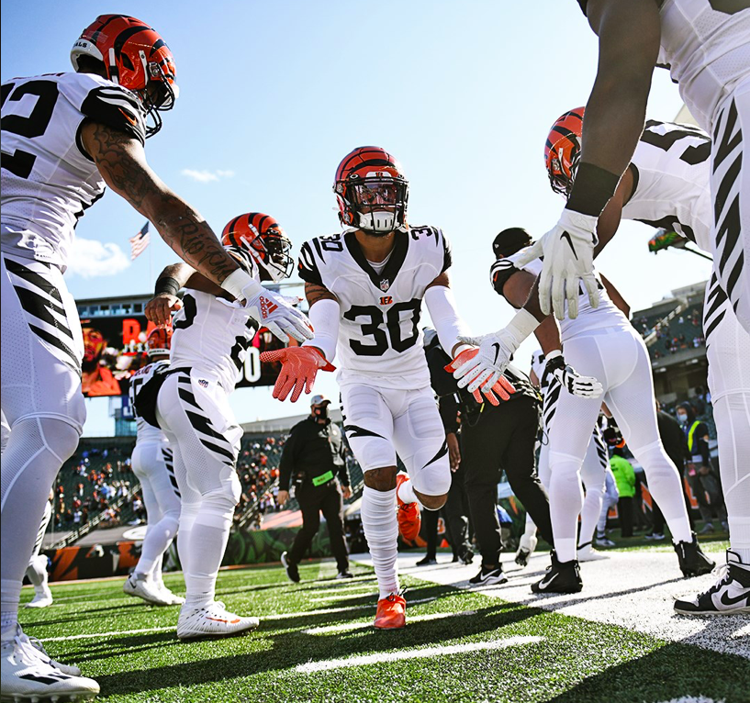 Despite finally reaching Cincinnati's locker room, COVID-19 will not stop the Bengals from derailing the undefeated Steelers at Pittsburgh's Heinz Field. 
Regardless of which players are in or out for both teams, the Bengals have finally brewed the winning formula. Now they have to execute. Led by future franchise quarterback Joe Burrow on offense and safeties Vonn Bell and Jessie Bates on defense, the Bengals will be the first to spoil Pittsburgh's perfect season. 
Cincinnati is coming off a 31-20 upset over a quality Tennessee Titans unit, where Bates contributed 11 tackles and one interception. Cincinnati's defense will gain back one of their leading pass rushers on Sunday, Sam Hubbard, who has 137 career tackles and 15.5 sacks. 
Hubbard could be receiving rushing help from the newest Bengal, former Atlanta Falcon Takkarist McKinley, who was acquired Wednesday. However, there is speculation about how much time McKinley will be receiving considering the integration into the squad.
In each of the Bengals' three previous games, they've held a fourth-quarter lead, the offense has scored at least 27 points, and the defense has forced a minimum of one turnover while allowing only one opponent to rush over 100 yards.
The Bengals have flexed all their muscles this season. Unfortunately for Cincinnati fans, they've occurred at different times. Deflating the Titans going into their own bye-week is exactly what Cincinnati needed to be able to fire on all cylinders in week 10. 
An orange-wave starts with Cincinnati combatting the league's best defense, led by TJ Watt. Bengals fans should feel relieved Giovani Bernard is starting running back Sunday; he stands a better chance against a pass rush than an injured Joe Mixon. 
If Bernard and his unacquainted OL can keep Burrow on his feet for 2.8 seconds, Cincinnati wins. 
Simply put, the time is now for Cincinnati to defeat their longtime rivals, Pittsburgh. The last time they did, Barack Obama was president and Burrow was a student at Ohio State.
Not to mention, it's been 13 years since an NFL team went undefeated. Does it seem logical the Steelers break that streak in a pandemic ridden season? Who better to devastate the terrible towels than the 2-5-1 Bengals, whose head coach Zac Taylor has never won on the road?
It won't be a fluke when the Bengals pull away with a close win Sunday. It will be the result of a culminating effort. Burrow will continue to prove himself as the Offensive Rookie of the Year while uniting counterpart receivers AJ Green, Tyler Boyd and Tee Higgins as a lethal trio to spread the talented Steelers defense thin.
Higgins, a rookie, will be going head-to-head compared to Pittsburgh's rookie receiver, Chase Claypool. Whoever performs best will likely reflect the winning offense. 
Burrow will have padded protection due to the addition of offensive linemen Quinton Spain, Shaq Calhoun, and Xavier Su'a Filo, who has been injured since his week one start. After eight weeks of blocking struggles, Cincinnati suddenly has a plethora of valuable o-line options. 
Upon discontinuing Pittsburgh's Super Bowl run, Cincinnati will be rewarded with an easy four-game schedule, including the 2-7 Dallas Cowboys, 2-6 Washington and 2-7 New York Giants.