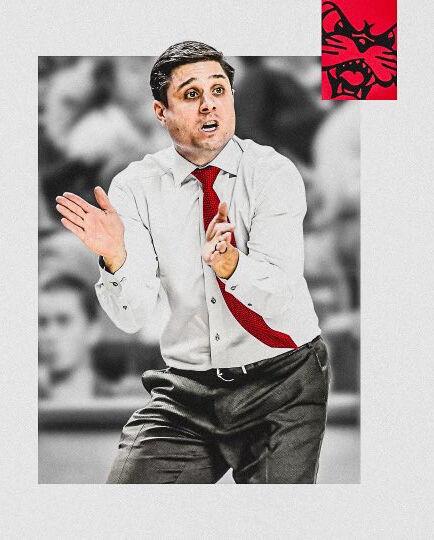 University of Cincinnati's new men's basketball coach, Wes Miller, has been brought to a program consisting of just four players committed to playing next season and is expected to bring the Bearcats back to the top. How can he do it?
The former University of North Carolina at Greensboro coach has a track record of developing talent. He brought to life the Southern Conference's three-time Defensive Player of the Year and two-time Player of the Year Isaiah Miller, so UC can expect its best players to get better.
But to develop talent, Miller has to get it. Miller has never been known for grabbing the big recruits around the country, in part because of the size and stature of the UNCG program, but he will now get the chance to show Cincinnati if he can pull those big prospects. 
The recruiting has to start the second the new coach steps in Cincinnati, as the Bearcat's only high school commit reassessed his decision, and the program has no incoming transfers at the moment. With more players than ever in the NCAA's Transfer Portal, it will be vital that Miller brings in some veteran names. 
Once Miller gets his crop of players, it will be time for him and the Bearcats to get to work on the court. Miller's system at UNCG revolved around its athletic play and stern defense, a familiar trait to Cincinnati that is comparable to former coach Mick Cronin's style of play. His system with the Spartans resulted in three of his last five seasons being ranked in the top-30 defenses nationally in forced turnovers, including leading the nation this season in turnover margin.
On the other side of the ball, Miller's squads have proven to be lackluster shooting teams. Ranking last in the Southern Conference in both 3-point percentage and field goal percentage, Miller will hope to leave those stats in North Carolina. However, Cincinnati was also among the bottom three teams in a 3-point percentage this season in the American Athletic Conference.
It's unclear whether Miller intends to implement a similar system in Cincinnati, as it's something only time will tell. 
What time has already told, though, is that Miller can develop programs at their lowest points and bring them out of the ashes. UNCG's five consecutive 20-win seasons are only a sliver of the list of records Miller has acquired in his tenure. 
Miller led the Spartans to their first two March Madness appearances since 2001 and has made himself the winningest coach in Southern Conference history in only nine full seasons. He came into a program coming off a season with six in-conference wins and won a division title in his first full season.
Can he do similar work for the Bearcats? In short, the answer is yes. Miller will have to prove himself amongst the big programs in recruiting, then will again have to prove himself amongst those squads on the court. The latter being something he's well-too accustomed to.