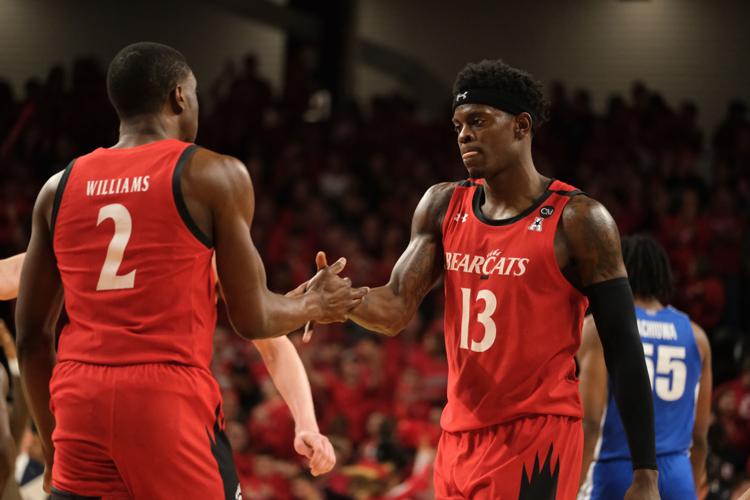 Cincinnati's men's basketball team, led by head coach John Brannen, was severely underestimated when the Preseason Coaches' Poll ranked them No.4 in the American Athletic Conference (AAC).
As if Cincinnati basketball didn't already have a chip on their shoulder, ranking below Houston, Memphis and Southern Methodist added an even bigger one. 
Not only does Cincinnati as a collective team have something to prove to their league, players individually have something to prove to their team. Cincinnati will excel to the top of the AAC if they can leverage the competition amongst each other for playing time while facing opponents. 
Whether transfers or freshmen see the court first, Bearcat fans are likely to see a competition play out between players looking to secure a starting spot next to returning starters Chris Vogt (center) and Keith Williams (guard). 
No doubt, losing seniors Jarron Cumberland and Tre Scott hurts. It is also factual that inexperienced is not the correct way to laminate this year's Bearcats. With the return of last year's highest scorer, Williams, and lead rebounder, Vogt, there is an obvious duo of experience.
Vogt couldn't be more correct, saying, "We had unfinished business," hinting at the NBA feedback he and Williams brought back to AAC play.  Not to mention that two experienced transfers will catch fan's attention, former sixth man of Michigan David Dejulius and Colgate forward Rapolas Ivanauskas. Cincinnati will likely see playing time from their five-man freshman class.
Mike Suanders Jr. is one of the freshmen competing for a spot, a six-foot guard who ranked 232 of the 2020 class and recruited by Brannen since seventh grade. Saunders has the speed and defense to put up a good compete against Dejulius's experience as they both compete for a guard position alongside senior Williams.
Saunders has received recent praise from Vogt, "[Saunders] is really good with the ball, really fast and can score well in transition."
If the buzz around Cincinnati's two freshman twin brothers, Gabe and Mason Madsen's shooting ability is true, they deserve to light up the scoreboard in real-time. 
The Bearcats' legitimate experience is without mention that only two players from the across the all-AAC first and second teams return this season. This issue leaves the entire league in search of new stars to emerge, not just Cincinnati.  
On Wednesday, Williams was named to the first team and Vogt to the second team, both of whom should've received similar praise after their 2019 seasons.  It is clear the Bearcats have contentious plans for their season with less than a month until tip-off. 
With seemingly no agreement to their AAC ranking of fourth, Brannen showed confidence, saying, "All that people remember is how you finish the season." As did Williams, showing his leadership and support of Brannen's point when saying, "We will shock a lot of people."
Despite uncertainty around the NCAA season and the likelihood of a fan-less Fifth-Third arena, Bearcat fans can rest easy knowing the only game on the schedule as of Thursday is the Crosstown Shootout on Dec. 6 against rival Xavier Musketeers.