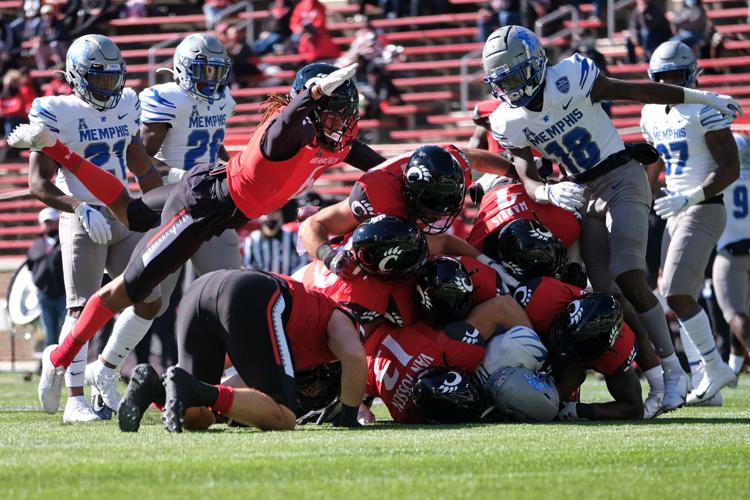 Defensive Coordinator Marcus Freeman of the Cincinnati Bearcats is leading the most talented defense in the American Athletic Conference (AAC). By seasons end, Cincinnati's defense will be at the top of all NCAA conferences as well. 
Freeman's defense is leading the AAC in total yards per game (YDS/G) at 302.2, rushing YDS/G (96.3), total points allowed (70) and PTS/G (11.7). These No. 1 rankings in the AAC are even more staggering, considering UC already faced high powered scoring offenses such as SMU, Army and Memphis. 
Cincinnati's defense cracks the top-10 in all conferences for rushing YDS/G and total PTS/G, coming in at No. 10 and No. 5, respectively. 
Leading the pack for Cincinnati's intimidating defense is senior linebacker Jarell White, who has 33 solo tackles and 25 assisted tackles. White has proven difficult for opposing offenses to game plan around when he has stellar help on the perimeter from cornerbacks Ahmad Gardner and Coby Bryant. 
Gardner has terrorized quarterback's deep ball opportunities, reeling in three interceptions, which leads the AAC and is tied for first in all conferences. Gardner has also not given up a single touchdown to his receivers in his UC career.
When quarterbacks look Gardner's way in 2020, they only get the desired completion 36% of the time and post a quarterback rating of just 11.9 – the lowest mark in the country for any defensive back.
Bryant has locked down the opposite side of the defensive secondary with 19 solo tackles and two interceptions of his own. 
Providing a relentless pass/run rush upfront for the Bearcats is junior defensive end Myjai Sanders, who had topped the AAC in sacks with five going into game six. 
Sanders was named the AAC's Defensive Player of the Week after him and his defensive counterparts held Memphis to just five rushing yards. 
These first and second-round NFL draft prospects aren't without their experienced and young leader, Freeman. 
Freeman's "Blackcats" held allowed Houston to convert only 5/15 of their third downs- just 33%. Cincinnati's defense impressively continued their forced-turnover streak, stealing two balls from Houston's offense while holding them to a minimal 3.3 yards per rush and 5.6 yards per pass. 
Cincinnati's defense constrained Houston's offense to only 282 total yards of offense, who put up 434 yards against UCF and 438 against No. 8 overall BYU. 
With only two years remaining on Freeman's contract and 72% of the defensive starters being seniors, it is time Cincinnati fans to cling to Freeman. Despite being only 34 years old, Freeman brings many experiences to the table on top of his back-to-back 11-win seasons with UC. 
After coaching at Ohio State, Kent State, Purdue and the Boilermakers, Freeman has naturally received attention from the NFL and Power-5 FBS programs.
There is no doubt Freeman would fit a role with more responsibility. Still, his success initially pivoted to the next level with Cincinnati and the Bearcat players has helped shape him into a phenomenal coach over the past few years. 
The Bearcats' future culture and success depends on Freeman's choice to stay beyond his current contract that expires in 2022. 
Cincinnati's "Blackcats" will host another defensive clinic on Nov. 13 at Nippert Stadium at 7:30 PM under the bright Friday night lights against Eastern Carolina University.