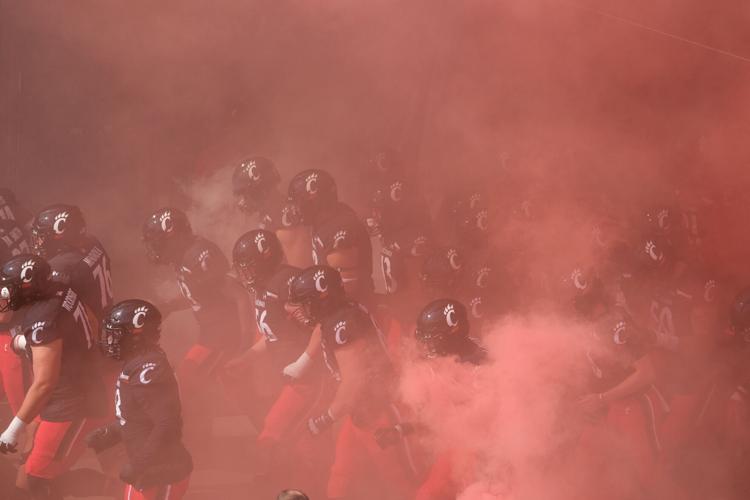 After continual blowouts, the University of Cincinnati (UC) still retains a No. 7 overall ranking. Texas A&M and the University of Florida are fighting their way into playoff consideration at 5-1 records, ranking above Cincinnati at No. 5 and No. 6, respectively.  
Head coach Luke Fickell's Bearcats feel the passive penalty of being an undefeated team in the American Athletic Conference, notably outside of the Power Five. It's as if conferences outside of the Power Five have subtly been diagnosed with a playoff curse. Regardless of their record, fans haven't been seeing them in the playoffs. 
Although not in consideration this year, UC's next opponent, the University of Central Florida (UCF), felt this curse in 2018 when they went 12-1 and ended at No. 11 overall. Florida, who is in the SEC, wrongly finished the 2018 season at No. 8 with a 10-3 record. 
Even more shockingly, Texas, a Big 12 team, finished at No. 9 with a 10-4 record, blatantly proving the curse that has curtained over AAC schools. 
Cincinnati is shaping out to fall in line with the playoff discrimination that has undeservingly been displayed across college football. UC has maintained the No. 7 spot for two weeks now, after being misplaced from their Week 10 ranking of No. 6.
Currently ahead of UC at No. 5 is Texas A&M (5-1), who, after this weekend, will have gone two weekends without playing. If UC covers the spread of –5.5 for this Saturday's game against UCF, the playoff committee has no excuse to leave UC below Texas A&M.
Furthermore, there are talks of UC facing undefeated No. 8 BYU, who is fighting for playoff consideration themselves. Both teams must take advantage of their openings on Dec. 5, which were made considering COVID-19 canceled games, if they wish to crack the playoffs. 
Assuming the winner of that potential matchup remains undefeated, the victor deserves to be in the playoffs. Aren't college football fans sick of watching the same select few teams compete in the playoffs anyway?
Not only are there well deserving outsiders to make a run in the 2020-2021 playoffs, but football fans also crave a shakeup in contenders before they get complacent with an Alabama vs. Clemson matchup every year. 
There's no doubt AAC teams are on the right path to being considered the real contenders they are, but UC has an extremely high ceiling this year. Although unrealistic, UCF would be smart to throw this week's game to UC to allow the Bearcats to solidify their playoff aspirations.
College football would reap the viewership and recruitment benefits of a more diversified playoffs year in and year out if they allowed the mold to be broken for at least one year by letting a non-Power Five school in. 
Cincinnati has an opportunity to make a bold statement for all the talented AAC teams to come if they can clinch a playoff spot during the corrupted 2020 season. 
The undefeated Bearcats will make or break their 2020 playoff run at UCF on Nov. 21, when they kickoff at 3:30 p.m. on ESPN.