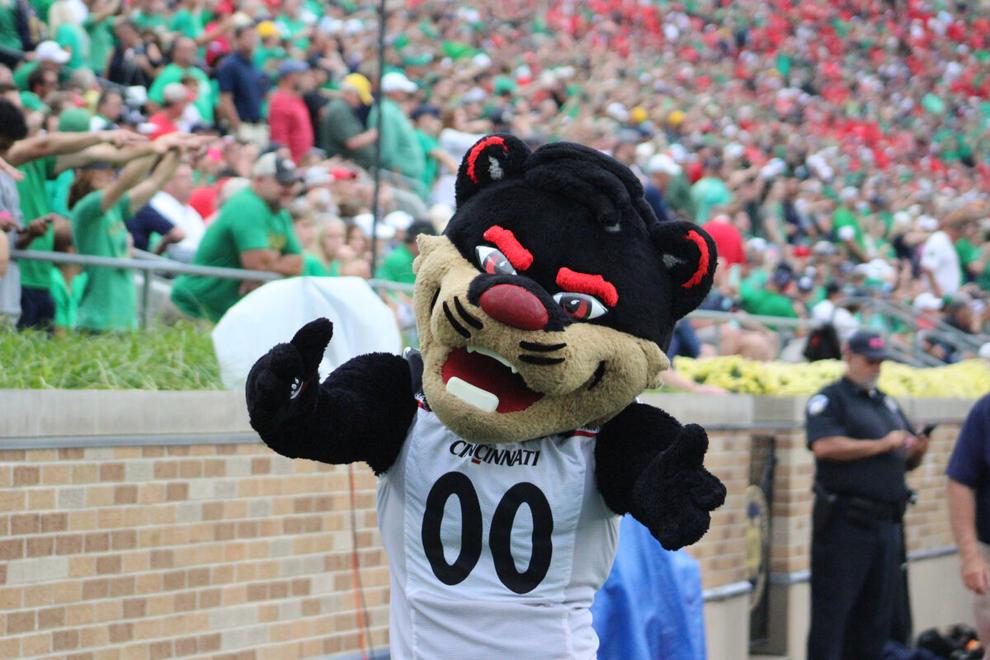 Proven: The AP Poll means nothing. That's right, all of those Instagram posts you've been seeing on your friend's stories about the No. 2 University of Cincinnati Bearcats? They're for show.
Today, the College Football Playoff (CFP) rankings were released. For the first time, a group of five team has a chance to infiltrate college sports' most prestigious playoff – Cincinnati, who was ranked No. 6 tonight. 
It wasn't smooth sailing for the Bearcats. An undefeated season and AAC championship last year set up a bowl game with the current No. 1 Georgia Bulldogs. The Bearcats went toe to toe with the Bulldogs but fell short due to a 53-yard field goal by Jack Podlensy.
Cincinnati entered this season with an even tougher schedule. Indiana looked like a good opponent, Notre Dame was always going to be an issue and fellow AAC college Southern Methodist University looked to join Cincinnati in the top 25 rankings.
However, Indiana has had a rough season, and SMU, who looked like our most likely opponent in this year's AAC championship, lost to Houston this past week. Notre Dame is the only team keeping up to expectations, who is currently No. 8 in the latest AP Poll.
Cincinnati hasn't been on top of their game either. They've looked beatable in the first half of both the Navy and Tulane game but turned it on in the second half and handled business to stay undefeated.
Despite all of that, the committee has slotted Cincinnati No. 6 in the first CFP rankings of the season. While some teams above Cincinnati make sense, some do not.
Georgia's defense has come close to the greatest defenses of all time. Big wins against Kentucky, Auburn, and Clemson have bolstered their resume, and no team has scored more than 13 against them all season. Clear No. 1, no one has even come close.
Michigan State at No. 3 is also understandable. They just beat Michigan in their biggest game this season. They still have Ohio State to face, which is pivotal to their playoff chances, but the Big Ten has enough talent to get in at least one of the teams. However, with multiple teams going for the spot, Michigan State is not safe.
Alabama at No. 2 is a mistake, but it's their credibility that carries them there. A loss to a then unranked Texas A&M looks a lot better with A&M at No. 14 in the CFP, but Alabama has looked beatable for the first time in over a year. Alabama's unconvincing wins against the only two ranked teams they've played are not enough for them to rank above Cincinnati. Regardless, it's hard to leave Nick Saban's Crimson Tide out of the Top 4, apparently. 
Yes, Oregon beat Ohio State. However, they also lost to Stanford, who hasn't won a game since. Ohio State is also the only game they've played worth talking about. Their resume at 7-1 is a big win against a better team and a very bad win against a much lesser team. Oregon should be in bowl game contention, not CFP contention.
Oklahoma at No. 8 is very interesting. Oklahoma's biggest two games are still to come, with No. 12 Baylor and No. 11 Oklahoma State on their schedule. This ranking is questionable, but Oklahoma has a chance to silence all doubters very soon. Backup quarterback turned starter, Caleb Williams, was not expected to play this year and adds an aspect that many people can't predict.
How in the world is Ohio State above Cincinnati? They failed to cover against Penn State and lost to Oregon without their best player. Ohio State has one very rough ranked win, and their strength of schedule doesn't match up with anyone else at the top. It's an absolute joke and shows how little the committee respects the group of 5 teams.
AAC counterparts, Houston and SMU were not ranked, leaving Cincinnati as the only team from the AAC ranked and lessening their resume.
Cincinnati's playoff chances are still not secure. Every Tuesday in November, the CFP rankings will get updated on where the Bearcats stand. As long as Cincinnati runs the table, there's no reason they shouldn't be representing the group of five in this year's College Football Playoffs.