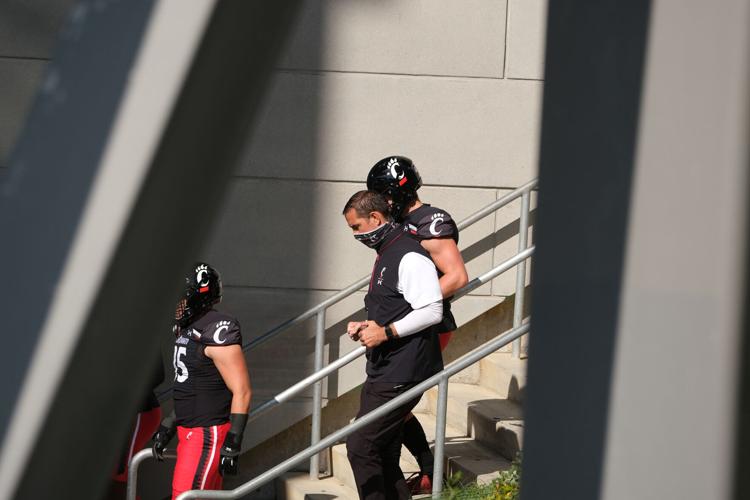 Bearcat football is undefeated so far this season and is on track to make a playoff run. With the help of the derailed pandemic-ridden season and guidance from key players like running back Gerrid Doaks and cornerback Coby Bryant, UC is destined further to climb the Associate Poll (AP) rankings. 
UC received an extended two-week bye after their first away matchup of the season against Tulsa was postponed to Dec. 5. Consequentially, Cincinnati was only demoted one rank to #9 overall in the latest AP Top-25 rankings. 
This one-rank demotion is extremely generous, considering the Bearcats haven't played in what will be three weeks on Saturday and have faced a relatively easy schedule thus far. A couple of things are playing out across college football to allow the Bearcats to maintain a top-10 spot.
One is the respect for head coach Luke Fickell and his defensive coordinator Marcus Freeman, which is seen in analysts' rankings across the country.
Complementing UC's coaching staff is the continuation of top-10 teams (North Carolina, Georgia, Florida and Miami) losing left and right. Maintaining an undefeated season is crucial for Cincinnati's playoff chances. 
Cincinnati's upcoming primetime contender, Southern Methodist University (SMU), will be one of the most critical matchups. A win against the 7-0 Mustang's will prove Cincinnati's legitimacy as they're currently the only ranked team on the Bearcat's remaining schedule.
Offensively, Bearcat supporters can thank Doaks for powering them to an undefeated season thus far. Hopefully, during their three-week preparation for Tulsa, Doaks shared his tips on playing successful Bearcat football during a pandemic with his teammates. 
Despite being undefeated, there are vital pieces of the Bearcat's program falling behind. UC's offense has plenty of threats not being utilized, which Doaks has made up for. With six touchdowns through three games, he's been the savior of the lackluster UC offense. 
Cincinnati must prove why they're top-10 worthy, especially with the return of The Big Ten on Saturday. The buzz will soon fade from AAC teams and return to Big Ten teams like Ohio State (OSU), Penn State, Michigan, Minnesota and Michigan State. 
The Big Ten's return means a more challenging route for UC to the playoffs. College football analysts' focus will soon shift to determining where potential playoff contenders like OSU stand, potentially leaving most of UC's matchups against unranked teams Memphis and Houston to slide under the radar. 
Being in the AAC, with a stereotypically easy schedule, Cincinnati's playoff chances are slim from the start. A loss on the season guarantees them no chance of sliding into a playoff spot. 
Cincinnati needs top-10 teams to continue to lose while simultaneously blowing out all their unranked coemption. 
To do so starts with playmakers like quarterback Desmond Ridder and receivers Michael Young Jr. and Tre Tucker putting on a clinic against SMU. 
Both SMU and Cincinnati are undefeated, two of only nine remaining undefeated teams in college football. Both will be seeking a rare playoff spot and Saturday's late matchup will leave only one team with a real shot.