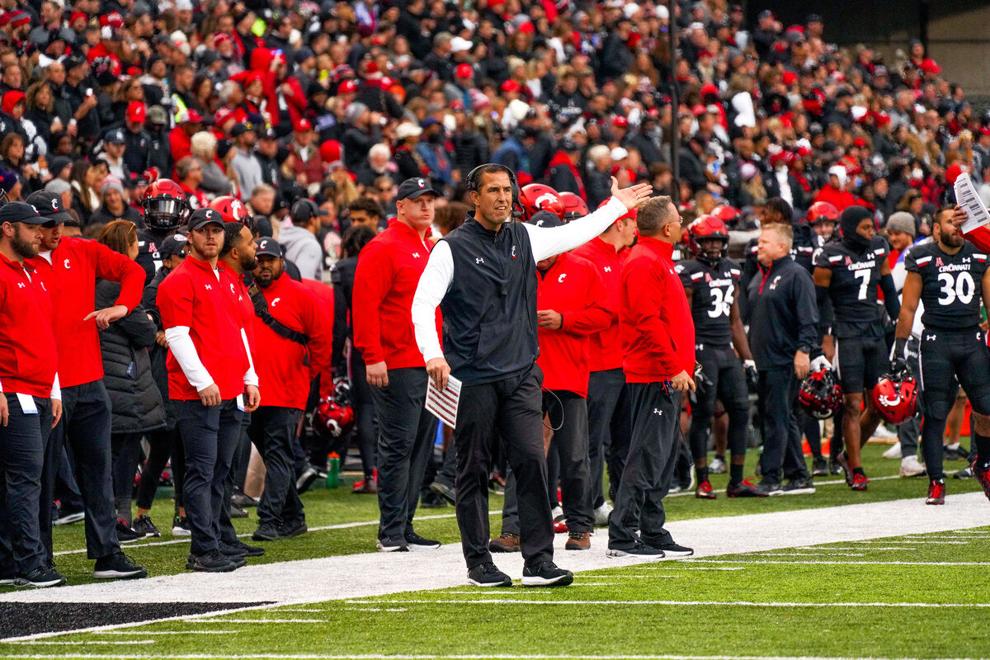 For the third straight season, the No. 4 University of Cincinnati will compete in the American Athletic Conference (AAC) Championship, this time hoping to keep the title for a back-to-back season. The Bearcats are set to welcome the No. 21 Houston Cougars (11-1) to Nippert Stadium for a 4 p.m. championship game on Saturday. 
Although Cincinnati head coach Luke Fickell's Bearcats will find out within less than 24 hours of kickoff if they've made the final four via ESPN's selection Sunday show at noon, Houston stands to be one the most significant challenges of the Bearcats undefeated season. 
"[Cincinnati] probably ought to be ranked higher," Houston head coach Dana Holgorsen said of the Bearcat's position at No. 4. 
Fickell considers Holgorsen's squad to be as well of a balanced three-phase team as any his Bearcats have faced all season. Admitting Houston poses a problem, Fickell sees the Cougar's defense as a real challenge to his offense. 
"I think if we can handle the front four, it's going to be a good game," Cincinnati quarterback Desmond Ridder said on preparing for the Houston defense. 
Although noting facing Cincinnati is no different than any other road game, Holgorsen made multiple remarks regarding Cincinnati hosting the AAC title game while other conferences have a neutral site for such matchups. 
Regardless, the title game poses one last outing for Cincinnati's 33 seniors to display in front of their home Nippert Stadium crowd. 
"We all know there are probably more games, but when you play that last game, you are hoping maybe you would have another home game, but we always refer to it as our last guaranteed opportunity," Fickell said of hosting the title game. 
Six Bearcat's accepted 2021 Reese's Senior Bowl invites while seven were awarded All-Conference First Team for defense and five for offense by the AAC, to Houston's six total elected to First Team's. 
Houston quarterback, Clayton Tune, who's thrown for 13 more yards (3,013) and one less touchdown (26) than Ridder this season is the key to the Cougar's offense, according to Fickell. 
Despite being Tune's top target with 1,027 receiving yards on the season, Nathaniel Dell, might have trouble finding the endzone for his first time of the year against Cincinnati's Ahmad Gardner, AAC's defensive player of the week. 
While Dell faces off with Gardner and counterpart Coby Bryant, Cincinnati's leading receiver, Alec Pierce, who's amassed seven touchdowns on 802 receiving yards, will have his own battle against Houston's Marcus Jones. Jones has five interceptions, 17 pass breakups, and five touchdowns on the year. 
Saturday's AAC title game features two of the four teams joining the BIG 12 conference in a few years, posing what could be one of each team's final chances to mark their AAC territory on their way out. The future conference pivot that will no longer carry the 'group of five' label for the two teams will mean the non-power five conferences lose two of their arguably best teams. 
"We hate the label G5," AAC commissioner Mike Aresco said ahead of his conference's title game. 
With a win Saturday, Cincinnati will likely enjoy a NYE final four matchup, a new record-breaking game as the first non-power five team to make the CFP semifinals. Meanwhile Houston is fighting to find their way to a New Year's Six bowl as the highest ranked non-power five school. 
"This year the stakes are higher than they've ever been," Aresco said ahead of the title game. 
Saturday's matchup will be streamed on ABC and live updates can be followed here.