Ahead of the 2021 season, the University of Cincinnati (UC) Bearcat's football program is readying a new playground at Nippert Stadium. If finishing No. 8 overall in 2020 with a returning head coach and quarterback for 2021 was not casting a large enough spotlight on the Bearcats, the new Nippert Stadium surely is drawing the attention. 
The Bearcats new field showcases two shades of alternating green every five yards, with two American Athletic Conference (AAC) logos at opposing 25-yard lines. Nippert's new look is being installed by The Motz Group, a local Cincinnati synthetic and natural turf specialist company that recently completed projects for FC Cincinnati's West End stadium and the Indianapolis Colts Lucas Oil Stadium. 
"Being able to help the University's vision come to life is truly an honor for our team," The Motz Group.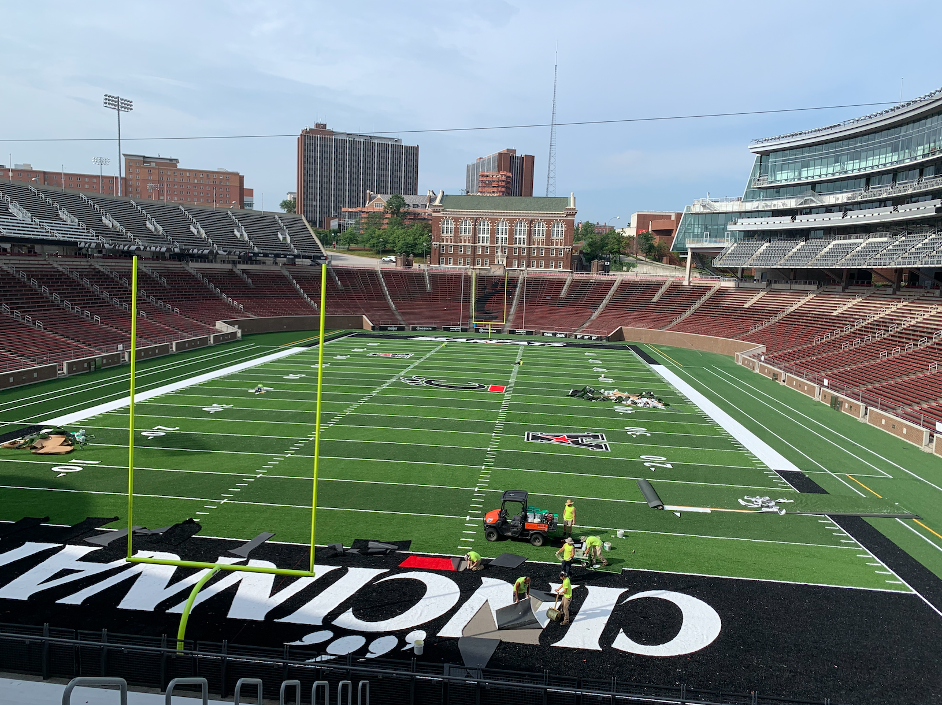 Nippert Stadium was not the first collaboration between UC and The Motz Group. The Bearcats have utilized Motz for their baseball field, soccer field and practice fields at Sheakley Stadium. 
"With big expectations for the season, this field will give the players a lot of motivation to work hard to have a remarkable season on the new field," said Freddy Mazza, a field installation technician for The Motz Group. 
The finished product entails combining design efforts from athletics, campus leadership, overall branding and The Motz Group. According to Motz, the exact design specifications of Nippert's new appeal are due to a combination of proprietary research and testing that allow for a realistic playing field. 
"Feedback from administration, coaches, and most importantly the players are keys to providing the system going in at Nippert," said The Motz Group. 
UC's Director of Athletics, John Cunningham, announced Friday that Nippert Stadium will see full capacity for the 2021 season, meaning all 40,000 available seats can be occupied for gamedays. The Bearcats are slated to host six opponents on their new home field in 2021.
"I know what we are building is going to bring excitement and joy to a lot of people, too," said Mazza. 
Fickell and his crew have begun breaking in the new turf through summer practices led by PFF's preseason All-American's Ahmad Gardner and Myjai Sanders. 
The Bearcat's new stomping grounds will host rival Miami Redhawks on Sept. 4 at 3:30 p.m.