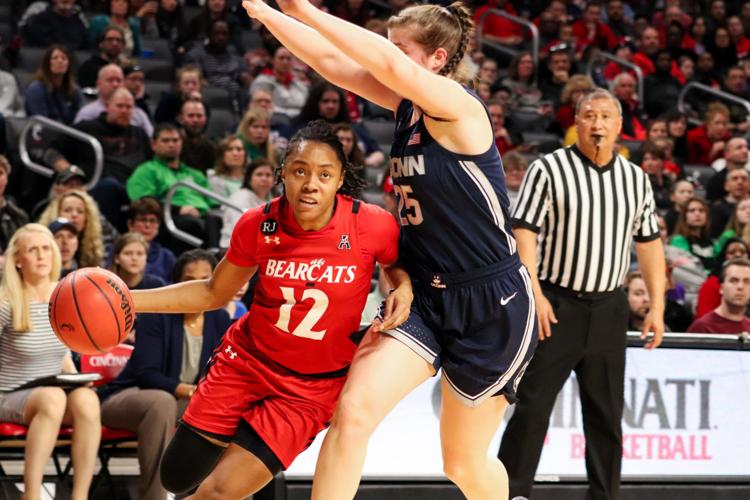 Senior point guard Antoinette Miller is winding down her career at the University of Cincinnati, where she has played for four years since being recruited from Detroit's Southfield-Lathrup High School.
Miller was labeled by ESPN as a three-star prospect with a grade of 89 during the recruiting process.
"It has definitely meant a lot to me," Miller said of her passion for basketball. "It's something I grew up around…I started playing when I was 4. It gave me something to do with my free time. It wasn't something I was forced to do. It was something I loved to do."
Miller also talked about how she misses her family in Detroit but has little difficulty getting a slice of home from her mother.
"I miss my family for sure," Miller said. "They're my big supporters. If I really miss home I can see my sister who lives in the Cincinnati area… My mom makes the majority of the games. This year she definitely tried to come to as many games as possible. She has maybe only missed around two home games this season, and she's caught a few on the road."
Miller was a member of the National Honors Society in high school and has continued to stress the importance of academics at UC as a health and fitness major.
However, Miller's ability on the court has garnered the most attention. As a freshman and sophomore, she served in a reserved role off the bench. When current head coach Michelle Clark-Heard stepped into the picture, her role was increased.
Miller was thrust into a starting role in her junior season and subsequently started all 35 games, averaging an impactful 13.6 points, 5.2 assists, 4.7 rebounds and 1.9 steals.
"When [Clark-Heard] came here, she said that she saw a lot in me." Miller said. "She trusted me to be the point guard and run this team, so, she gave me the opportunity to be the player I am today. She really helped me translate into that role."
Miller said Clark-Heard has had an immediate impact on the team since her hiring in March 2018.
"I think everyone can see her impact in this program," Miller said. "When she came in here, the will to want more became ten times stronger. She doesn't settle for anything less than what she wants."
UC has had another successful year in Miller's senior season with a 22-10 record so far. In the American Athletic Conference Championship, the Bearcats fell to the University of Connecticut Huskies, 87-53, in Monday's final.
Still, it is the furthest the program has advanced in the championship during its tenure in the AAC.
A vital part of UC's success in the past two years has been the dynamic duo of Miller and junior forward IImar'I Thomas. This season in particular, the pair has been most effective when on the court together.
Miller has continued to fill the stat sheet this season, sitting at 15.6 points, 4.3 assists, 3.4 rebounds and 1.8 steals per game. Thomas has also stood out with averages of 18.6 points on 59% shooting and 7.9 rebounds.
"[Clark-Heard] calls us a 1-2 punch," Miller said. "[Thomas] came in her freshman year and I still had a smaller role than in my sophomore year. In my junior year, we both stepped into bigger roles. She became a starter and I became a starter."
"From making that transition together, we really grew closer," Miller continued. "We both trust each other. We have to be on the same page. We embraced both of our roles and the challenges. We're really good friends so it makes it easy to play together on the court."
Looking back at her UC career, Miller feels the time went all too fast.
"It's kind of crazy that it's coming to close," Miller said. "I honestly feel like I just got here. There's been a lot of challenges, but I've really just embraced my time here. I feel I've grown as a player and a person. It feels good to be able to look back and see how I helped this program."
Miller doesn't intend on ending her basketball journey yet, as she hopes to make the jump to the professional ranks.
"I'm definitely going to try and keep playing professionally," Miller said. "I'm in the process of getting my name out there and hopefully continue my career for as long as I can."
As Miller continues to put her name in the heads of scouts, she won't soon be forgotten by the teammates and program for which she has become a leader.
With little to no "bracketology" sources predicting UC to make the upcoming NCAA Tournament, the Bearcats could be competing in the Women's National Invitation Tournament (WNIT) for the third consecutive year.
The past two seasons have shown differing amounts of success in the tournament, with UC being knocked out in the first round by Michigan State University in 2018. Last year, the Bearcats made it to the quarterfinals before falling to Texas Christian University, 69-55.
Selection for this season's WNIT is Monday, March 16.