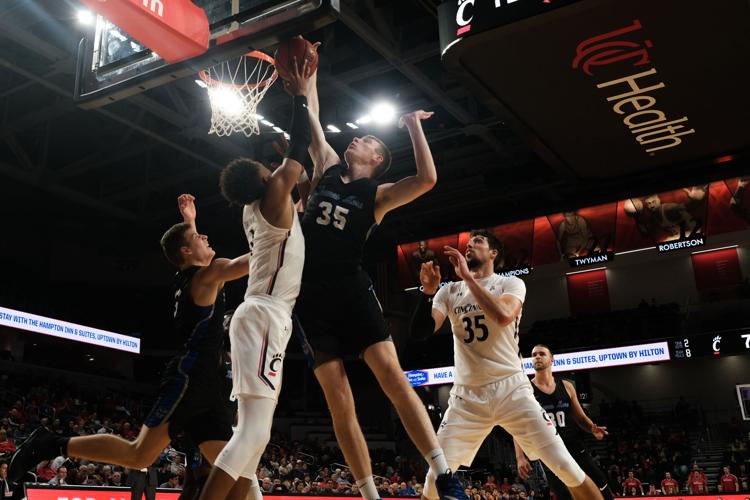 The University of Cincinnati men's basketball program began a new era Thursday evening at Fifth Third Arena with a 79-36 exhibition win over Thomas More University.
UC went on a 23-1 run to blow the contest open in the first half.
The Bearcats cruised in the second half behind standout performances from junior Chris Vogt and seniors Chris McNeal and Jaevin Cumberland. Here are a few takeaways from the win:
---
Chris McNeal can do it all
McNeal started at point guard and added to his resume for applying for a starting position in the regular-season. The four-time transfer finished with 15 points, two assists, three rebounds and three steals. He had two easy layups that were created by his aggressiveness on defense. No one outplayed McNeal on either side of the ball. He was by far the best player on the floor and his three point shooting (3-of-5) didn't hurt either.
---
Turning defense into offense is a must
McNeal helped the Bearcats force 21 turnovers (15 total steals) that led to 28 points. Head coach John Brannen said he wanted to hold teams late into the shot clock and they were able to do just that, as Thomas More didn't score their first field goal until three minutes into the game. Staying aggressive all 30 seconds of the shot did them wonders, and Brannen said that's a key to defensive success.
"The identity of this team is defensively," Brannen said. "The bottom line is we have to defend every night. Really proud of the guys in the last 12 minutes of the field half and I thought it carried over into the second half."
---
Jaevin Cumberland is the best shooter on the team
Cumberland didn't miss a shot (5-of-5) in his debut for UC. He gave a glimpse of how hot he can get, and senior Trevon Scott even said he was the best shooter on the team. Cumberland also showed his improved ball handling skills on a drive to the basketball for a reverse layup during the second half.
"It was great to be back out there," Cumberland said after. "Great to be putting a Bearcat uniform on for the first time, so just excited to get out there and hit some shots."
Cumberland was the first player off the bench for UC, and if it stays that way, look for him to be one of the best sixth men in the country.
---
Chris Vogt showed potential
Vogt came with Brannen from Northern Kentucky University (NKU), so starting the 6-foot-11 center was no surprise given the familiarity with each other. Vogt made the most of the opportunity, leading UC in the first half with six points. Jaume "Jay" Sorolla and Mamadou Diarra had quality minutes too, combining for nine points and eight rebounds. Brannen said Vogt played well and that the team hasn't found ways to get him the ball yet.