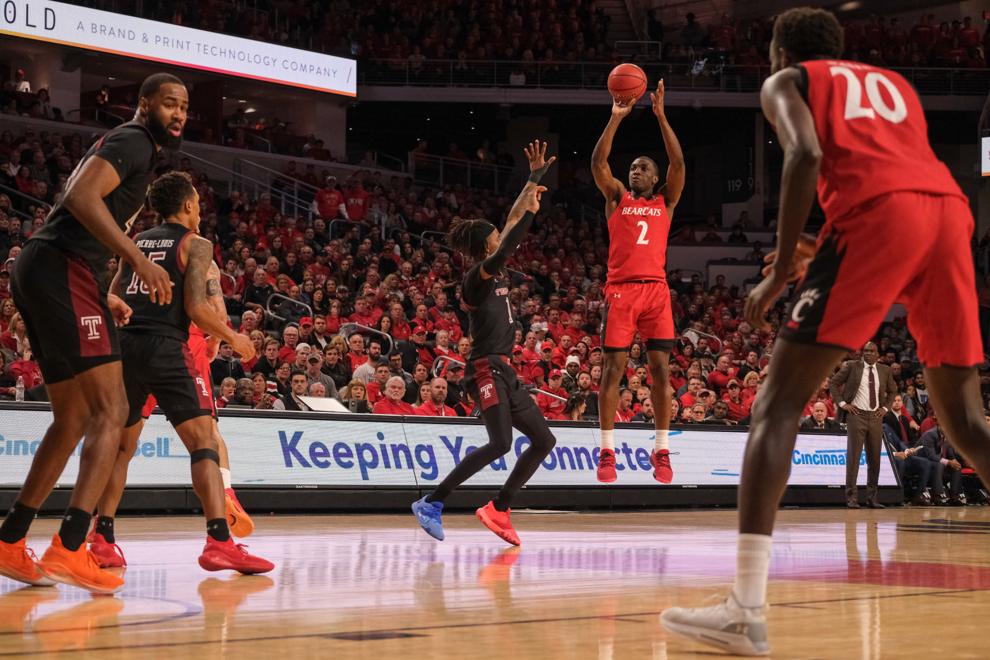 After a 25-day hiatus from competitive basketball, the Bearcats men's basketball team returned to action in a 63-60 victory on the road at Temple University. 
Junior guard David DeJulius posted a career-high 26 points, including the opening eight points for the Bearcats. DeJulius hit four threes in the game, matching his career high, while also adding four rebounds and three assists to the box score. 
"In these three weeks, I was able to evaluate what was going wrong, and I felt like I needed to be a lot more aggressive," Dejulius said postgame.
The Michigan transfer took 18 shots against the Owls, eleven of which came from behind the arc. 
Also making noise on the scoresheet was Keith Williams and Jeremiah Davenport, scoring 15 and 14 points. The trio of DeJulius, Williams and Davenport was responsible for 55 of the Bearcat's 63 points and were the only Cincinnati scorers in the first half.
It wasn't until midway through the second half that a fourth Bearcat scored. No other player finished above three points or four attempted field goals.
Cincinnati fired off a season-high 30 threes in the game but only saw nine of them fall. Low shooting numbers were found at the free-throw line as well, where the Bearcats made 10-21. Nine of those misses came in the second half. 
With a low shooting numbers on the court's offensive side, it was the defense that came through for the Bearcats. Cincinnati forced 19 turnovers, nine of those being steals. 
"It really started with defense tonight. We got after them defensively, all we preached was toughness," head coach John Brannen said. 
Defense seemed to be a focal point in preparation for the game, a tactic that resulted in the final play being a forced Temple turnover to seal the game.
"Our guy's energy and toughness and physicality, we were all over the place," said Brannen.
Along with the steals and turnovers, hustle stats such as 10 offensive rebounds and 16 fast-break points contributed to the victory. 
The depleted roster had only been able to have one 5v5 practice over 25 days, with only nine players able to attain minutes in the game. This resulted in walk-on forward Rob Banks grabbing his first start, finding 10 minutes in the game and a crucial steal. 
The victory puts Cincinnati at 4-8 on the season, 2-4 in the AAC. The Bearcats work their way towards playing the rest of the conference this season. 
They next head to New Orleans on Feb. 7 to face off against Tulane at noon. The game will be streamed on ESPN+.