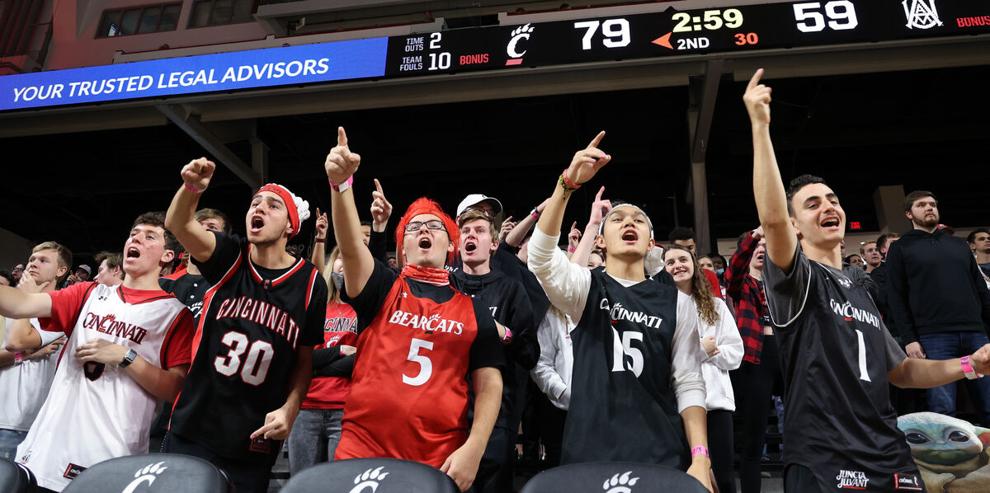 With the Wes Miller era well underway, the University of Cincinnati men's basketball team is enduring a vibrantly revived season. As the new head coach, Miller brought new energy and play that has packed Fifth Third Arena. 
"If it's really like that every night in here, it's going to be a heck of a run, a heck of a lot of fun," said Miller after his first game in Fifth Third Arena. "It's a dream as a coach, dream as a player."
As the Bearcats head deep into conference play, they're taking with them both a new offensive and defensive scheme that Miller introduced in the summer, yet they're still playing Cincinnati basketball. After 10 seasons with UNC Greensboro, Miller is slated to be with Cincinnati for six years, meaning he must continue to adapt to "Clifton-style."
Since he arrived in Cincinnati, Miller has emphasized a defensive presence on the court for his team of unfamiliar faces seemingly comfortable with one another. 
With the first half of the season in the rearview mirror, the Bearcats have a significant schedule remaining. Let's look at a few key games. 
Tulsa – Jan. 20
With both of their meetings in 2020 decided by four or fewer points, the Golden Hurricanes have played the Bearcats to a close finale game in and out. In their first of two meetings this season, Fifth Third Arena will welcome Tulsa at 9 p.m.  
Houston – Feb. 6
The Bearcats will host the University of Houston at 6 p.m. in Fifth Third Arena. This will be the second time the Bearcat's face the team that ended their 2020 season in a 91-54 blowout in the third game of the AAC tournament. With returners such as Davenport and Dejulius holding onto the feeling all off-season, the Bearcats are out for revenge. 
Wichita State – Feb. 17
The same one-point margin that ended WuShock's 2020 season advanced Cincinnati and sent the yellow and black packing. As they face off in Wichita, Kansas, on Jan. 16, the two teams are both looking to avoid a close game in Cincinnati at 7 p.m. 
SMU – March 3
Southern Methodist University is out to get Cincinnati, who ended their 2020 season in the first game of the AAC tournament off a three-point margin. Taking place in Dallas, Texas, this game can be streamed on ESPN2 at 9 p.m. ET.
"A lot of teams are going to be afraid of that," said junior Jeremiah Davenport on the contagious energy he and his team plays with on the court. 
If all goes as planned for Miller and the Bearcat's, they'll be heading to the AAC championship on March 10 in Fort Worth, Texas. For now, the Bearcat's must dominate the remainder of conference play to realign their program with the high standards they hold themselves to.