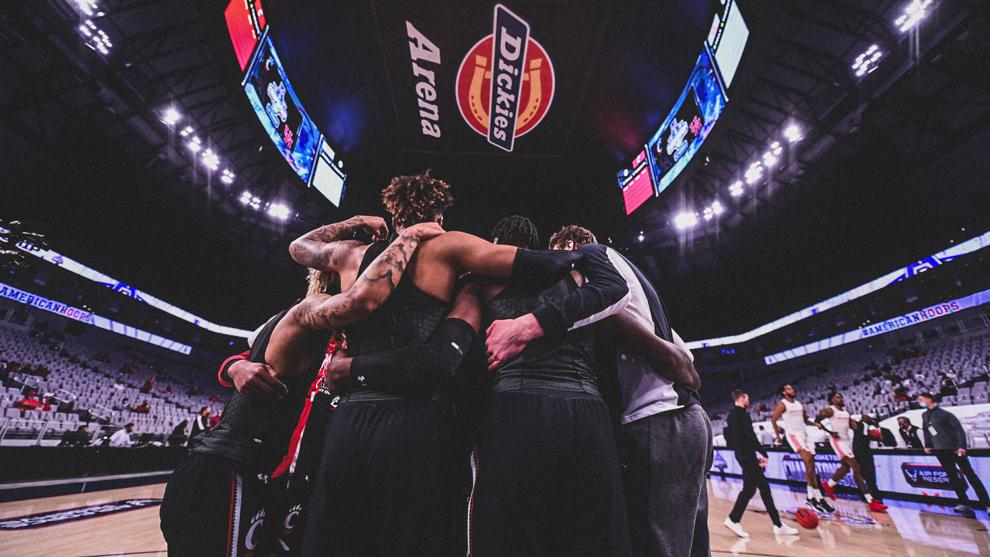 The University of Cincinnati men's basketball team saw their season come to an end in a 54-91 loss to the University of Houston in the American Athletic Conference (AAC) tournament championship. The highly-touted Houston side proved their dominance over the conference with lock-down defense and high-octane offense.
The most notable disparity between champions and the runners-up was in the shooting, where Houston shot 56% from the field, and 47% from three. On the other hand, Cincinnati shot 27% from the field, including 24% from deep.  
"When they're making shots, it makes it extremely difficult to compete," Coach John Brannen said. "They made all the right plays, and we threw every defense we had."
The Cougars' Quentin Grimes continued his dominant season, tallying 21 points and earning himself the AAC Tournaments Most Outstanding Player. Eighteen of Grimes' points came in the second half, which saw Houston outscore the Bearcats 50-27.
Also receiving recognition from the AAC selection staff was the Bearcats' Jeremiah Davenport, named the AAC All-Tournament team. Davenport led the Bearcats in scoring in two of the three tournament games, including a 19-point outing against SMU. He finished with a team-high 11 tonight. 
"I thought he was one of the most improved players in the country," Brannen said of Davenport. "He's hard-nosed, talented, committed, and has really matured a lot." 
Mamoudou Diarra knocked in 10 of his own points against Houston, playing his first minutes of the tournament. Diarra, along with four other seniors, played their final minutes as Bearcats on the court.
"They made me better, and I thank them for that," Brannen said. "Last night in the team meeting, I told them, 'I'm going to be selfish here, but I'd like to win a championship but more importantly, I just want to coach you longer.' This group only has one season together, and I wanted to coach them for as long as I could."
The Bearcats have a bright future to look ahead at, though, as the team saw major contributions from freshman and sophomores all season. This anticipation lies in freshmen such as Tari Eason, who made the AAC All-Freshman team, and Mike Saunders Jr, who started at point for a majority of the season.
"I think we have a chance to be elite," Brannen said. "That freshman and sophomore class is really good, and I think over the course of most of the season, you saw that. That's why I'm awfully excited about next season."
The Bearcats would have secured a spot in the NCAA tournament with a win, but Houston heads to the Big Dance ranked as a two seed and the lone representatives of the AAC. Wichita State, who Cincinnati beat in the AAC tournament semi-finals, will have to compete in a play-in game to punch their ticket.