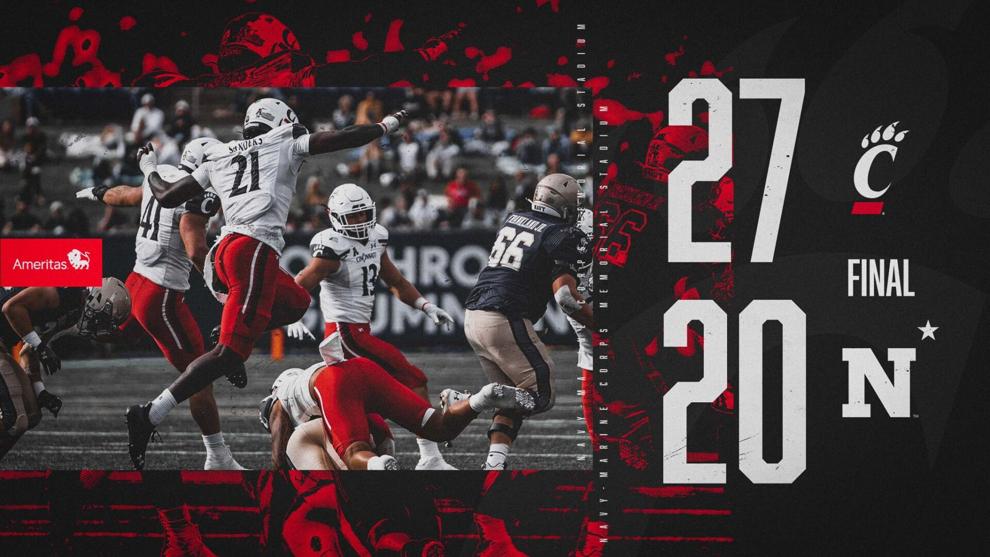 After heading into halftime leading 13-10, the University of Cincinnati (UC) Bearcat's football team emerged victorious after a 14-point third quarter gave the Bearcats the needed separation. The No. 2 Cincinnati Bearcats are now 3-0 in the American Athletic Conference (AAC) and 7-0 overall.
With first-half struggles being a theme throughout the Bearcat's season, a solid second-half performance was once again necessary to win. Navy gave Cincinnati their arguably toughest contest of the season, being the first team UC did not beat by double-digits in their seven games.  
As expected, the Navy triple-option was a strategy that kept the Cincinnati offense off the field. In the first quarter, Navy had offensive possession of the football for 12:04 compared to Cincinnati's 2:56. This strategy made the Bearcats defense stay on the field for long drives and kept the red-hot visiting offense off the field.
For Navy, though, their style of play is what led to their demise as the clock ran down in the fourth quarter. After a late touchdown made the contest 27-20, the Navy special teams unit recovered an onside kick with 0:50 left to play. Two plays into the final drive, Navy quarterback Tai Lavatai threw an interception (INT) to Cincinnati's Arquon Bush to end the game. Bush's interception was his third of the season, giving Cincinnati 12 INT's overall.
Lavatai attempted to pass 15 total times in the game, compared to his 21 rushing attempts. The Navy Midshipmen finished the game with 192 rushing yards, nearly 100 more than Cincinnati's total ground coverage.
In the third quarter, running back Jerome Ford legged out nearly half of his total yards of the game with a 43-yard touchdown. Ford had 90 yards on the day, on 15 attempts.
Tight end Josh Whyle caught his second touchdown of the game in the third quarter, earning himself the celebrations of his second and third touchdowns of the season. Whyle was the only receiver that Desmond Ridder found in the endzone at Navy.
Ridder went 18/30 on passing completions for 176 yards and two touchdowns in the game. 176 yards is Ridder's second lowest total this season, his first being 140 yards last week against UCF.
Cincinnati also brought out two new field goal kickers at Navy, with true-freshman Christain Lowery sinking a 32-yarder and sophomore Alex Bales hitting the other from 52 yards. The two field goals were the only points the Bearcats scored in the second quarter, proving to be crucial to the victory.