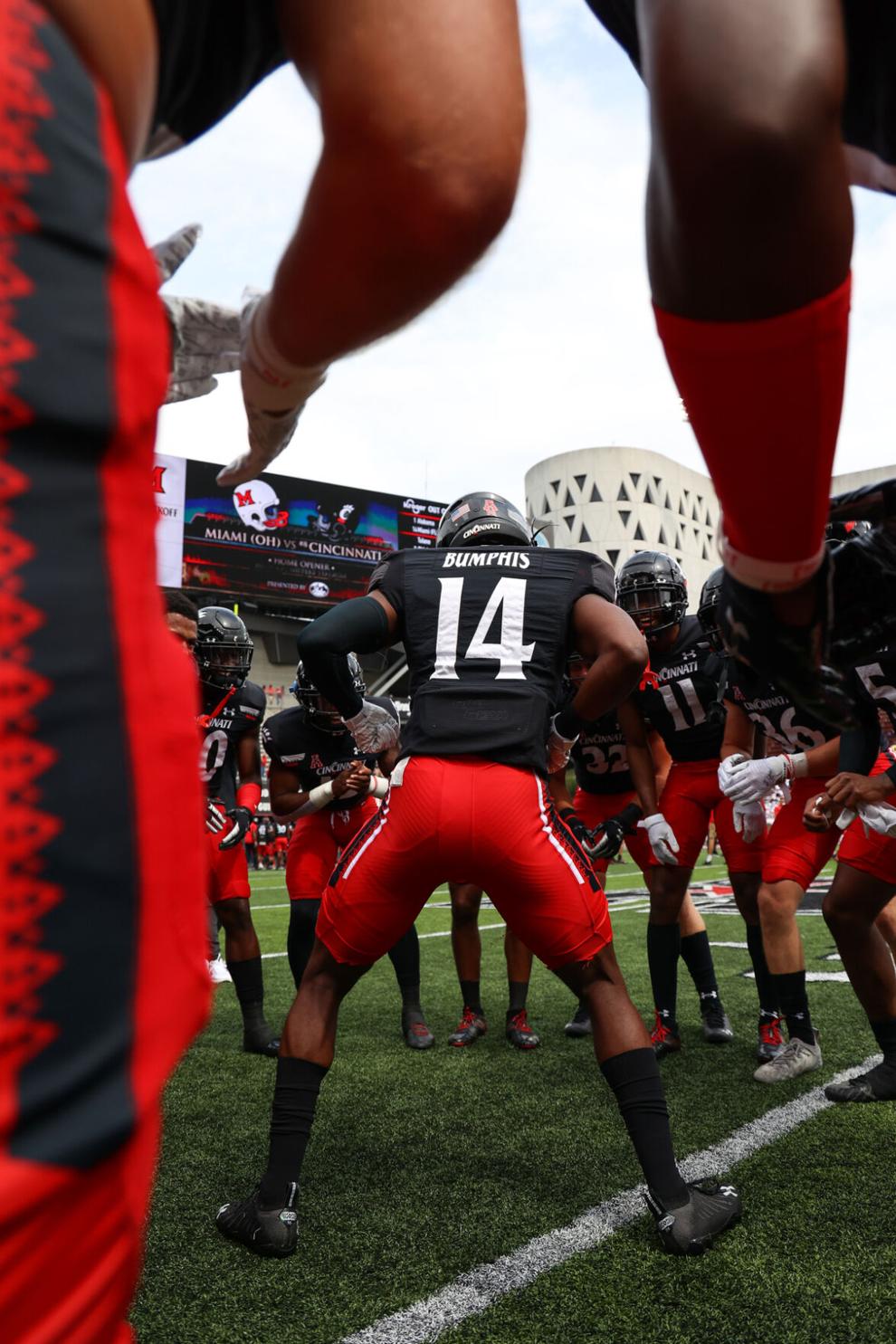 The University of Cincinnati (UC) football team will be heading to South Bend, Indiana to take on the Notre Dame Fighting Irish this weekend in what may be the biggest game in Cincinnati history. With No. 7 Cincinnati taking on No. 9 Notre Dame, it's hard to find a better regular season matchup in the 2021 season. 
With such an important game coming up for the Bearcats, it's important to look at what this team must do to return to Clifton victorious.
Get off to a hot start
There is no doubt in any Bearcat fans' mind that Cincinnati's first-half performances this season have been anything other than subpar. After going into halftime of week two tied with an FCS team in Murray State and putting themselves in a 14-0 hole to the Indiana Hoosiers the following week, this Bearcat team will need to rely on more than their first-half defense to win this game.
Both Cincinnati's passing and rushing attack needs to get clicking earlier, something that hasn't in their previous two games. Cincinnati quarterback Desmond Ridder had 28 passing yards in the first quarter at Indiana, and the Bearcat's run game accumulated a total of six yards in that same quarter. Zero first downs were converted that quarter for the Bearcats. 
Granted, these problems have been fixed through the duration of both those games, however, a team such as Notre Dame will not be as forgiving if UC gets off the bus with heavy feet. 
Ignore the crowd
Unlike the stadiums the Bearcats have played in this season, Nippert Stadium in Cincinnati and Memorial Stadium in Indiana – which have an average capacity of around 46,000 fans – Notre Dame's stadium holds over 77,000 passionate fans. It was already mentioned in the post-game press conference at Indiana that snapping the ball was an adjustment because of the atmosphere, so it's something the Bearcats will need to adjust to and do so early in the game.
However, Cincinnati was allotted 6,000 tickets to sell to Bearcat fans, giving the potential to oppose the noise of the Fighting Irish crowd. Ridder has already told Bearcat fans that he was going to silence the home crowd, but only time will tell if Ridder is true to his word.
Yes, most eyes will be on the offense, but the other side of the ball is going to be just as, if not more, important in the Bearcats stopping a team that is averaging over 35 points per game.
Rush the quarterback
Notre Dame quarterback Jack Coan has been sacked 19 times this season, a concerning amount for any team. That stat is enough to express the importance of putting pressure on him throughout the entirety of the game.
If that's not enough fuel to start the fire, Notre Dame head coach, Brian Kelly, named Cincinnati defensive fronts Malik Vann and Myjai Sanders, complimenting both on their physicality and athleticism. Notre Dame gave up six sacks in their triumph over Wisconsin last week, which saw starting quarterback Coan leave the game early due to injury.
After a questionable week, Coan is slated to start against the Bearcats this weekend, meaning UC should want to get at him instantly and assert their presence on the field as soon as possible. 
Overarching all of this, though, is the importance of the Bearcats playing their brand of football. A lot of coaches will say confidence is key, and that is because it is true; the Bearcats play their best ball when they are confident and having fun.
Quick and physical defense, two-dimensional offense and exceptional special team play are all facets of the game that this UC team has displayed in their three outings this season, and will need to do to win in South Bend.