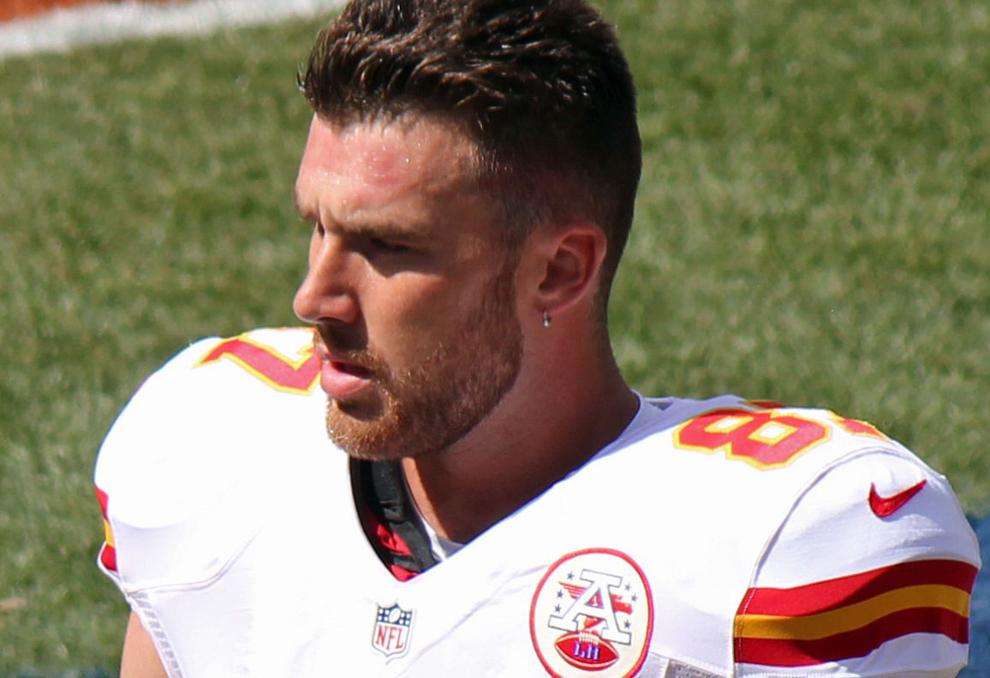 After defeating the Buffalo Bills in the American Football Conference championship game, former University of Cincinnati Football tight end Travis Kelce is looking to lead his Kansas City Chiefs to their second straight Super Bowl victory. 
Kelce rolls into the big game riding a wave of momentum, totaling 21 receptions for 227 yards and three touchdowns in the Chiefs' previous two playoff matchups. The 31-year-old is no stranger to playoff success, recording nine touchdowns in 11 postseason contests. 
A Lombardi Trophy would be the cherry on top of a record-setting season. The UC alumnus recorded 1,416 receiving yards, the second-most in the National Football League and the most ever for a tight end, while sitting out the final game of the season.
Kelce rode a monster second half of the season into the record books, catching at least seven passes in the last eight games of the year while hauling in six touchdowns in that span. Kelce broke the record set the previous season by San Francisco 49er George Kittle.  
Kelce and the Chiefs will face a stiff test against a Tampa Bay Buccaneers team riding a seven-game winning streak led by future hall of fame quarterback Tom Brady. The test will be even harder for Kansas City as the game is being hosted in the Bucs' home stadium. 
The last time the Brady and the Buccaneers lost a game was at home at the hands of Kansas City by a score of 27-24 in week 12 of the NFL season. Kelce caught eight passes for 82 yards in that matchup, a solid performance overshadowed by teammate Tyreek Hill's 269 receiving yards and three touchdowns. 
Kansas City's number-one ranked passing offense led by Kelce, Hill, and superstar quarterback Patrick Mahomes will look to take advantage of a Bucs secondary that allowed the 12th most receiving yards to opposing offenses this season. 
The Tampa Bay defense was even worse against tight ends in 2020, allowing the seventh-most receptions while being tied for the seventh-most touchdowns surrenders to opposing tight ends. 
Super Bowl LV is highlighted by the quarterback matchup of Mahomes and Brady. A consensus all-time great, regarded by many as the greatest quarterback of all time, the 43-year-old Brady is looking to win his seventh Super Bowl in his tenth appearance. 
His counterpart Patrick Mahomes already has a Most Valuable Player award and Super Bowl ring to his name despite this being just his third year as a starting quarterback in the NFL. Each quarterback put together a terrific year with both ranking in the top six passing yards, touchdowns and completions. 
TNR's Predictions:
Aaron Sary – Staff Reporter
If their week 12 matchup is any indication, I think the Chiefs will come out on top. Kansas City scored 17 unanswered points to start the game, so it was not as close as the score indicates. Mahomes, Kelce and Hill are too good to against. Plus, since the beginning of the 2019-20 season, Mahomes has only lost one game outside of Kansas City, and it was by a whopping three points to a team he knocked out of the playoffs later that year. Kansas City 35 Tampa Bay 21. 
Logan Lusk – Sports Editor
My heart will be rooting for young gun Mahomes and the Chiefs, and it's hard to say that they won't be coming out on top. But over the course of life, I've learned a few things; death, taxes and Tom Brady winning the Super Bowl. Bucs win it in their own stadium, but I think we'll be on the edge of our seats. Tampa Bay 34 Kansas City 31
Owen Racer – Staff Reporter
You can't beat the Chief's young and fast offense with any defense. The only way to beat them is to score more points than them, and despite being experienced, Brady can't lead his offense to more points than Mahomes can. Kansas City 34 Tampa Bay 27  
Landon Bartlett – Contributor
Tom Brady is already the greatest of all time, but he's looking to win the race by a mile. The Super Bowl becomes a shootout between Brady and Mahomes, but Brady reminds Mahomes that he still has a few years before being in the goat conversation. Kelce represents UC with a couple touchdowns, but Bucs come out on top. Tampa Bay 42 Kansas City 35.
Alex Martin – Art Director
I don't follow the National Football League much, but my main prediction is that The Weeknd will have the best halftime show of all time. Kansas City 35 Tampa Bay 21.