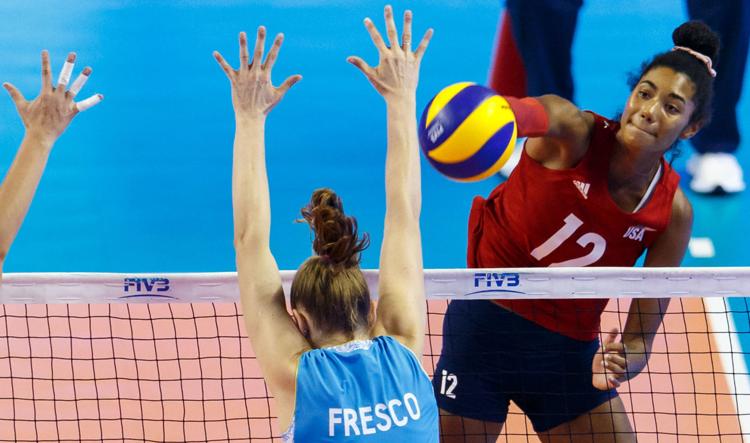 After a torn ulnar collateral ligament (UCL) held her out of volleyball activities for eight months in 2017, redshirt senior Jordan Thompson has had a comeback story like no other.
The Edina, Minnesota, native had an outstanding season for the University of Cincinnati Bearcats in 2018, unanimously winning American Athletic Conference Player of the Year for the second time. Thompson led NCAA Division-I in kills, points, kills per set and points per set, averaging 6.27 kills and totaling 827 points — breaking the single-season kills and points record at UC. The previous records were held by Julie DuPont with 5.43 kills per game in 2003 and Stephanie Niemer with 627 total points in 2010.
"I think last season was really good for me just to kind of develop more as a player after being injured the year before," Thompson said. "I didn't really know what to expect from myself coming back. I ended up having a pretty good season and I think that just helped prepare me for the level that I've been playing at this summer."
The U.S. Women's National Volleyball Team head coach Karch Kiraly took notice, inviting Thompson to train with the national team during the winter of 2018.
"I wasn't really expecting to make a roster because I'm so young and I never played with a senior national team before, so I just went in with a really open mind and was just wanting to learn," Thompson said. "Nobody really had any expectations for me because I was brand new and so I was like 'I have nothing to lose and everything to gain.'"
Thompson held her own, qualifying for the 14-player summer roster all five weeks of the Fédération Internationale de Volleyball (FIVB) Preliminary Round and was one of only three collegiate players on Team USA to do so.
"It was huge to be recognized as a player and a teammate that could help the team and the program do great things, and to know that I'm still in college and I got that opportunity really meant a lot to me because not many people get the chance," Thompson said. "Me and the other two girls in college, we would always be like 'Wow we can't believe we're here right now. This is so cool.', so there's a special bond with them because we're all three in that same position."
Team USA finished with a 12-3 record that included a stop in Nebraska before heading to Bulgaria, Italy, China and Russia. Thompson's teammates and coaches at UC got to look on as she represented the United States and the Bearcats on an international level.
"It's difficult to explain everything that Jordan encompasses as far as the program and for the university because of her ability to compete at such a high level," UC head volleyball coach Molly Alvey said. "She's really grown into that … She's such an elite level athlete, but she is one of the greatest people and teammates that I've coached. I think when you have that type of person representing your program, and what your program is about, it's invaluable and definitely very special."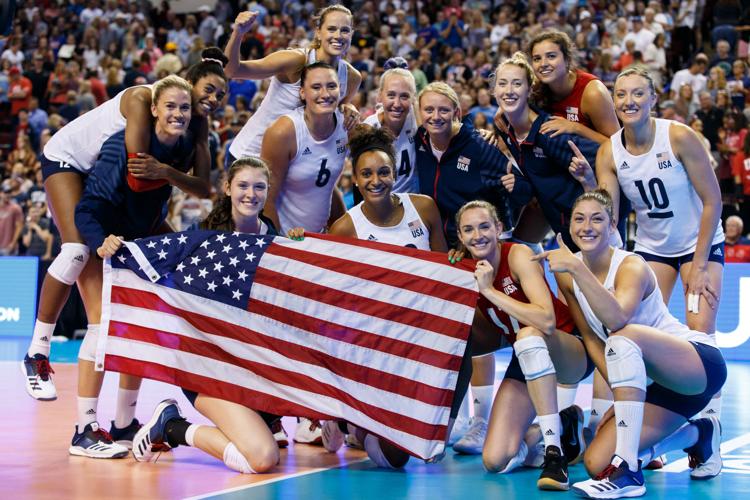 The team advanced to the FIVB Nations League Finals in Nanjing, China, where they finished undefeated (3-0) and won gold. Thompson put up a game-high 33 points in USA's second match victory against Brazil in route to making it back-to-back FIVB Nations League Championships.
"I ended the game and one of my teammates came up to me and said, '33 points, are you kidding me?' I had no idea," Thompson said. "All I knew was that my shoulder was tired. I think that was a game that helped me build confidence as a player and knowing that even though I'm still young I can find ways to be successful. It was a big confidence boost for me."
The team then trained in Anaheim, California during the 25 days leading up to the FIVB Intercontinental Olympic Qualification Tournament being held in Bossier, Louisiana, Aug. 2. Thompson led Team USA in total points and an undefeated (3-0) record, winning the gold medal and a berth into the 2020 Olympic games in Tokyo.
"For something as big as an Olympic berth is, once again, an experience not a lot of people get to say that they were a part of," Thompson said. "It was really just special to me to be able to say that I was there and that I played a role in it."
Thompson didn't celebrate alone, as Alvey witnessed the three-day tournament and got to share a special moment with her soon-to-be senior captain.
"I think the biggest thing that I took away from that weekend would be just a glimpse of what's to come for her," Alvey said. "I think she's put herself in a position and she will continue to put herself in position to be an option for the 2020 Olympic team. I mean, that's really incredible…She was that amazing to watch. And I tell you, when she and the team won that match on Sunday to secure the spot in Tokyo, it was very emotional. I mean it was instantly, as soon as game point hit."
As for the future, Thompson will be entering her final year of eligibility at Cincinnati but is unsure about what will follow.
"I want to just keep playing volleyball for as long as possible," Thompson said. "After I'm done in December, I'm planning on trying to find a contract overseas for a half season because they get done in May. The teams in Europe usually end around then, so I'm just planning on playing volleyball and trying to do this as long as my body will let me. After that, we'll see what comes next. I have no idea."