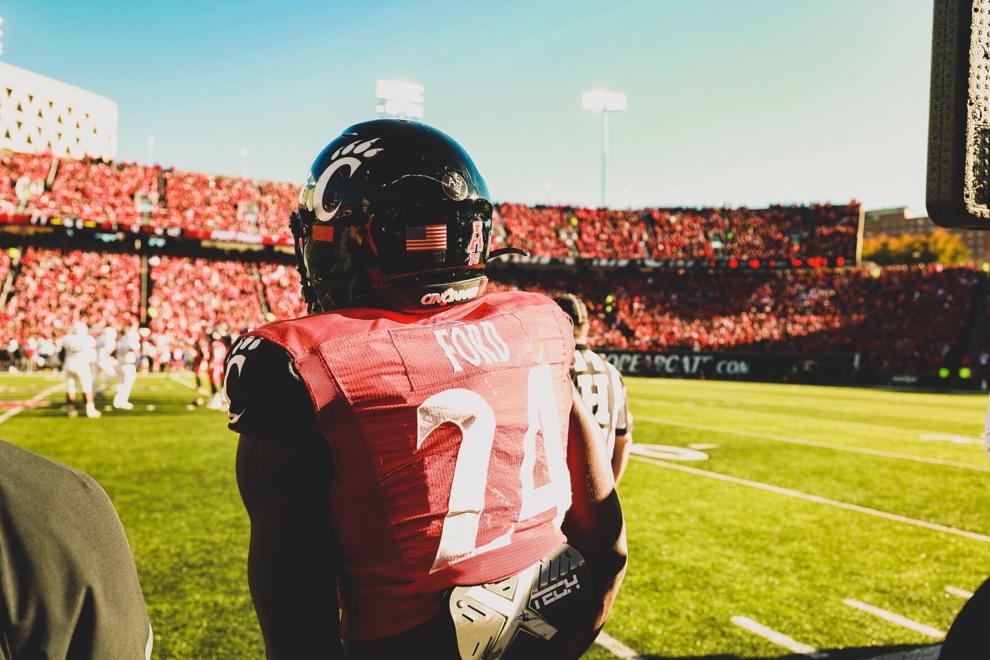 Following the end of a historic season by the University of Cincinnati Bearcats football team, running back Jerome Ford announced via twitter that he is declaring for the NFL Draft. Ford spent two seasons as running back for the Bearcats, and officially graduated from the university at the end of the fall semester. 
On the field, Ford racked up 1,319 rushing yards in 2021 and 483 in 2020, putting his Cincinnati career total at 1,802 yards. Ford also reached a career-38 total touchdowns mark, 20 in 2021 and 8 in 2020. In the record book, he ties the Cincinnati-best for touchdowns in a single season with his 20 touchdowns. His total was good for seventh in the NCAA in total rushing touchdowns this season.
"He kept defenses on their heels with his potential to score any time the ball touched his hands," head coach Luke Fickell said. "I'm proud of what he accomplished on the field, but even more proud of the person he is off the field. He earned his degree and will always be a Bearcat."
Ford led the American Athletic Conference (AAC) in both touchdowns and rushing yards this past season, as he collected First-Team all-AAC honors for 2021. The offensive star also earned the AAC Championship game's Most Outstanding Player award as he rushed for 187 yards and scored two touchdowns. 
Number 24 for the Bearcats stood out as one of the team's most important players all season and played a big role in the Bearcats earning their spot in the College Football Playoff. The Bearcats only ever lost one game that Ford scored in, that game being against Georgia in the 2020 Peach Bowl. 
"I want to thank my teammates, especially my offensive line, for accepting me as a Bearcat from day one, pushing me to be the best player I can be, and leaving it all on the field each and every practice and every game," Ford wrote in his Twitter statement. 
Pro Football Network, an NFL analysis and recruiting website, has Ford as a top-100 prospect heading into the 2022 NFL Draft. The network praises his versatility and speed more than anything. Maybe the person with the most confidence in his NFL abilities is Luke Fickell, who spent two years watching Ford turn into one of the nation's best running backs.
"He was a joy to coach, and I can't wait to see what he accomplishes in the NFL and in life," Fickell said.