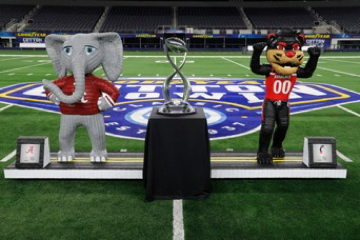 Unofficial sign in: 7:05 a.m. 
While the participating players of the nearing Cotton Bowl took AT&T stadium for their second to last practice before kickoff, it was the fans of Tuscaloosa and Cincinnati that were scarce. 
As Six Flags hosted an all-day fan event, an attendee sporting the C-paw or Crimson Tide was nearly non-existent. However, a bar in Dallas's Deep Ellum district was spotted flying a Cincinnati Bearcats flag. Likewise, the city of Dallas has embraced its New Year's Eve visitors, with local outlets tuning in to question the semifinalist players. 
Press conferences continued, and players are seemingly over being asked to address their excitement about being in the Cotton Bowl; they know that we know they're grateful. 
Adding to the speculation of COVID-19's presence in Dallas and the CFP semifinals, Alabama wide receiver Slade Bolden said that they do not get tested for the virus unless they have symptoms. He stated that he couldn't tell the media the last time he had been tested. 
Seemingly everyone indirectly or directly involved with the highly anticipated New Year's Eve game is simply ready for the game to begin. 
Wednesday brought a chance for players of both Cincinnati and Alabama who don't normally find themselves in front of the microphone the chance to address the media.
With Goodyear announcing their continuation as a sponsor of the Cotton bowl, two mascots were unveiled made from Goodyear tires ahead of the game's 86th matchup. 
Wednesday also brought the opportunity for this in attendance to view the hardware that will ring in 2022 for the team who comes out on top Friday. 
The focus is noticeably in the moment for both teams, with no mention of their potential next opponent, Georgia or Michigan, to be heard in Dallas. 
Thursday is set to bring an early address by head coaches Nick Saban and Luke Fickell, followed by the team's final full day of preparation.