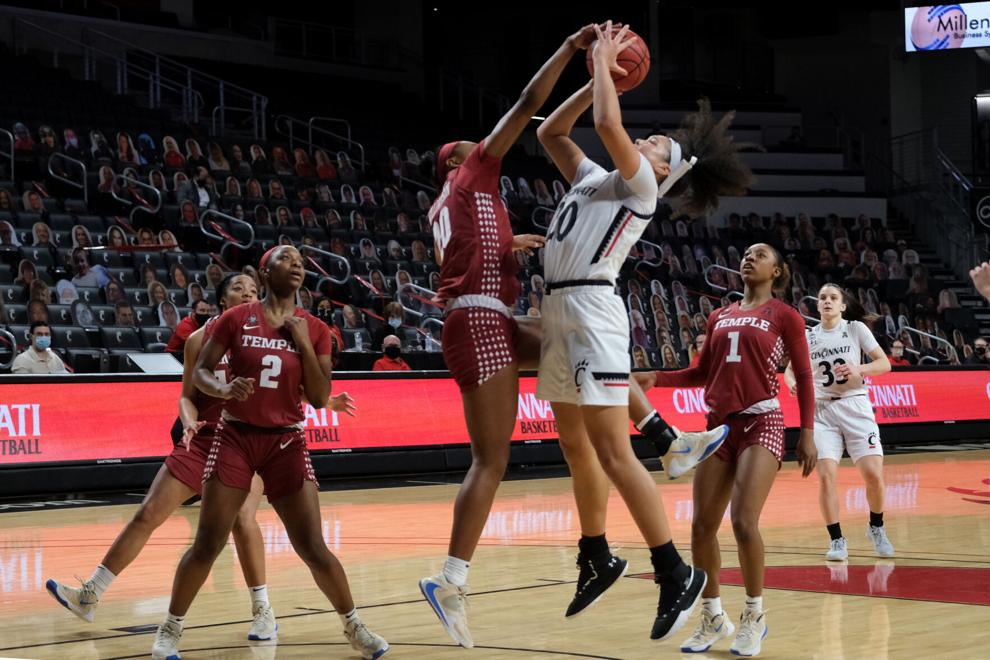 Finishing their regular season at 7-15 (5-11 AAC) after a third straight win at the University of Houston this past Tuesday, the University of Cincinnati women's basketball program now looks to the annual American Athletic Conference Tournament.
The Bearcats enter the tournament as the No. 7 seed and are set to face No. 10 University of Memphis (4-14, 2-11 AAC) in the tournament's first round. Gameday is Mar. 8 in Fort Worth, Texas, with tip-off at 5:30 p.m. on ESPN+.
Leading the Bearcats this season has been senior Ilmar'I Thomas, who received her second consecutive and league-leading fourth total AAC Player of the Week Award on Friday. Thomas concluded her regular season with averages of 23.9 points on 54.5% shooting, 7.4 rebounds and 3.5 assists.
"I definitely would consider myself one of the best players in the country," said Thomas. "That's kind of something that I think of every game. It's just to prove that I have a chip on my shoulder and that I should be talked about as one of the best players in the country."
Thomas' confidence certainly isn't misplaced. The senior has five-season averages within the top fifteen players in the NCAA: minutes per game (first with 39.8), field goals made (fourth with 195), total points (fifth with 526), points per game (seventh with 23.9) and free throws made (seventh with 126).
While practically locking up the conference player of the year award over the course of the season, Thomas has been charged with a new kind of responsibility as well – being the team's undisputed leader.
With four senior starters leaving the team after last season, Thomas has helped accustom young players like freshman Jillian Hayes to collegiate basketball. 
"I've seen them grow so much over the course of the season," Thomas said, referring to Hayes and other fellow underclassmen. "Jill's been getting adjusted and doing a great job with everything. I think she's going to continue to grow. I know they're all going to continue the Bearcat legacy and culture."
Hayes has mostly run the point guard position for Cincinnati this year but has seen time stretching to the power forward position as well. She's come up big to replace teammate Addaya Moore, who was injured four games into the season.
Sister of current NBA player Jaxson Hayes, Jillian contributes an all-around effort to the Bearcats. As Hayes puts it, she can do whatever head coach Michelle Clark-Heard needs her to do – from scoring to distributing the ball and collecting rebounds. 
The one thing nagging at Hayes in her freshman season has been her shooting consistency. She finished her regular season with a mark of 30% from the field, 61% at the line and under 10% from the three-point range – something she hoped to remedy.
"[I've been] trying to figure out where I fit in," Hayes said. "There were definitely games where it was really on and really off. Me and coach [Melissa] Kolbe always get in the gym and work on my shot and shot selections, [I'll keep] continuing to work with her and get it more consistent."
With the conference tournament rounding the corner, both Thomas and Hayes look to Clark-Heard for guidance after a rough season. Both players claim the strong three-game winning streak finish was something the third-year head coach was pushing for.
The momentum is certainly high going into Texas, but Hayes and Thomas say the team's ideology is to take things one game at a time and finish the season strong.