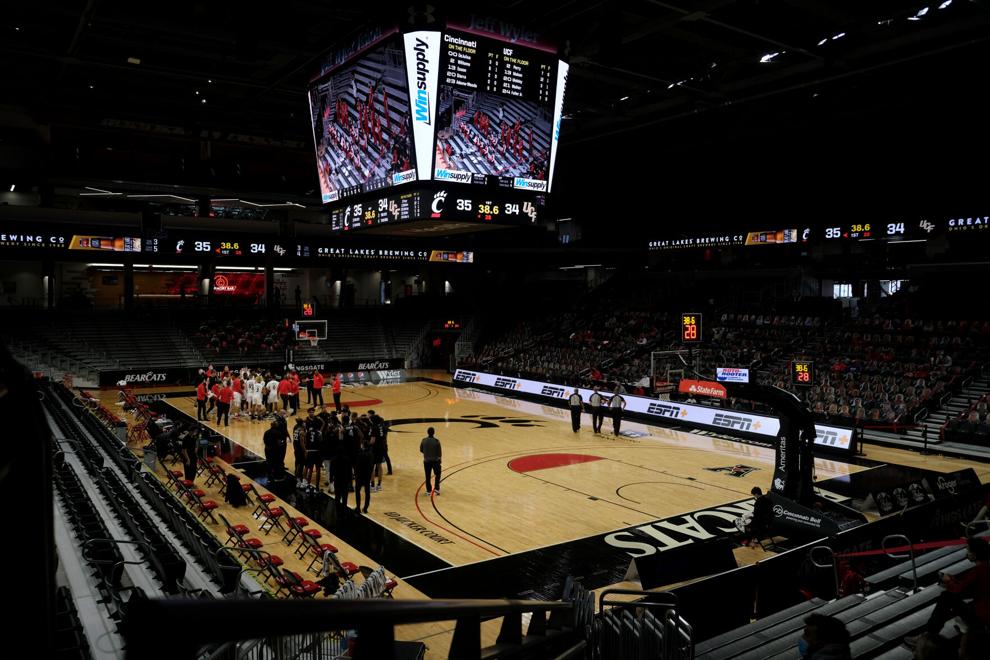 Now that the seasons have officially come to an end for both of the University of Cincinnati's basketball programs, some upcoming changes have emerged. 
Women's basketball star Ilmar'I Thomas and men's basketballs Tari Eason, Michael Saunders Jr., Zach Harvey, Mamadou Diarra and Gabe Madsen have entered the transfer portal – seeking out a new uniform to play in and a new university to study under.
Ilmar'I Thomas, a senior at just 20 years old, will be utilizing a graduate transfer as a part of the extra year of eligibility afforded to seniors by the NCAA due to the COVID-19 pandemic's effect on programs this past year.
Thomas has been the emphatic leader and go-to scoring option for the Bearcats ever since her sophomore year. Since then, she's been named to the All-AAC First Team three times and was awarded the American Athletic Conference Women's Player of the Year in 2021.
She led the conference in scoring with 23.7 points per game, which was also top ten in the nation, and contributed 7.5 rebounds along with 3.3 assists per game. Suffice to say, Thomas should have no trouble finding a program elsewhere if she so decides.
Tari Eason enjoyed an electric freshman season with the Bearcats, being one of only five players to play in all 23 games this season – he started in eight of them. Credited for his natural talent and raw athletic ability, Eason averaged 7.3 points, 5.9 rebounds and just under two assists this season.
Michael Saunders Jr.'s decision to enter the transfer portal may come as a surprise to some, as he and head coach John Brannen had been building a relationship since Brannen was still coaching at Northern Kentucky University.
Saunders was the first player Brannen offered a scholarship to when he moved across the river to Cincinnati. After injury's and opt-outs at the guard positions opened up some room, Saunders burst through the door of opportunity in his freshman season with the Bearcats.
Praised for his elite speed, Saunders came up big for Cincinnati over the last stretch of the season – starting in six of the final eight games and averaging 7.5 points, 2.5 rebounds, two assists and nearly one steal per game over that span.
Zach Harvey saw limited playing time in Bearcats colors in 2021, as the sophomore guard utilized the COVID-19 opt-out option back in February. As one of the tallest options at the guard position on Cincinnati's roster, Harvey provided useful scoring off the bench.
After being kept as a reserve in his freshman season and coming off the bench this past year, playing time is likely Harvey's greatest desire as he looks for a new university. He averaged 6.4 points per game in 2021 and was the Bearcats most consistent threat from deep, shooting above 45% from deep before opting out.
Mamadou Diarra will be leaving a big hole in the Cincinnati lineup, literally, as the 6'9 forward is the second tallest player on the team behind center Chris Vogt. His presence in the paint and ability to stretch the floor will be something the Bearcats need to replace quickly. Diarra averaged 8 minutes per game and on average contributed 2.3 points and 2.1 rebounds.
Like Saunders, Gabe Madsen has entered the transfer portal after his freshman year. Unlike Saunders, however, Madsen saw far less playing time on the court before utilizing the COVID-19 opt-out.
Madsen, whose brother Mason continued to have a breakout freshman year with the Bearcats, appeared in two games for a total of twelve minutes and knocked down a single three-pointer in that time.