Since picking up a basketball at 4 years old, University of Cincinnati women's basketball sophomore Iimar'I Thomas has fallen in love with a game that has taken her further than she ever could have imagined.
The 5-foot-10 forward had a standout senior season at Sacred Heart Cathedral Prep in San Francisco, California, in 2016 — averaging 25 points and 13.4 rebounds per game. Thomas was a varsity team starter in all four years of her high school career, where she scored more than 1,000 points and helped lead Sacred Heart to a California Division III State Championship.
Former UC head coach Jamelle Elliot first saw Thomas when she was competing in an Amateur Athletic Union Tournament in Atlanta, Georgia. It was then, Thomas said, that Elliot and other schools began recruiting her.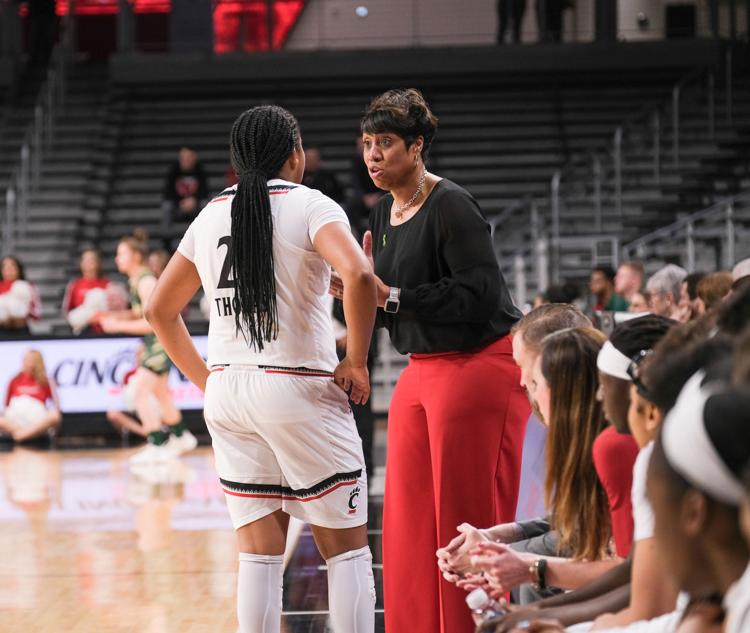 "We played against a super good AAU team that had some good, high recruits, so that's how I started getting recruited," Thomas said. "A lot of east coast schools were recruiting me, and the assistant coaches saw me, and from there on, Cincinnati recruited me."
Elliot and her assistant coaches won the battle, as Thomas committed to play at Cincinnati over the University of Providence.
"I wanted to go to a school that was secluded and was an actual college campus," Thomas said. "I like where everything is. You can see everything – the environment, the support we have, the coaches."
While committing to spend the next four years more than 2,300 miles from her hometown of Oakland, California, Thomas knew it would be a challenge — especially considering she was just 16 years old at the start of her freshman year.
"It was crazy," Thomas said. "I would always tell myself this is what I signed up for, and I was ready for this moment. I thought I might get homesick every once and a while, but in my mind, I was out here to do a job. My mother was there with me every step of the way, and as long as I had basketball, I knew I was going to be OK."
Thomas ended up being just fine, averaging 9.7 points and 6.1 rebounds per game in 32 games. She was named AAC Freshman of the Year and was a unanimous All-Freshman Team selection as well.
"[AAC Freshman of the Year] meant a lot," Thomas said. "It was something I said I wanted coming into the school. I was the first person to do it in a lot of years here, so it felt good to bring that back to this program."
Thomas hasn't missed a beat and is having another solid season for the Bearcats, leading the team in both points per game at 13.1 and rebounds per game at 7.1.
With an 80-65 win over Tulane University Monday, the team reached 20 wins in a season for the first time since 2002-03.
"We need Iimar'I to show up and play every day for us, especially with this team," Clark-Heard said. "That's something new for her and her teammates. I think it's been a challenge, but she's really stepped up to the plate with that. Just trying to get her to understand that it's everything she brings to this team, and not just her scoring and rebounding. She can do so many other things because she draws so much attention."
Despite having better success in her second go-around, Thomas was blindsided by the coaching change in the offseason when Elliott was fired and Clark-Heard was hired.
"I've grown a lot since the change," Thomas said. "It was something I was not expecting, but it made me stronger as a person and as a player. Off the court, I've changed my mentality with looking at stuff and just being able to deal with adversity, [and] on the court, I've changed my game to adapt with having a new coach."
Thomas' growth has helped not only herself, but her teammates as well.
"We've grown closer in the past year," senior guard Nikira Goings said. "She's really helped me with my confidence because I struggled a little bit. She's just positive and tries to help me out during those times. She's really important. She's a big part of where we are and what our record is."
As for her future at Cincinnati, Thomas emphasized winning as a top priority.
"I'm looking forward to continuing to be a winning program and making it to the NCAA Tournament," Thomas said. "When you go to college, your goal is the tournament."
Thomas and the UC women's basketball team will travel to Uncasville, Connecticut, for the AAC Championship March 8-11. As the No. 3 seed, the Bearcats will face the winner of the No. 11 versus No. 6 matchup Saturday, March 9, at 8 p.m.