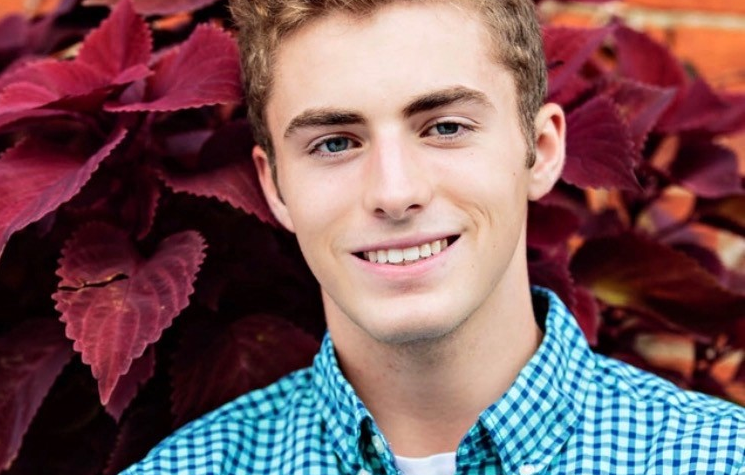 Fifty-one jump roping medals and three first place World Championship trophies adorn the shelves in the bedroom of 21-year-old UC student Ridge Robson.
Having represented the U.S. in Shanghai, China, and also performed on TV shows like "America's Got Talent," "Italia's Got Talent" and "Das Supertalent" in Germany, the awards demonstrate the unimaginable heights jump roping has taken the third-year student.
The Cincinnati native specializes in jump rope freestyle, which can involve a single person, pairs, or three- and four-person routines with one or more ropes. Robson has been part of a team every year he's jumped rope, joining an afterschool program called the Shooting Stars in first grade and the Comet Skippers in fourth grade — a competitive traveling team he remained with through high school.
"I jump rope for fun and just enjoy it," Robson said. "In high school I trained a lot more and had to go to all these set practices that were five days a week. Now, I try to practice three hours a week. I run through my routine and sometimes get a group together."
Growing up, jumping rope provided an unexpected outlet for Robson, who was diagnosed with dyslexia in first grade. Robson was a talented kid — he could draw and tell creative stories as early as first grade, always looking at everything from a creative standpoint. But he struggled at times doing smaller things, like remembering letters of the alphabet. He even noticed himself falling behind in school — his classmates moved on to higher reading levels without him.
His mother, Lori Robson, is a former schoolteacher and principal. She knew something wasn't quite right with the way her son worried at a young age. Robson went through awareness testing and was diagnosed with dyslexia. Learning at a slower pace was difficult for him, but working through the struggles taught him a lot about succeeding in life.
"After school I was a part of all these different programs and was constantly behind in academics," Robson said. "It taught me to always work hard, and if you really want to achieve something, you can put in the work and overcome it… It's gotten me to where I am today."
Robson's jump roping prowess has drawn the attention of a much larger audience than those who attend national competitions or train back in Mason — he currently has over 52,000 followers on Instagram (@ridgerobson).
Videos he originally posted for fun drew so much attention they were featured on sites like WorldStar (22.1 million followers) and Barstool Sports (7.4 million). Robson now feels the need to post more often.
"I started to get positive comments and messages from everyone when I posted," Robson said. "I felt I had to keep posting every week since people always expressed how big of a motivation I was to them. I love that Instagram has allowed me to help and connect with so many different people."
Robson's skills were evident early. Like so many other kids, he began jump roping in kindergarten at recess with his classmates. Lori didn't think anything of him saying he could do a double under (swinging the rope twice under his feet in one jump) and double dutch (two long jumpropes turning in opposite directions with one or more people jumping simultaneously) until she met the gym teacher at school, Susan Hiestand, who ran the Shooting Stars. The blue-eyed first grader had a quick tryout, performing the double under and double dutch for Hiestand and was offered a spot. He joined immediately.
"Ridge had not shown me what he could do before he performed in front of [Hiestand]," Lori said. "He stayed on that team and loved her… Ridge was actually really, really good and was at the top of the afterschool program."
Jumping rope remained an escape — Robson practiced with people he met on the Skippers, most notably Dane Robinson, who became his best friend. Robinson is a year older than Robson, but they were still able to be a part of groups in competitions, teach younger kids at Mason High School and simply hang out. Robinson never let Robson feel different than anyone else.
"The year he joined I wasn't on the team, but I watched him, and he was pretty good," Robinson said. "I started talking to him and just accepted who he was. I never made fun of him and wanted him to feel accepted and not any lesser. We became best friends in middle school and hung out every weekend and bounced tricks off each other ever since then."
Although he had the support of family and friends as a teenager — and respect from athletes in more traditional sports like football and wrestling at Mason — Robson still felt different in the back of his mind. That all changed after he performed solo in front of 4,000 students his senior year during a homecoming pep rally.
"Ridge was one of the more talented jumpers, so they featured him," Yvonne Hill, the former high school Comet Skippers coach, said. "When the team went out onto the football field, the student body cheered for them, but when Ridge came out flipping across it, the crowd literally roared for him…"
Things had come full circle for Robson — he went from watching his classmates being applauded to everyone cheering him on. Since then, he's become an inspiration to the kids coming up behind him on the Skippers and still takes time to help out — as does his mother, who has been helping coach since Robson was in fifth grade. The younger Skippers are inspired by the decorated jumper — Lori Robson says they try their hardest when he's around.
Robson continues to work hard but he also has higher goals: representing the United States in the Olympics. The sport is slowly making its way into the games — it needs a rulebook in place for a certain duration of time in order to get approved.
It may take five to 10 years, Robson estimates, but he plans on being a part of it when the time comes.