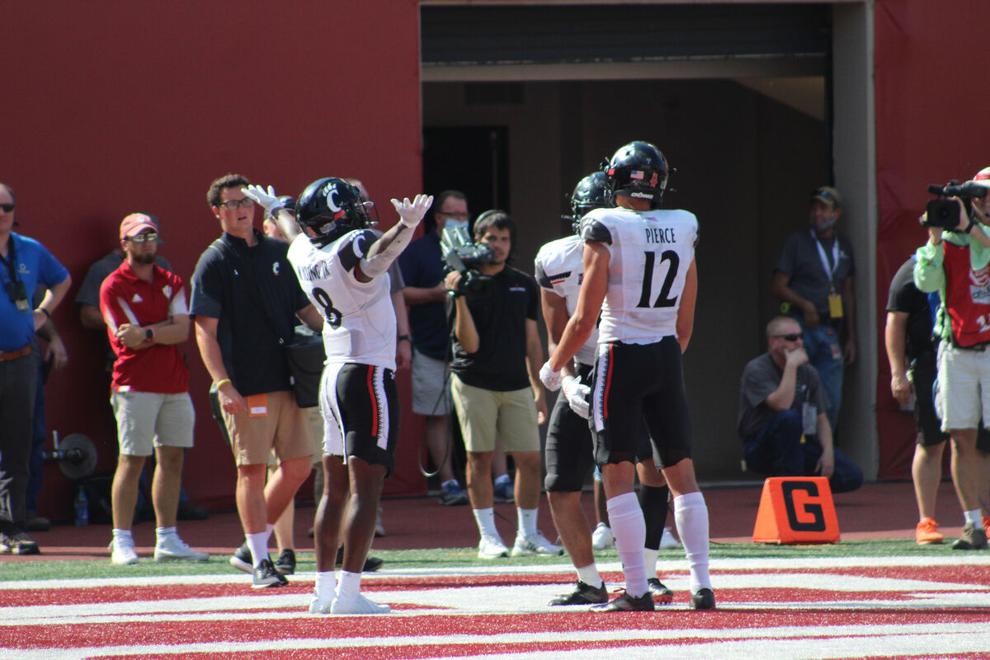 A love for the game of football and the desire for a change of scenery is all it took for a hungry leader to walk through the doors of University of Cincinnati football. 
After three seasons and a degree at the University of Notre Dame, Michael Young Jr. arrived in Cincinnati with one request: "Jr." must be included on his new red and black jersey. 
"It's only fair I'm listed as 'Jr.' so people know there's a Sr.," said Young Jr. on the representation he credits to his father, Michael Young Sr. 
Young Jr. says his jersey is his way of giving credit where credit is due, admitting that his father has meant "literally everything" to him. 
Young Jr. said his arrival in Clifton was a culture shock, later discovering that Clifton is its own entity in Cincinnati. Coming to play football was his first time in Cincinnati, arriving to a supportive receiving corps and familiar coach in offensive coordinator Mike Denbrock. Denbrock played a crucial role in Young's career, recruiting him to both Notre Dame out of high school and to Cincinnati as a transfer. 
Despite putting on loud performances on the field, Young Jr., a soft-spoken wide receiver of the Cincinnati Bearcats football team, prefers to watch football over going out. While earning a graduate degree in sports administration at the University of Cincinnati, Young Jr. leads the wide receiver's room of the No. 8 undefeated Cincinnati Bearcats football team.
"This is probably the most fun I've had playing football in my entire life," said Young Jr. 
While being utilized as a resource on and off the field to his teammates, Young Jr. described being a part of the Bearcats success as a "heartwarming" feeling. 
After admittingly labeling the receiver's room as the "cool" position group of the team, Young Jr. said the selflessness is contagious among the receiving corps.
To Young Jr., facing his former school on Oct. 2 was seemingly much bigger of a deal to the public than it is to him. Young Jr. said it was "business" and that he was prepared to do his job to the best of his ability. 
Young Jr. admits that he still gets to play football at the end of the day, which is why he is at peace with everything and able to keep moments small.
Regarding the College Football Playoff (CFP) noise that Cincinnati is rumored to "crash," Young Jr. admits he and his teammates hear it on the back burner, but do not let it affect them. 
"When it's all said and done, you look back and your like - man, yeah we did that," said Young., on when the rankings and noise will matter. 
In Young's eyes, campus life has been the most significant difference between the two schools, and as far as football, he admitted experiencing the "Clifton-style" of win against Indiana University.
"We're not supposed to go on the road into a hostile environment and win," said Young on Cincinnati's back-to-back road appearances at top "power five" schools. 
Young Jr. assured that another road win would be short-lived and that he and his teammates like to keep most moments small. 
With a constant and contagious smile, the humbled "home-body" in Michael Young Jr. can be seen representing a quick jersey number eight on the field.