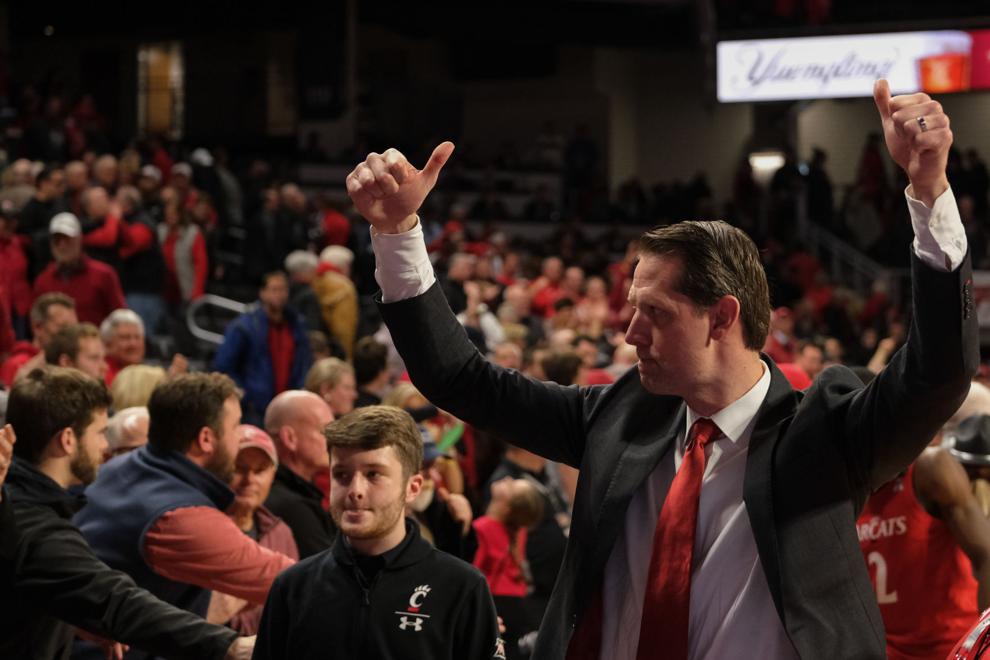 The University of Cincinnati's (UC) former head basketball coach, John Brannen, received a written reprimand months before his firing in April, documents show. 
Brannen received the letter from UC Athletics Director John Cunningham on Nov. 9, 2020, according to the former head coach's personnel file, which was obtained by The News Record through a public records request. 
The document states that on Oct. 6, 2020, Brannen "held a regularly scheduled practice that ended with an unauthorized conditioning workout." 
"That workout was overly strenuous and led to several student-athletes not finishing a timed run and one student-athlete needing to be helped off the court," the document states, adding the workout was not pre-approved by the department's training staff. 
According to the reprimand, practice only ended once the basketball athletics trainer stepped in out of concern for the student athletes' safety. 
Cunningham and the university's men's basketball sports administrator conducted a review of the incident, the document states, which included a meeting with Brannen, training staff, the team doctor, strength and conditioning staff, as well as several team members. 
Those individuals said the Oct. 6 practice was "unusually difficult," with the team being instructed, after a two-hour long practice, to do a "series of timed conditioning runs" if they failed to make a certain number of free throws, according to the document. 
If the student-athletes also failed to make the specified time for these runs, which included running both the length and width of the court, Brannen instructed them to make the run again, the document states. 
The document also states that several safeguards were in place, such as adequate water breaks and having student-athletes wear heart monitors throughout the practice. Players were also advised to stop and sit out if they weren't able to complete the run. 
Despite this, Cunningham wrote, "I believe you failed to show the proper care and concern in this particular instance." 
"Based upon your representations to me in the candid meeting we had and based upon my independent review of this situation, I believe that you understand the severity of this activity and, more importantly, I believe that you will not repeat it," Cunningham added. 
On April 3, Brannen received a notice that he was being placed on administrative leave with pay pending the outcome of an investigation into "credible allegations of misconduct," documents show. 
He was fired by the university six days later, coaching for only two seasons of his six-year contract. 
"While the University's investigation into your conduct is ongoing and therefore other grounds for termination may become evident, it is clear at this point that, among other things, you have failed to promote an atmosphere of compliance within the Men's Basketball Program with respect to rules, regulations and policies and have further jeopardized and/or disregarded the well-being, health and safety of student athletes, despite written reprimand," Cunningham wrote in a termination letter also obtained by The News Record. 
"Moreover, you have made, attempted, arranged or otherwise made payment for special benefits for a student-athlete other than through approved channels; intimidated and/or attempted to intimidate students from raising proper compliance concerns; as you have previously been notified, running one or more practices without proper precautions for player health and safety and repeatedly violated time management plan policies; and not been forthcoming with the University regarding your actions," Cunningham added. 
Brannen's attorney, Tom Mars, told the Cincinnati Enquirer that he believes the former head coach's firing was part of a plan by Cunningham to replace Brannen without having to pay him more than $5 million in buyout compensation. 
On April 14, the university announced that it had hired Wes Miller, former head coach at the University of North Carolina at Greensboro, to replace Brannen. 
During an April 16 press conference, Miller emphasized the importance of putting the players first. "This program will be about the players first," he said. "We have a responsibility as coaches in college of leading young people. We have a deep responsibility to help young people grow."