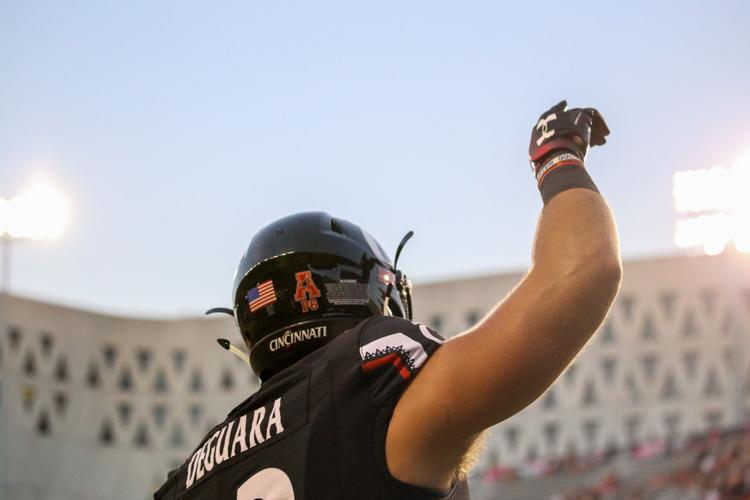 Former Cincinnati Bearcat tight-end and now current Green Bay Packer, Josiah Deguara, found a way to contribute in his first NFL game, assisting the Packers in a 43-34 win over the Minnesota Vikings.  
After an impressive NFL draft combine, in which he posted a 4.6-second 40-yard dash, the Packers drafted Deguara 94th overall in the third round of the 2020 NFL Draft. Green Bay drafted quarterback Jordan Love and running back A.J. Dillion before drafting Deguara. 
Dillion carried the ball twice on the first Sunday of the 2020 NFL season. Love is learning the ways of quarterback underneath former Super Bowl Champion Aaron Rodgers from the sideline.  
Deguara was targeted twice in his first game with Rodgers, one of which was secured for a 12-yard reception and a first down. 
Deguara was amongst eight total offensive players to record receiving yards for Green Bay. Despite fairly even playing time, Deguara was the leading producer for Green Bay's tight-end core.  
Deguara proved his versatility by lining in the backfield, slot, wideout, and down in a three-point stance on Sunday.
During his last two seasons at the University of Cincinnati, Deguara brought in 77 of 137 targets, for 927 yards and 12 touchdowns. As a captain in his senior season, Deguara averaged 12.9 yards per catch and recorded seven touchdowns.  
Deguara recorded 92 career receptions, the most in school history for the tight-end position, even more than NFL star Travis Kelce, who reeled in 59 in his time at UC.
Deguara and the Packers take on the Detroit Lions on Sunday, Sept. 20, as he looks to expand his presence in the league. 
Looking to replace the former record-breaking tight end in the upcoming season, Bruno Labelle and Leonard Taylor will try to fill the void that Deguara left in the Cincinnati offense.