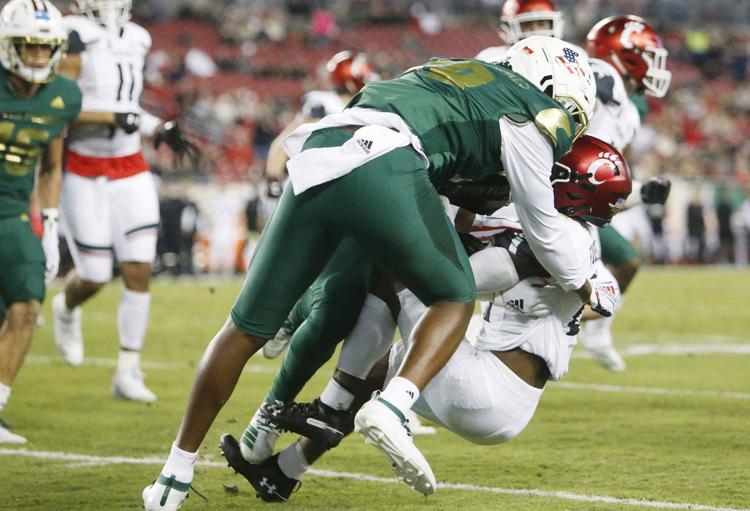 Kicker Sam Crosa came up clutch for the No. 17 University of Cincinnati football team for the second time in three weeks, connecting on a 37-yard field goal as time expired to defeat University of South Florida, 20-17.
Crosa won the Bearcats more than just another football game, as UC clinched at least a share of the American Athletic Conference East with the win. It also keeps the hopes alive for a potential Cotton Bowl appearance.
The Bearcats finished with 278 total yards of offense and went into halftime without a point on the board, but were able to make a second half comeback and improve to 9-1.
Here is what we learned:
---
Michael Warren II is Mr. Reliable
The Bearcats faced third-and-10 from their own 30-yard-line with a minute left in the fourth quarter. Sophomore quarterback Desmond Ridder dropped back and quickly became under pressure before completing a short pass to junior running back Michael Warren II, who ran 30 yards into USF territory.
Warren was then given the ball four straight times, adding another 20 yards to set up the game-winning field goal. He finished with 134 rushing yards — his third 100-plus rushing game of the season — and a touchdown.
Warren is in the midst of a big finish to the regular season and Saturday was another example of how important he has become to the team.
---
Crosa is locked in
Crosa, a graduate transfer, is 9-of-12 on field goal attempts this season, and his three misses have been blocked. He previously kicked a game-winning field goal to cap off UC's 14-point comeback at East Carolina University (ECU) Nov. 2.
Despite the frustrations with the blocked kicks that may or may not have been his fault, Crosa has been a deadeye in the 30- to 45-yard range.
---
Always finding a way
It seems the Bearcats always find a way to pull out a win no matter what the circumstances are, and they've done so by forcing turnovers.
Cornerback Ahmad Gardner's two pick-six's against the University of Central Florida and ECU, linebacker Bryan Wright's tipped pass that was intercepted in the end zone by fellow linebacker Perry Young against Houston and a forced fumble by safety Ja'Von Hicks in the fourth quarter against the University of South Florida have all been significant moments in wins.
UC is 17th in the country with a turnover margin of +0.8 (+1.6 at home) and have scored 74 points off turnovers this season.
The way the Bearcats have been able to pull out close games in the fourth quarter goes beyond just forcing turnovers. Ridder, Warren and the special teams have played a big part and forcing turnovers takes it to another level.