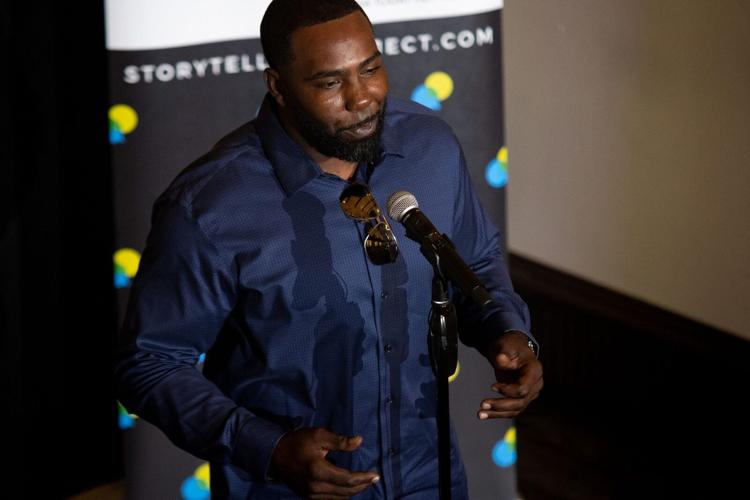 When a knee injury invaded his professional NFL career after playing linebacker at the University of Cincinnati, Antwan Peek's past experiences through adversity helped him find a calling elsewhere.
Peek (1998-02) recently shared his saga at Cincinnati Enquirer's Storytellers event, in which people share intimate stories relating to the topic of the evening. The theme of the night was "Champions and Underdogs" and Peek discussed how he navigated his life as both.
Peek grew up with his mother, but during the third grade he moved in with his aunt and five cousins. He did everything with one of his cousins, Urban Maurice Jackson, including skipping school. They thought they found a loophole and could skip as many days as they wanted and make them up in the summer. 
Peek and Jackson got their wish, failing the seventh grade and attending summer school. A year later, Peek and his cousin solidified a newfound commitment to school with a promise to his aunt stating that they would graduate with no issues. 
However, tragedy struck not long after that promise, as Jackson suffered appendicitis and passed away after several hours in the hospital.
"I found a floor with no one on it and just started throwing stuff," Peek said.
This was Peek's first encounter with tragedy, and it hit him hard. He failed the eighth grade and went through depression with thoughts of suicide. He was supposed to conquer everything with his cousin, but now he was on his own.
Peek decided to try and turn things around, accepting the saddening situation and honoring his best friend by fulfilling their promise of graduating. He enrolled in an accelerated program at Aiken High School in Cincinnati as a freshman before enrolling at Woodward High School as a sophomore in 1995. 
During his time at Woodward, he would meet a couple of integral figures on his journey toward graduation. 
He first met Mary Ellen Bruening while playing basketball when she managed the after-school study hall and ACT tutoring for the team. She previously worked with his older brother. 
"Compared to his brother, Antwan was quiet," Bruening said. "He, like most the boys, had so much promise but lacked the belief that they would succeed outside sports. Antwan was bright, but lacked academic confidence."
She knew he had the ability to succeed on the field, but Bruening's goal was to instill confidence in Peek in the classroom.
"Sports were his comfort zone," Bruening said. "The strategy at that point was to use sports to push the academics for qualification for the next level. Antwan did what he needed to, but was capable of so much more."
The two developed a great relationship through the time spent together and it continued well after his high school career. 
"There were times over the years when we didn't have a lot of contact," Bruening said. "Two busy lives. Whenever we did connect, it was like no time had passed. All I know is we are always there for each other He hasn't had the easiest life but he chose the right path when so many others didn't. I am proud to say I know him and can honestly say we love each other."
Another lasting impact on Peek from his Woodward days was football head coach Ed Jackson. Peek was a basketball player when he started at Woodward, but Jackson was persistent in his pursuit of Peek. 
"I would be nervous everyday walking by his office because I knew what was coming," Peek said. "Coach would say, 'It only takes one yes!'" 
Obviously, Jackson had great foresight because after joining the team, Peek was named Most Valuable Player his senior year and earned a scholarship to play linebacker at the University of Cincinnati.  
Peek went on to set the record for sacks at UC (27.5) and finished his career with 200 tackles. 
He not only excelled on the field, but found his focus in the classroom, as well. In June 2001, Peek was given the N4A Student-Athlete Achievement Award, which shines light on student athletes who have "overcome great personal, academic and/or emotional odds to achieve academic success while participating in intercollegiate athletics."
After four years at UC, Peek entered the 2003 NFL draft and was selected 67th overall by the Houston Texans. Being drafted accomplished something his adverse circumstances made difficult, and the people who helped him along the way felt elated. 
"When draft time came, coach Jackson had a party and we all sat waiting," Bruening said. "Antwan got a call, got off, and told us it was Houston. Lots of hugs and tears followed."
The adversity Peek overcame during his youth was a challenge he could only overcome with acknowledgement.  
"Acceptance is the first opportunity to overcoming adversity," Peek said.
The lesson continued to serve him well.  
After four seasons with the Houston Texans and accumulating 74 tackles, 10 sacks and an interception, Peek signed with the Cleveland Browns as a free agent in 2007.
The first season with the Browns was plagued by knee injuries, but he managed the pain and played in 14 games, starting five, and finishing with 24 tackles.  
Then just days before the start of the 2008 season, Peek tore the patella tendon in his right knee and missed the entire season. The following year, Cleveland released him.
After three surgeries in two years to the same knee, he had to make a decision regarding his future in the NFL, but life prepared him well. Peek knew that by accepting the completion of his football career, he could open another door and said God had a bigger plan. 
Peek went back to school and got his Circular Practical Training (CPT) in order to help young athletes. In 2013, he became the defensive coordinator for Strongsville High School. Since then, Peek has coached at Lake Erie College and Ginn Academy in Cleveland, Ohio, and has been an assistant coach for Indian Hill High School back in Cincinnati since 2018, where he coaches his son, Antwan Peek Jr.  
Peek's life has been a journey full of challenges, but more triumphs. He hopes to pass on a view of the bigger picture to the young people he coaches every day and reiterate what his father said to him as a teenager: "You can be on the right track your whole life, but it can only take one second to change that."