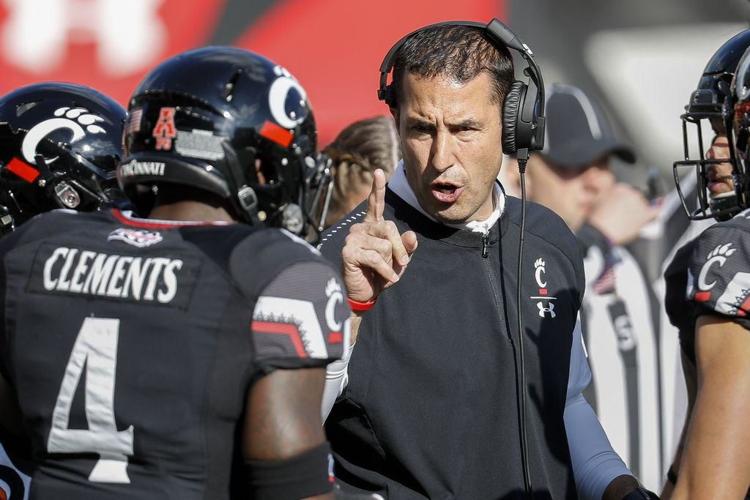 The University of Cincinnati Bearcats football team traveled to Columbus, Ohio, Sept. 7 and left without scoring a point. Ohio State quarterback Justin Fields and running back J.K Dobbins combined for 412 yards and six touchdowns.
UC head coach Luke Fickell said the game was a test to see where the program was compared to other schools, such as then-No. 5 Ohio State, and within themselves.
"It was a humbling experience for a lot of us," Fickell said after the loss to OSU. "I hope everybody in that locker room uses it as a humbling experience, as I'm going to. How you react and respond … I believe in what we can do. I believe we can pull out of this and be a lot better in the long run." 
The Bearcats had to respond with a next man up initiative, as injuries started to pile up on the defense. Junior safety James Wiggins was on the sidelines on crutches nursing a torn ACL, and Kyriq McDonald left the OSU game after a medical episode. Those are just two of the many injuries they've had to face already this season.
PHOTOS: UC Bearcats football wins 14th straight Victory Bell
UC played in the annual Victory Bell game against Miami (OH) University a week later and found themselves down 10-0 in the first quarter. Since then, the Bearcats have been a team to be reckoned with, and their defense has led the way.
UC outscored Miami 35-3 through the final three quarters in route to a 14th straight Victory Bell win — surrendering just 207 yards. 
"We just had to come together as one and click together," senior linebacker Bryan Wright said after the Miami game. "We just had to go back to the drawing board and get it done."
UC strengthened their mentality and chemistry as a defensive unit through the bye week heading into Marshall University Sept. 28, where the defense was dominant from start to finish. Marshall was scoreless through the first three quarters and scored all 14 points in the fourth quarter against UC's second-string team. It was a game that saw its most success on both sides of the ball for UC this season.
"We've been in a little bit of a rut," Fickell said after Marshall. "Obviously, we were 2-1 [coming into the game], but it just didn't feel the same. After tonight you walk in that locker room and there's a different energy … It was the complete game we've been looking for."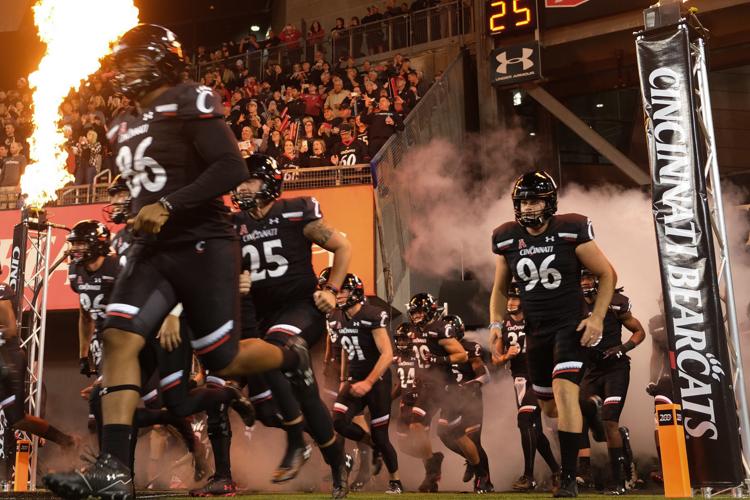 UC set themselves up for a showdown with American Athletic Conference foe (then-No.18) University of Central Florida for its conference opener last week. The bout was arguably UC's most crucial conference game of the year and biggest game of the season for that matter.
And after all the ups and downs, the Bearcats put on a defensive clinic in front of a sold-out Nippert Stadium and an atmosphere Fickell simply called "different". UC forced four turnovers that gave the 40,121 fans something to cheer about.
The Knights capped off their opening drive with a field goal, then took their next drive 76 yards to the UC seven-yard line. As all the momentum was in the hands of UCF, quarterback Dillon Gabriel stepped back to pass and threw a slant pass that was intercepted by UC senior Cam Jefferies, who returned it 57 yards. That one play was the start of UC's defense turning UCF's offense into a rut.
UCF entered the red zone six times, coming away with three field goals, a touchdown and two interceptions from Jefferies and junior Jarell White.
"We just knew we couldn't give up big touchdowns," White said. "When it gets close to the red zone, you can't allow them to get that momentum and score. Definitely [a confidence boost]. We saw as a team we can play against the best … Once you build that bond with the team and trust the coaches, it's on a different level."
The play of the game came from freshman cornerback Ahmad Gardner however, who intercepted Gabriel and ran it in for a touchdown to give UC a 20-16 lead with 5:10 left in the third quarter.
Gardner was one of the 20-plus players to play on defense that evening, and Fickell put a lot of trust into who he had out there.
"The way [defensive coordinator] Marcus Freeman kept the pressure coming all night, there was times I was biting my tongue," Fickell said. "All and all, we might've played 27 guys on defense … I'm not sure [Gardner's interception] is how we had it drawn up, but nonetheless, he did a phenomenal job."
UC's defense has come around through injuries and have had multiple players step up big in times of need, but White said he could see the potential during week one to be similar to last year's.
"The UCLA game definitely did," White said. "Even though we didn't have Wiggins and the defensive line we had before, we capitalized on a good team … This week really showed we can play and got a good defense."
The Bearcats rank 41st in defense this season, allowing opponents to score an average of 21.4 points per game. Aside from OSU, UC is surrendering an average of 16.25 points per game. 
UC will look to continue its defensive dominance and make it four straight wins at the University of Houston Saturday.